Syria crisis: John Kerry and Sergei Lavrov announce 'constructive' Geneva meeting to continue in New York as US and Russia push for 'Geneva 2' peace talks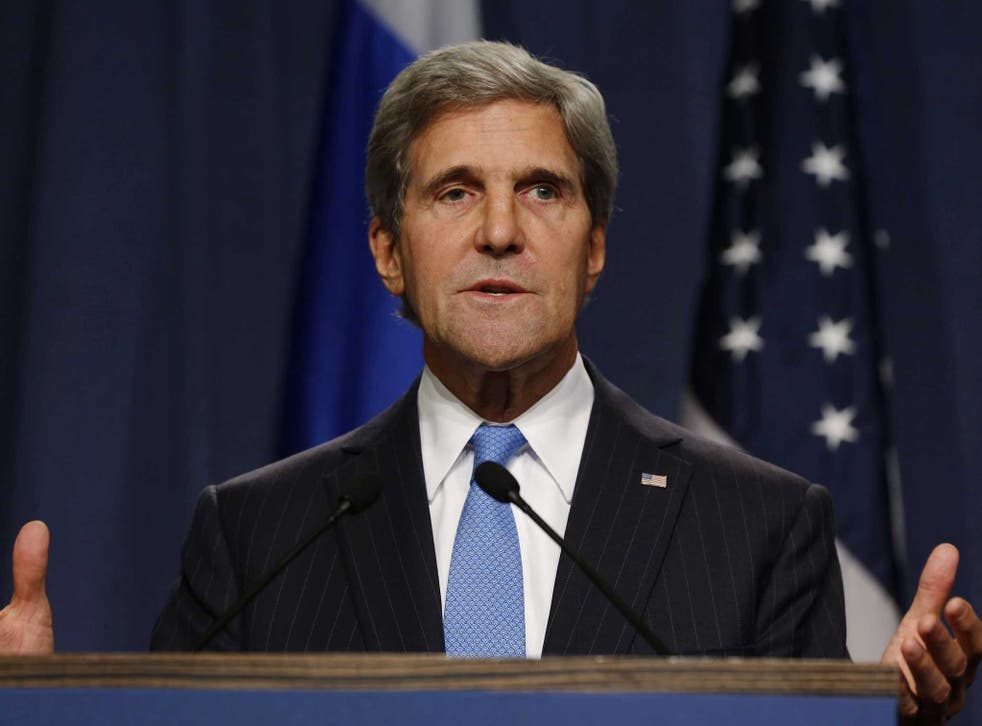 The international envoy for Syria, Lakhdar Brahimi, held meeting with John Kerry and Sergei Lavrov as key talks in Geneva enter the second day.
Speaking from the UN headquarters in Geneva, Mr Lavrov and Mr Kerry spoke after the short meeting and said they had agreed to meet again in New York in two weeks time.
Mr Kerry described the talks as constructive and said the meeting in New York later this month would be to try and set a date for the so-called Geneva 2 conference.
Mr Kerry also said Russia and America were working hard to find "common ground", but progress in New York would depend on "the capacity to have success here in the next hours, days, on the subject of the chemical weapons".
Damascus formally applied to join a global poison gas ban - a move welcomed on Friday by Russian President Vladimir Putin. He called it "an important step towards the resolution of the Syrian crisis" and added: "This confirms the serious intention of our Syrian partners to follow this path." China also hailed Syrian President Bashar al-Assad's decision.
Brahimi has been trying to convene Geneva 2, an international conference, to broker a political solution to the Syrian crisis. He met separately with the US Secretary of State on Thursday, but it is not known if he will meet with Russian Foreign Minister Mr Lavrov for one-on-one talks later in the day.
The second day of talks came after Mr Kerry opened swiftly-convened talks on Syria's chemical weapons on Thursday by bluntly rejecting the country's pledge to begin a "standard process" by turning over information rather than weapons - and nothing immediately.
"This is not a game," he declared at an opening news conference in Geneva, Switzerland, on Thursday with Russian foreign minister Sergey Lavrov stood beside him. "The words of the Syrian regime in our judgment are simply not enough."
The latest developments have gone rapidly from deadly chemical attacks to threats of retaliatory US air strikes, Syrian agreement with a Russian plan to turn over the weapons and, finally, to the crucial matter of working out the difficult details.
"We believe there is nothing standard about this process at this moment because of the way the regime has behaved," Mr Kerry said. And he kept alive the threat of US military action, saying the turnover of weapons must be complete, verifiable and timely - "and finally, there ought to consequences if it doesn't take place".
Adding to the drama, Russian president Vladimir Putin weighed in from afar, raising eyebrows with an opinion piece in The New York Times. Mr Putin warned that a US strike against Syria because of chemical weapons use could unleash new terrorist attacks and maintained there was "every reason to believe" the weapons were used by rebels and not by Bashar Assad's military. In Washington, Mr Obama's spokesman said Russia was "isolated and alone" in that view.
The back-and-forth was a stark indication of the challenging work ahead as Mr Kerry, Mr Lavrov and their teams of chemical weapons experts plunge into talks aimed at finding agreement on how to dismantle the chemical weapons amid the confusion and danger of Syria's civil war.
Mr Lavrov seemed to contradict Mr Kerry's negative view of Assad's offer to provide details on his country's chemical arsenal beginning 30 days after it signs an international convention banning such weapons.
Syria's ambassador to the United Nations said that as of yesterday his country had become a full member of the treaty, which requires destruction of all chemical weapons. But the United Nations said it would take at least another 30 days.
Mr Lavrov said the initiative must proceed "in strict compliance with the rules that are established by the Organisation for the Prohibition of Chemical Weapons".
"We proceed from the fact that the solution to this problem will make unnecessary any strike on the Syrian Arab Republic, and I am convinced that our American colleagues, as President Obama stated, are firmly convinced that we should follow a peaceful way of resolution to the conflict in Syria." Mr Lavrov said.
The distrust in US-Russia relations was on display, even in an off-hand parting exchange at the news conference. Just before it ended, Mr Kerry asked the Russian translator to repeat part of Mr Lavrov's concluding remarks.
When it was clear that Mr Kerry was not going to get an immediate re-translation, Mr Lavrov apparently tried to assure him that he had not said anything controversial.
"It was OK, John, don't worry," he said. "You want me to take your word for it?" Mr Kerry asked Mr Lavrov. "It's a little early for that." They were smiling at that point.
The meetings in Geneva began on Thursday as Mr Assad, in an interview with Russia's Rossiya-24 TV, said his government would start submitting data on its chemical weapons stockpile a month after signing the convention. He also said the Russian proposal for securing the weapons could work only if the US halted threats of military action.
Additional reporting by Associated Press
Join our new commenting forum
Join thought-provoking conversations, follow other Independent readers and see their replies