Syria: Relentless bombardment of Eastern Ghouta continues despite UN ceasefire resolution
More than 500 people, mostly civilians, have been killed in a week of bombardments on the rebel-held enclave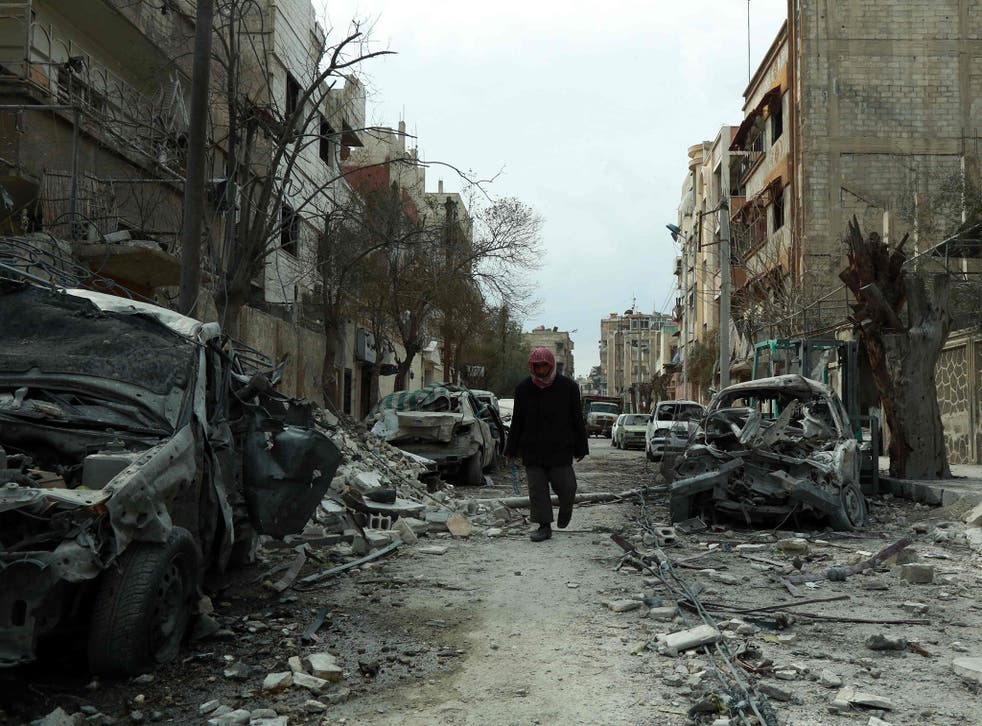 Fresh fighting has broken out around Eastern Ghouta in the suburbs of the Syrian capital Damascus as air strikes and shelling continued despite the UN calling for a 30-day ceasefire.
Rebel groups fighting forces loyal to Syrian President Bashar al-Assad said they clashed with pro-Damascus fighters on several fronts as rescuers and residents said Syrian warplanes struck some towns in the insurgent enclave.
A new wave of bombings left nine people dead and injured 31, bringing the death toll from a week of bombardment to more than 500 with 2,500 injured, the Syrian Observatory for Human Rights said. The dead included more than 120 children, the UK-based monitoring group added. The Syrian army made no comment. However, the Observatory said the bombing on Sunday was less intense than attacks over the past week.
There were also reports from the ground that a number of people were taken into hospitals with symptoms that indicated possible use of chlorine gas.
The government of Mr Assad has been repeatedly accused of using chemicals against citizens, with a UN report blaming it for the use of Sarin on the town of Khan Sheikhoun in April 2017. The government has always denied any such use.
Scenes of devastation in Syria after deadly shelling and airstrikes and eastern Ghouta
The unanimous Security Council vote on Saturday, which followed seven consecutive days of bombing by pro-government forces on Eastern Ghouta, demanded a truce to allow for aid access and medical evacuations.
Iran had said that they and Syria would uphold the ceasefire. However, Iranian General Mohammad Baqeri said that "parts of the suburbs of Damascus, which are held by the terrorists, are not covered by the ceasefire and clean-up [operations] will continue there," according to the Tasnim news agency.
The resolution does not cover militants from Isis, al-Qaeda, and Hayat Tahrir al-Sham, previously known as Jabhat al-Nusra,
Bashar Ja'afari, Syria's ambassador to the UN, also said the fight against what he called terrorism would continue regardless.
"Our government will reserve the right to respond as it deems appropriate in case those terrorist arms groups are targeting civilians in any part of Syria with even one single missile," Mr Ja'afari said.
The two main rebel factions in Ghouta – Faylaq al-Rahman and Jaish al-Islam – said after the vote that they would implement the truce and facilitate aid access. but also vowed to respond to any attacks.
Eastern Ghouta bombings: Syrian war in pictures

Show all 14
The leaders of Germany and France have urged Russia's President, Vladimir Putin, to put "maximum" pressure on the Syrian government to stop fighting in Eastern Ghouta.
Several previous ceasefires have fallen apart during Syria's eight-year civil war, where support from Iran and particularly Russia have helped turn the conflict in favour of the regime.
The German Chancellor Angela Merkel and French President Emmanuel Macron, argued a ceasefire was the basis for progress towards a political solution in the framework of the UN-led Geneva peace process, a German government spokesman said.
However, while UN resolution called for the truce to begin "without delay" it did not set a specific timeframe, after Russia objected to such a move.
While air strikes and other bombardments appear to have slowed, the continuing fighting is a blow to the UN's authority and will likely increase Russian scepticism about the UN-led process, as they continue their own efforts at peace talks despite being heavily involved in the conflict.
In a further sign of the fractious nature of the civil war, Turkey said its military operations in the north of Syria would not be affected.
In Ankara, Turkey's Deputy Prime Minister, Bekir Bozdag, said the UN resolution would not affect Turkey's offensive against Kurdish fighters in Syria's Kurdish-held Afrin.
Last month, Turkey launched an assault on Afrin, seeking to drive out the Syrian-Kurdish YPG militia which it deems a menace along its border.
Moscow has blamed fighters from al-Nusra, al-Qaeda's former branch in Syria, for provoking the situation in Eastern Ghouta.
Both main Islamist rebel factions in turn have accused their enemies of using the presence of a few hundred jihadi fighters as a pretext for attacks.
The Syrian government and Russia deny hitting civilians during the siege of Eastern Ghouta. Moscow and Damascus say they seek to stop mortar attacks by militants that have injured dozens in Damascus.
Nearly 400,000 people live in Eastern Ghouta, according to the United Nations. The rebel-held enclave, the final insurgent bastion left near the capital, has been under Syrian government siege since 2013.
Additional reporting by agencies
Register for free to continue reading
Registration is a free and easy way to support our truly independent journalism
By registering, you will also enjoy limited access to Premium articles, exclusive newsletters, commenting, and virtual events with our leading journalists
Already have an account? sign in
Register for free to continue reading
Registration is a free and easy way to support our truly independent journalism
By registering, you will also enjoy limited access to Premium articles, exclusive newsletters, commenting, and virtual events with our leading journalists
Already have an account? sign in
Join our new commenting forum
Join thought-provoking conversations, follow other Independent readers and see their replies