Syrian girl who lost both hands in explosion to get prosthetics after donation from Pink Floyd's Roger Waters
15-year-old Fatima has now had six surgeries and is ready to be fitted with finger-like prosthetics which she says will give her the confidence to go back to school 
Friday 04 November 2016 18:43 Comments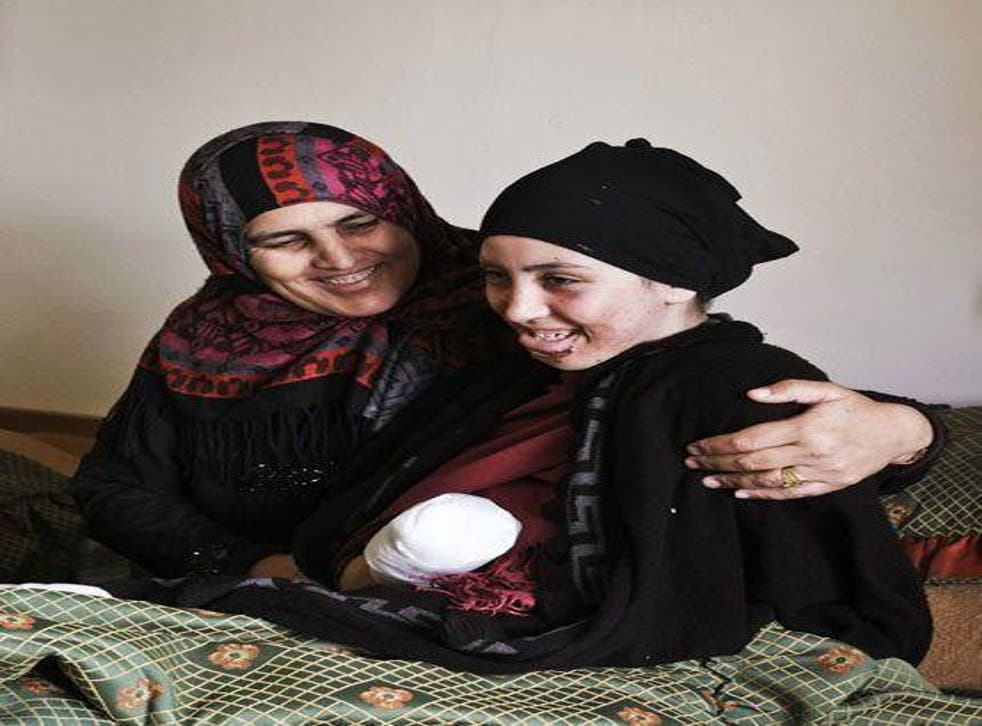 Fatima was just 12 when she lost both of her hands in an explosion which hit her home during the beginning of the Syrian civil war. Now, thanks to a medical charity and Pink Floyd vocalist Roger Waters, she is about to undergo the last in a series of surgeries which will mean she is able to use her hands again.
After fleeing the violence of Syria's almost-six-year-old war, Fatima and her mother Nafla eventually ended up - like an estimated one million other Syrians - escaping to Lebanon, where they live in UN accommodation near the Syrian border.
The teenager thought she would have to live as an amputee for the rest of her life. She has been so self conscious of her wounds that she hides her arms in her clothes as much as possible, and lacks the confidence to leave the house or enroll in school, despite her mother's encouragement.
An X-ray in Beirut in 2015 - organised by medical charity International Network for Aid Relief and Assistance (Inara), which provides specialised medical care for children injured in conflict zones - gave the pair new hope: it revealed the bones within the stump of Fatima's hands were whole. With time and several surgeries, the damage caused by improper care of her injuries to date could be reversed, doctors said, and Fatima could be fitted with finger-like prosthetics.
The now 15-year-old has undergone six surgeries thanks to donations to Inara's campaign to rebuild her hands, and is ready for a small skin graft before a prosthetic can be fitted.
Inara raised more than $50,000 (£40,000) for Fatima's treatment - but the full funding target was recently reached thanks to a donation from Pink Floyd's Roger Waters.
Sharing a photo of his own hand, Mr Waters said: "This is my right hand. I am lucky. I do not live in the middle of a war. We are all one family… with our love we will help to restore her hands," he said.
"Fatima's case was one of the biggest we've ever taken on at Inara. It was a big challenge," Sofia Karim, Programme Manager at Inara, said.
"So many people donated, and I just want to say a huge thank you to Roger and every single person who gave so generously to help Fatima. With your help we can provide much-needed life-altering medical treatment for refugee children from Syria."
Syrian children hold Pokemon Go pictures in the hope people will find them and save them

Show all 13
Fatima herself is now more determined than ever to achieve her dream of becoming a language teacher. "Once I receive treatment, I am going back to school," she said.
More than four million Syrians have fled their homes thanks to the country's bloody civil war, and 6.5million people within Syria are displaced, WarChild says. Up to half of those affected are children.
Inara - set up in 2015 - is desgined to combat the severe lack of funding and resources for refugee children in need of complex treatment for injuries sustained in the war. More information about the charity's plans to expand to other countries is available here.
Register for free to continue reading
Registration is a free and easy way to support our truly independent journalism
By registering, you will also enjoy limited access to Premium articles, exclusive newsletters, commenting, and virtual events with our leading journalists
Already have an account? sign in
Join our new commenting forum
Join thought-provoking conversations, follow other Independent readers and see their replies