Syrian prisoners take over prison, claiming President Assad is about to start torturing and executing them
Photos taken by prisoners rioting in protest at extrajudicial killings, torture, and the bombing of Aleppo show soldiers surrounding Hama jail
Matt Broomfield
Thursday 05 May 2016 17:47 Comments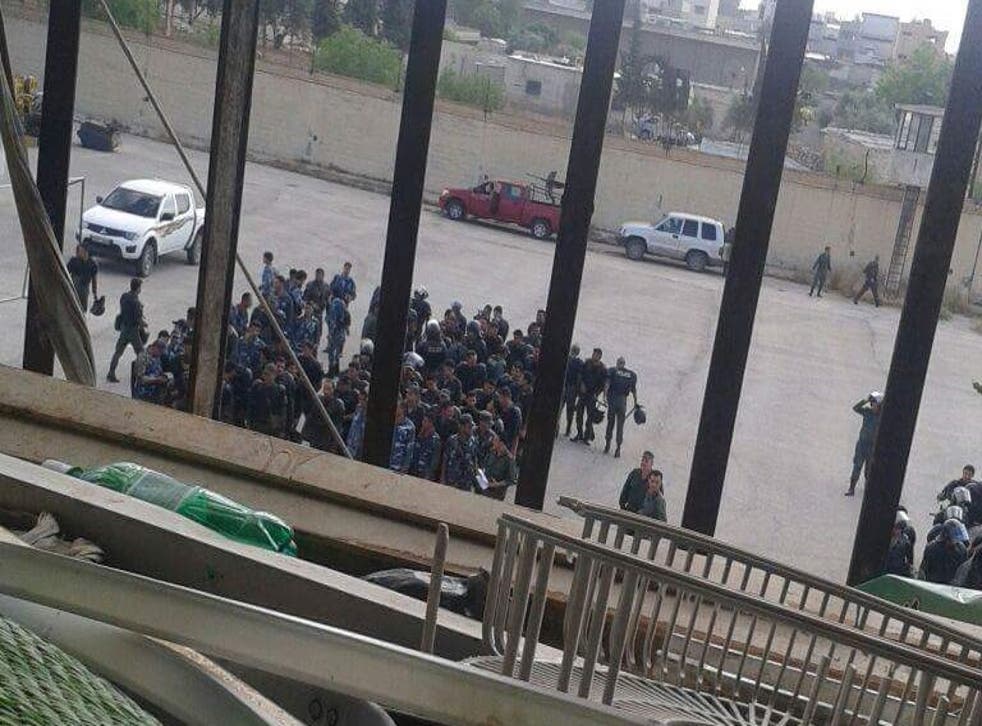 Inmates in Syria's besieged Hama prison have shared pictures which appear to show armed soldiers surrounding the jail.
On Monday, a monitoring group reported that government troops had fired tear gas into the prison in the west of the country after inmates revolted and seized several guards.
The Syrian Observatory for Human Rights said inmates were protesting against a transfer of prisoners to a military facility in Sednaya. Those held in the Hama jail include political and Islamist prisoners, it said.
Speaking via a translator, an anonymous source within the prison, who provided the images, told The Independent: "Prisoners fear for their lives. Unless the negotiations are made highly public, our concern is that after the negotiation period has ended, the regime will separate out the prisoners and retaliate, probably with torture and executions."
The prisoners are being held in the central Syrian town of Hama for opposing the regime of Bashar Al-Assad.
Located just outside Damascus, Sednaya holds 4,000 political prisoners, and is said to be a hotbed of torture and political killings. It has been described as a "gulag", while Human Rights Watch has called for an investigation into illegal shootings at the prison.
A Syrian lawyer working with prisoners in Hama said: "Seventy-five per cent of people who go into Sednaya do not come out alive. It is a field court, where most 'judges' are from the secret police."
Following the riot, around 800 inmates in Hama have allegedly taken the prison's governor and several guards captive. Regime forces have since surrounded Hama, with sources inside the prison saying that snipers have been stationed around the jail and tear gas fired over the walls.
Photographs provided by the same source appear to show regime forces in formation outside the prison, as well as people-carriers mounted with light artillery. The photos are shot from behind a makeshift barricade of pot-plants, benches and furnishings in a public area of the prison.
In a statement, the prisoners demand the release of those inmates set to be transferred to Sednaya, an end to extrajudicial killings within Hama and fair trials for all detainees.
They also ask that the International Red Cross be allowed into the prison, call for an end to the bombing of Aleppo, and demand an "implementation of UN resolution 2254", which calls for a peaceful political resolution to the Syrian crisis.
Around 30 prisoners have been allowed to leave the prison under the supervision of the International Red Crescent, but the inmates hope that at least 200 more of their number will be able to leave without bloodshed.
The detainees describe these 200 men as "prisoners of conscience", though Al-Jazeera report that the insurrection in Hama jail is also backed by Islamist rebel group Ajnad Al-Sham.
Register for free to continue reading
Registration is a free and easy way to support our truly independent journalism
By registering, you will also enjoy limited access to Premium articles, exclusive newsletters, commenting, and virtual events with our leading journalists
Already have an account? sign in
Register for free to continue reading
Registration is a free and easy way to support our truly independent journalism
By registering, you will also enjoy limited access to Premium articles, exclusive newsletters, commenting, and virtual events with our leading journalists
Already have an account? sign in
Join our new commenting forum
Join thought-provoking conversations, follow other Independent readers and see their replies