10 die as suicide bomber targets crowd trying to help car bomb victims in Syria
Bomber detonates suicide belt amid crowd of people trying to help the casualties of an earlier explosion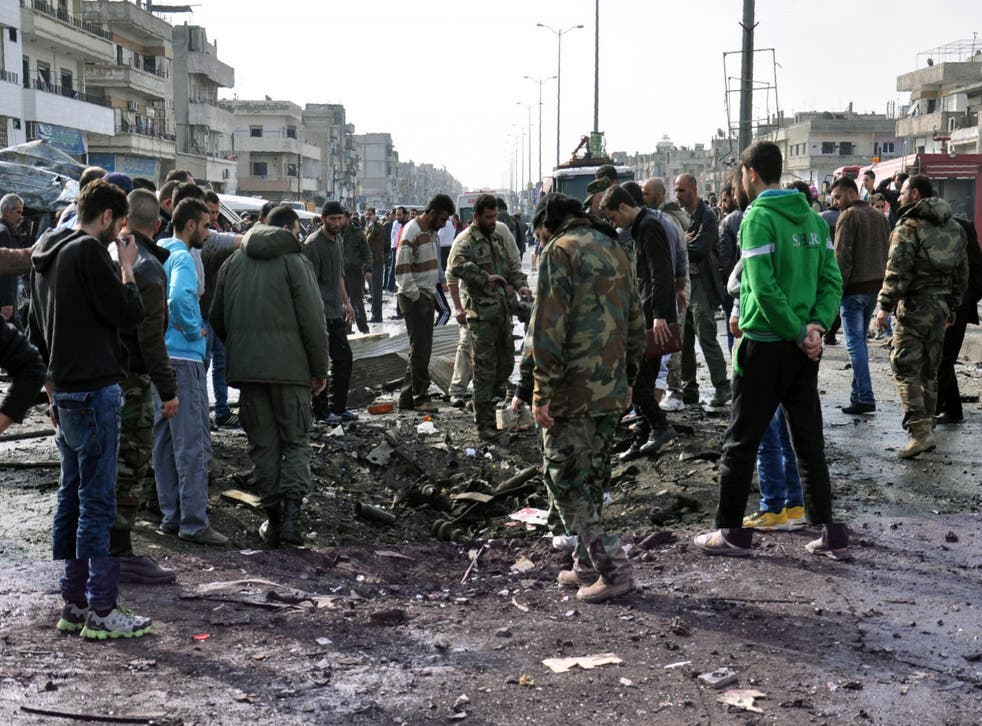 At least 10 people were killed and scores more critically injured after a car bomb exploded in a village near Homs, Syria, and then a suicide bomber detonated his device among the crowd of people who gathered to help the injured.
The twin explosions took place in the main square in Mukharam al Fawkani, east of Homs, near the scene of fierce fighting between Syrian Government troops and Isis gunmen over the Shaer gas field.
After the car bomb went off, people went to help those hurt in the blast and a suicide bomber then rode his motorbike into the middle of the crowd and set off the second explosion.
Four of the dead were children and three were women, according to local media. Up to 49 people were left in need of urgent medical attention.
No group had claimed responsibility but Isis, also known as Islamic State or Daesh, have carried out similar attacks in the area recently.
An attack by Isis on Monday claimed six lives and injured 48 near an army checkpoint in Damascus.
News of the latest deaths came as US officials announced a 48-hour ceasefire in the contested northern city of Aleppo, where nearly 300 civilians have reportedly been killed over the past two weeks.
The truce did not appeared to have lasted long however with Syrian TV claiming that militants fired 20 shells into government-held positions.
In pictures: Aleppo bombing

Show all 14
The UN special envoy Staffan de Mistura has estimated that over 400,000 people have been killed in a war that has forced millions of civilians abroad in search of refuge.
Join our new commenting forum
Join thought-provoking conversations, follow other Independent readers and see their replies