'At least 23 killed' in car bomb blast in Idlib city in Syria
Human rights group says explosion targeted headquarters of opposition faction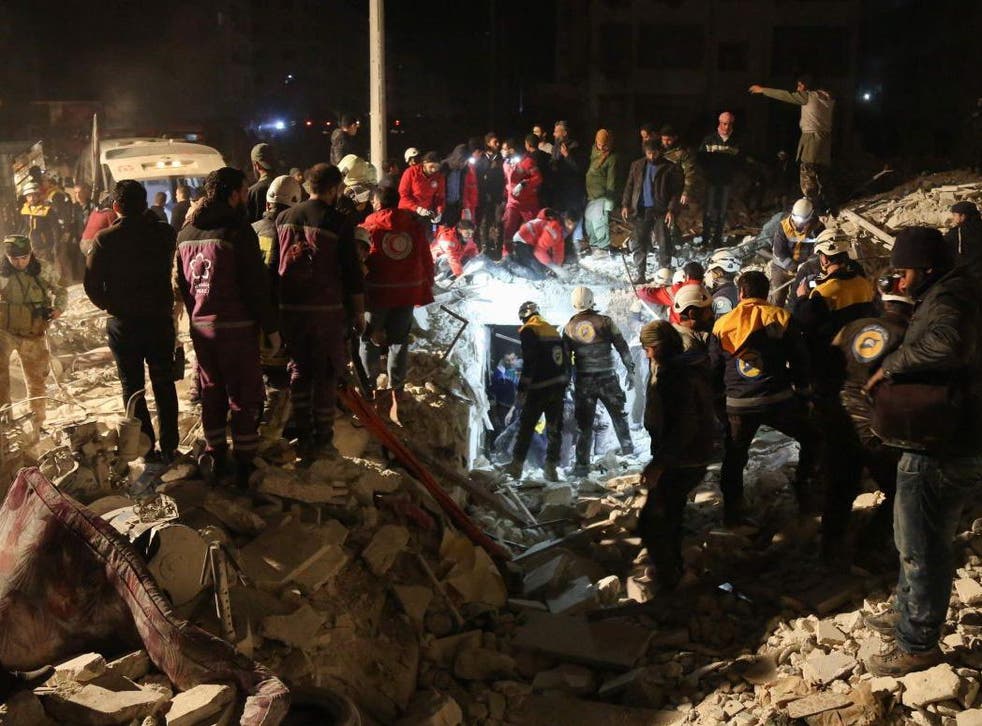 At least 23 people have been killed and tens more injured in a car bomb blast in the northwestern city of Idlib, a human rights group has said.
The British-based Syrian Observatory for Human Rights said the explosion had targeted the headquarters of an opposition faction.
Photos and video from the activist-run Thiqa News Agency and Baladi News Agency show heavy damage along what appears to be a major avenue in the city, with several buildings damaged and vehicles overturned.
First responders, ambulances and fire brigades are also seen arriving at the scene.
No group immediately claimed responsibility for the bombing. The city and the province are controlled by several rebel factions and insurgents vying for dominance, the most powerful being an al-Qaida-linked group.
The Syrian Army has been advancing on the region, which is the largest remaining rebel-held area in the north of the country, and recaptured the town of Sinjar, around 12 miles south of Abu Zuhour airbase earlier on Sunday.
The Syrian Observatory for Human Rights said the gain "opens the road" for government troops to march on the rebel-held Abu Zuhour airbase about 12 miles to the north.
The military has assigned one of its top commanders to lead the offensive into Idlib, the last major stronghold for rebels in northern Syria.
The UN said more than 2.5 million people are currently living in Idlib, including more than one million displaced by fighting from other parts of Syria.
In pictures: Idlib maternity hospital damaged by air strike

Show all 6
Thousands of civilians have already fled towards the border with Turkey in freezing January temperatures to escape the brutal fighting.
The offensive on the province was expected after Syrian government forces, aided by Russia, defeated Isis in other parts of the country last year.
"Conditions on the ground are wretched for the rebels," said an opposition activist.
He said they are stuck in a two-front battle with government forces and remaining pockets of Isis militants, while Russian air strikes have taken a heavy toll.
Opposition activists say the main targets currently appear to be the rebel-held airbase of Abu Zuhour, on the south-eastern edge of the province, as well as securing the Damascus-Aleppo road that cuts through Idlib.
Another opposition activist, Mohammed al-Ali, said the Russians and the Syrian government are carpet-bombing villages before pushing into them.
"The Russian air strikes, weak fortifications and Islamic State attacks in Hama," have all helped government forces, he said.
It is reported to be highly unlikely that government forces would march towards the provincial capital, also named Idlib, as it would set up a costly battle with highly experienced and well-armed al-Qaida-linked insurgents.
The province is dominated by the Levant Liberation Committee, which claims to have severed ties with al-Qaida but is widely believed to still be affiliated with it.
Additional reporting by agencies
Register for free to continue reading
Registration is a free and easy way to support our truly independent journalism
By registering, you will also enjoy limited access to Premium articles, exclusive newsletters, commenting, and virtual events with our leading journalists
Already have an account? sign in
Register for free to continue reading
Registration is a free and easy way to support our truly independent journalism
By registering, you will also enjoy limited access to Premium articles, exclusive newsletters, commenting, and virtual events with our leading journalists
Already have an account? sign in
Join our new commenting forum
Join thought-provoking conversations, follow other Independent readers and see their replies