UK claims it has killed just one civilian in 1,700 bombing raids on Iraq and Syria
Ministry of Defence casualty estimates 'not fit for purpose', critics say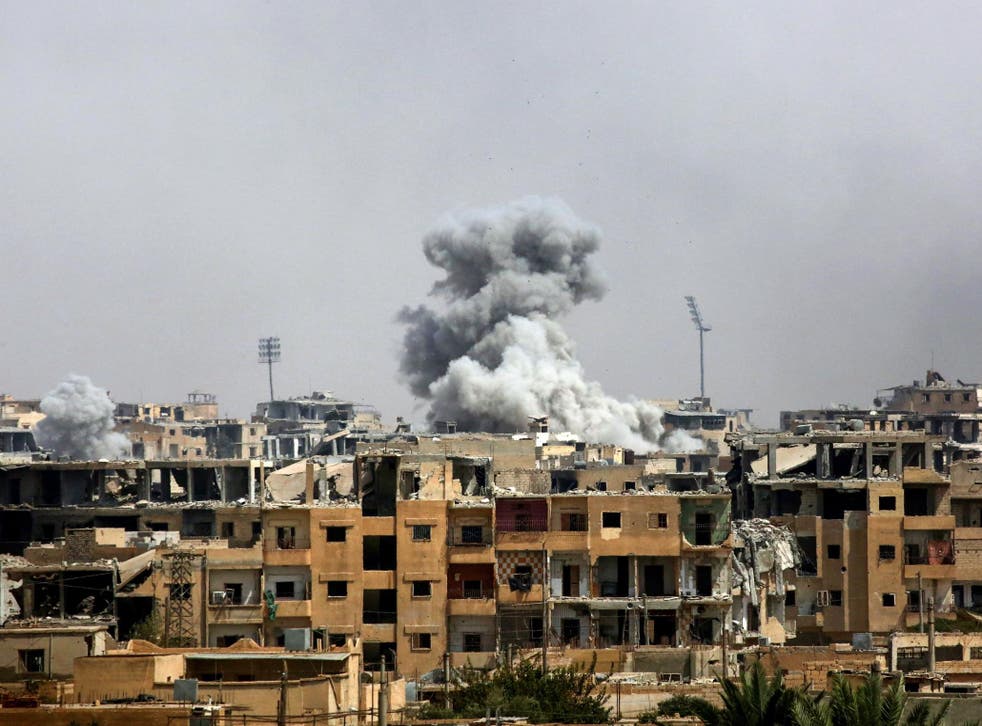 Just one civilian was harmed in RAF airstrikes that killed more than than 4,000 enemy fighters in Iraq and Syria, the British government has claimed.
An estimated 4,013 Isis militants have died in four and a half years of bombing, with 302 surviving with injuries, according to Ministry of Defence (MoD) figures.
But the UK government admitted responsibility for only one civilian death in more than 1,700 raids, a claim observers have dismissed as not credible.
The charity Action on Armed Violence, which obtained the MoD casualty estimates through a freedom of information (FOI) request, said it was "highly likely that the civilian harm from RAF airstrikes is under-recorded.
"The RAF's claim of a ratio of one civilian casualty against 4,315 enemies must be a world record in modern conflict," said executive director Iain Overton. "Yet few conflict experts believe this to be true. To them, it is clear that far more needs to be done by the UK to improve transparency surrounding civilian casualties from airstrikes."
"War of Annihilation" – devastating toll on civilians in Raqqa, Syria

Show all 20
The US-led coalition formed in 2014 to fight Isis in the Middle East has confirmed 1,190 civilian deaths.
The UK has been shielded from criticism of the coalition's devastating air campaign because of the relatively junior role it played compared to American forces.
The RAF killed nearly 3,000 enemy fighters in Syria and just over 1,000 in Iraq since launching its first airstrikes in September 2014, according to the MoD's figures.
Last May the government admitted the first civilian death of the campaign, after a motorcyclist was killed in a Reaper drone strike on Isis fighters in Syria.
But Amnesty International has accused the British military of being in "deep denial" over its contribution to high civilian death toll in the campaign to oust Isis.
Reacting to the latest figures from the MoD, the rights group again criticised the claims.
"In the face of overwhelming evidence to the contrary, the MoD is claiming to be the first military in modern history to have carried out massive aerial bombing with close to zero civilian casualties," said Oliver Feeley-Sprague, Amnesty International UK's military, security and policing expert.
"It absolutely beggars belief and shows just how deeply in denial the MoD is over its role in the mass bombing of Mosul and Raqqa," he added.
More than 1,500 civilians were killed in coalition air and artillery attacks on the northern Syrian city of Raqqa between June and October 2017, according to Airwars, a UK-based independent investigative group that tracks casualties.
The RAF carried out some 216 airstrikes in and around Raqqa, many in densely populated neighbourhoods, during the offensive to recapture it from Isis. British forces made repeated use of the Paveway IV, a 500lb bomb, which would have caused significant damage.
Airwars said a possible reason behind the UK's refusal to acknowledge civilian harm was due to a reliance on "observable" evidence as proof – such as imagery captured by aircraft that showed civilians near the target area – while dismissing reliable reports from the ground.
Chris Woods, Airwars director, told The Independent: "The MoD says it can precisely determine that it's killed 4,013 Isis fighters in Iraq and Syria since 2014, while at the same time insisting it's impossible properly to determine civilian harm from these same actions.
"MoD casualty assessments are not fit for purpose when tracking civilian harm from RAF strikes."
Support free-thinking journalism and attend Independent events
The government said "information concerning enemies killed and wounded in action is based on the best available post-strike analysis.
"This information, however, is only given as an estimate as the UK is not in a position to visit airstrike sites inside Syria and verify the facts," it added.
An MoD spokesperson said: "After every British airstrike we conduct detailed battle damage assessment, which thoroughly examines the outcome of the strike against its target, be it Daesh fighters, weapons, or bases.
"This assessment also looks very carefully at whether or not there has been any civilian casualty or damage to civilian infrastructure."
Register for free to continue reading
Registration is a free and easy way to support our truly independent journalism
By registering, you will also enjoy limited access to Premium articles, exclusive newsletters, commenting, and virtual events with our leading journalists
Already have an account? sign in
Register for free to continue reading
Registration is a free and easy way to support our truly independent journalism
By registering, you will also enjoy limited access to Premium articles, exclusive newsletters, commenting, and virtual events with our leading journalists
Already have an account? sign in
Join our new commenting forum
Join thought-provoking conversations, follow other Independent readers and see their replies