UK: US missile strike on Syrian air base 'appropriate response to barbaric chemical weapons attack'
Donald Trump calls on 'all civilised nations' to 'end the slaughter and bloodshed in Syria' in policy U-turn that marks first US direct military action against Syrian government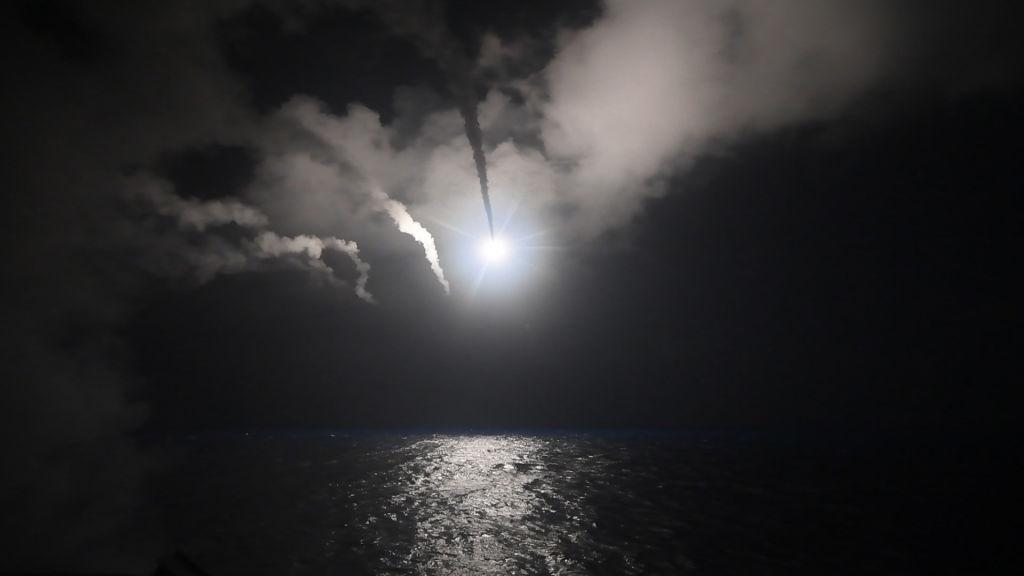 The British government "fully supports" the US in carrying out an air strike on a Syrian government military target, a Downing Street spokesperson has said.
The barrage of 59 Tomahawk missiles which hit Al Shayrat air base near Homs in the early hours of Friday were an "appropriate response to barbaric chemical weapons attack launched by the Syrian regime," a UK government statement continued.
The White House described the cruise missile strikes launched from US ships in the Mediterranean as a "warning shot" that was "necessary and appropriate" after the alleged chemical weapons attack on a rebel-held town earlier this week.
Syria: Man loses 25 family members in suspected chemical attack
The about-turn in Donald Trump's policy in Syria comes after the US President said that Tuesday's attack on Khan Sheikhoun - in which at least 80 people died after exposure to what the Turkish Health Ministry said was sarin and chlorine gas - had "changed his opinion" of Syrian President Bashar al-Assad.
"Previous attempts at changing Assad's behaviour have failed and failed very badly. Tonight, I'm calling all civilised nations to help us end the slaughter and bloodshed," he told media late on Thursday EST. The strikes were carried out without congressional approval.
The new US administration had previously appeared content to let Turkey take the lead in peace negotiations with Russia, Iran and the Syrian government, focusing its military efforts in the country on defeating Isis and al-Qaeda rather than Mr Assad's removal from power.
Donald Trump says 'you'll see' when asked about Syria policy
The governor of Homs told Syrian state media that five people had died and seven more had been injured in the US strike - the first direct military intervention against the Syrian government taken by the US in more than six years of complicated civil war.
Al Shayrat is the base from which it is believed Syrian war planes staged Tuesday's attack on Khan Sheikhoun in Idlib province.
The Syrian government, and its allies in Russia, have denied carrying out a chemical weapons attack, stating that the casualties were caused by gases released after an al-Qaeda-affiliated ammunitions depot was hit by a conventional strike.
Iran and Russia condemned the US strike on Al Shayrat. Russian news agencies reported Friday morning that the Kremlin viewed it as an "aggression" which "significantly damaged" US-Russia ties.
The US' allies, including the UK, Israel, Saudi Arabia and Australia, have reiterated their support for the military action.
A poll conducted by Sky News released on Thursday found that 51 per cent of the British public would support British military involvement alongside other Western countries in Syria, while 32 per cent would oppose it.
Join our commenting forum
Join thought-provoking conversations, follow other Independent readers and see their replies