US denies carrying out Syria mosque air strike near Aleppo which killed at least 46 people
US Central Command says it carried out strike targeting al-Qaeda militants nearby but did not hit house of worship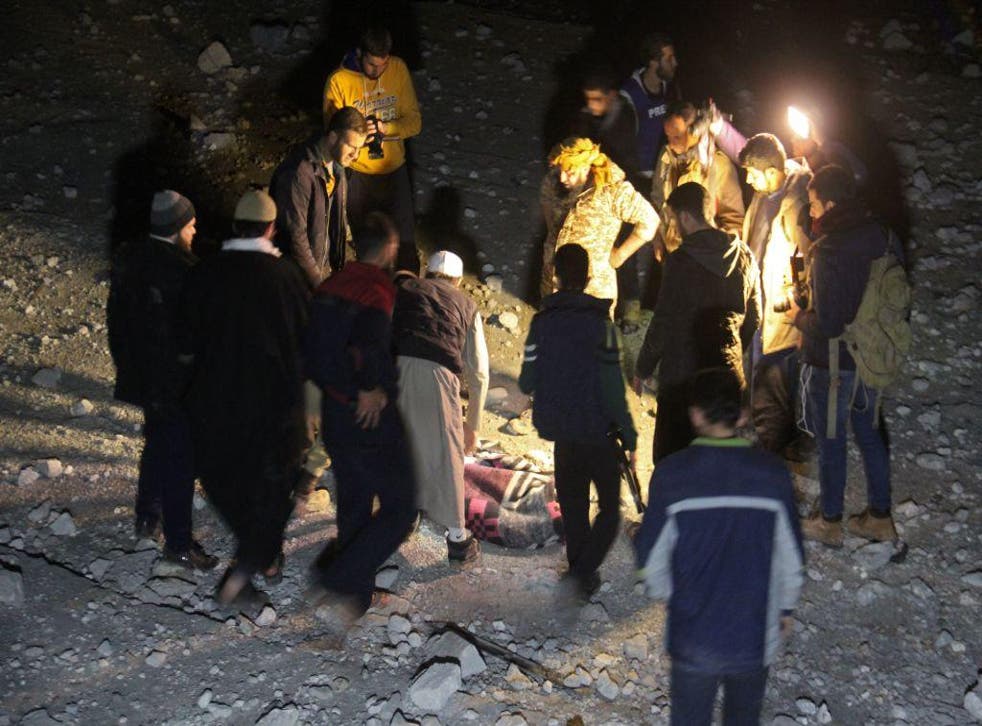 At least 46 people - most of them civilians - have been killed, and dozens more injured, after warplanes struck a mosque in rebel-held Aleppo province during prayer time, Syrian war monitors have reported.
More than 300 people were gathered for evening prayers on Thursday at Umar ibn Al-Khaṭṭab mosque in the village of al-Jina when the attack occurred, the UK based Syrian Observatory for Human Rights said.
Estimates vary as to how many died. The volunteer Syrian Civil Defence rescue service said dozens of people remain buried under rubble.
US Central Command has denied that US jets deliberately hit the mosque, but said that strikes on Thursday targeted an al-Qaeda meeting location in nearby Idlib province.
A later statement clarified that it was not clear where the strikes had taken place.
"We did not target, nor did we strike a mosque. We targeted an al-Qaeda gathering across the street from a mosque. The mosque does not appear to be damaged following the strike," spokesperson Major Josh T Jaques told The Independent.
"We are aware of the reports of civilian casualties and we are looking into it," he added.
Syria conflict: Six years of war in numbers
Photos shared by activists reportedly from the scene showed bomb debris carrying serial numbers which identified the weapons used as American made Hellfire missiles. Powerful Al-Qaeda affiliated rebel group Ahrar al-Sham also said in a statement that they also believed US planes had carried out the deadly bombing of civilians.
The Syrian and Russian air forces also carry out frequent strikes in Aleppo and Idlib provinces against both Western-backed and al-Qaeda linked rebel forces. A US-led Western coalition is in operation in the east of Syria, where it targets Isis.
Al-Jina, just west of Aleppo, is located firmly within rebel territory.
Its population has been swollen by internally displaced refugees since east Aleppo fell back under government control in December 2016, when under an amnesty deal its inhabitants were bussed out to surrounding rebel towns and villages.
The civil war - which has just entered its seventh year - has left almost half a million people dead and sparked the world's worst refugee crisis since WWII.
Join our new commenting forum
Join thought-provoking conversations, follow other Independent readers and see their replies