Syria conflict: Horrific pictures show children burned by incendiary bombs
At least 25 civilians including six children killed in Hama province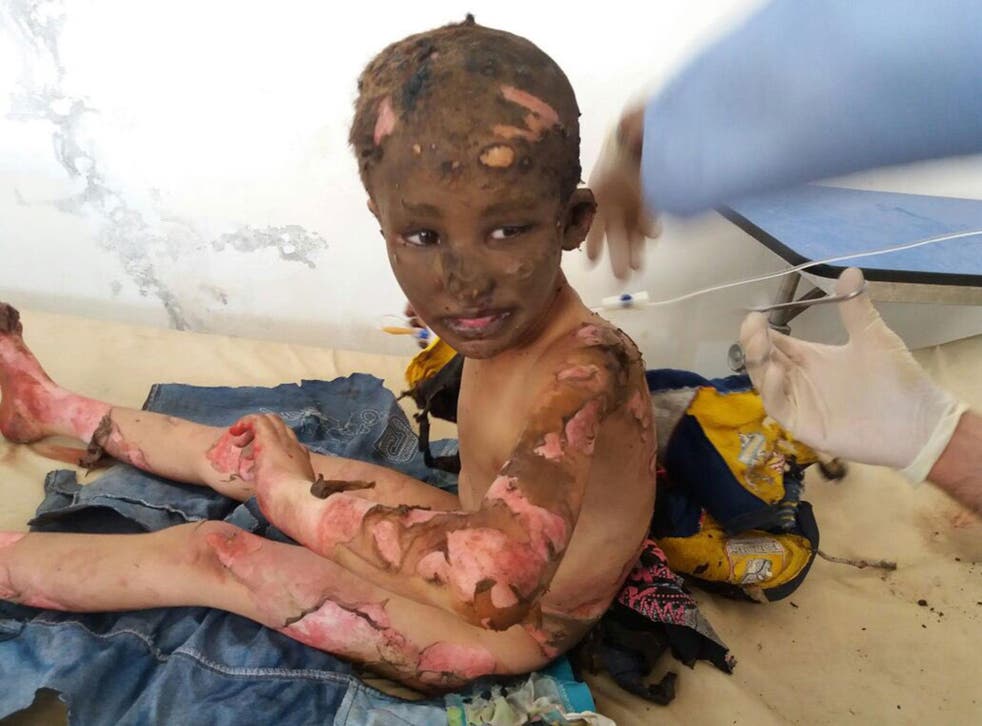 Horrifying images have emerged of Syrian children being treated for wounds from "napalm bombs" used in suspected government air strikes in Hama province.
A "large number" of children injured by incendiary bombs arrived in the Syrian American Medical Society hospital in Hama, a senior advisor to the aid group said.
One of the pictures shows a small boy with horrific burns, his skin peeling away from his body in some places.
"This is not a victim of American Napalm in Vietnam but Syrian child victim of Assad's Napalm in Hama," Dr Zaher Sahloul wrote alongside the images on Twitter.
Another shows a young girl splattered with mud and blood as another child in the hospital bed lies curled up beside her.
Air strikes in Hama province on Thursday killed at least 25 civilians, including six children, the Hama-based Syrian Press Center said.
It reported at least 10 people were killed when suspected government warplanes struck a crowd of people displaced from Suran, a town north of the city of Hama. Another 15 were killed further to the west, the center added.
The UK-based Syrian Observatory for Human Rights also reported at least 25 civilians, including six children,had been killed.
Syria's state news agency, SANA, said warplanes killed 10 "terrorists" in northern Hama.
Syrian child smeared in mud
Earlier this week, video emerged of a badly burned Syrian child being treated with mud, because medical supplies had run out in the besieged city of Homs.
The video shows a young child violently shaking as a man rubs thick mud over her burned, bandaged body.
In pictures: Russian air strikes in Syria

Show all 19
Mud is being used as a cooling agent, a doctor in Homs told al-Jazeera, because medical supplies are so low there is nothing else available.
"Today there were 12 airstrikes and we received injuries. We are suffering a shortage of medical supplies and even available medicine has expired," the doctor said.
"We're using polyester bandages which worsen the injuries, because we don't have any other options."
Join our new commenting forum
Join thought-provoking conversations, follow other Independent readers and see their replies