Dozens killed as al-Qaeda-linked rebels try to consolidate control in northern Syria
Fighting continues as thousands of refugees struggling to survive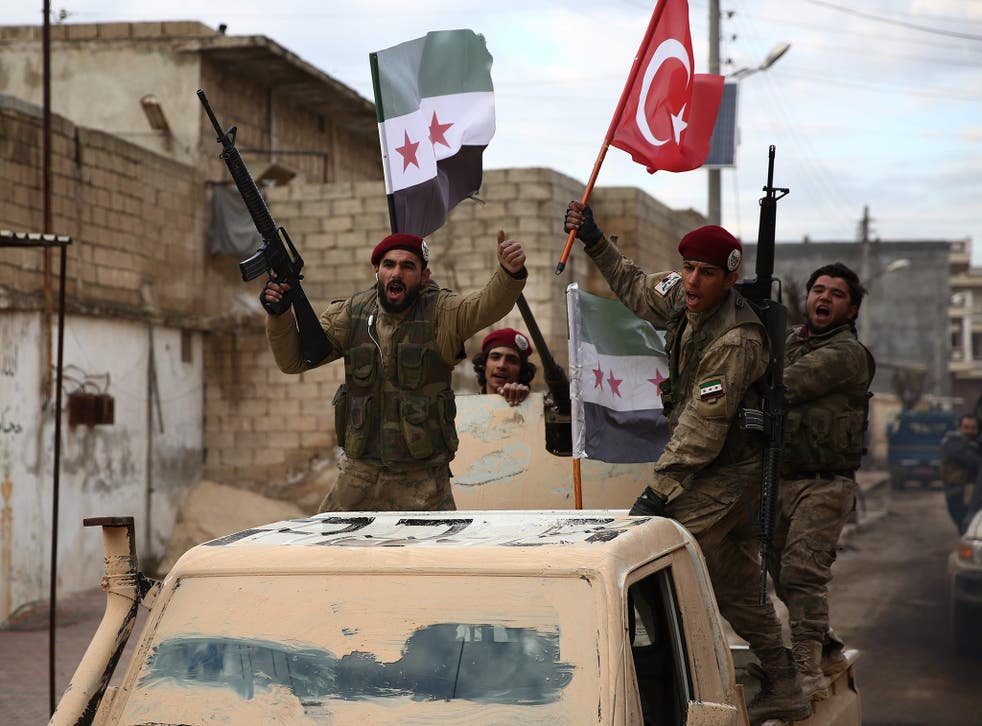 Extremist groups are trying to consolidate their control in northern Syria, attacking rival opposition fighters and putting a fragile ceasefire at risk in the process.
Dozens have been killed over the past three days in fighting between al-Qaeda-linked rebels and a coalition of groups backed by Turkey.
Hayat Tahrir al-Sham, which was once a part of al-Qaeda and still espouses the same ideology, has captured several villages in Idlib and western Aleppo. More than 40 fighters and six civilians have been killed, according to the Syrian Observatory for Human Rights.
The area in question is the last remaining holdout of opposition rebels in the country. In September last year, a long-threatened Syrian government offensive to recapture Idlib from rebels was averted after a deal was struck between Turkey and Russia.
As part of that agreement, Turkey asked for more time to be able to deal with Hayat Tahrir al-Sham, which Damascus cited as its primary justification for the offensive.
Turkey has backed a coalition of rebel groups called the National Liberation Front as a counter to the extremist group, to little avail. Following the breakout of clashes earlier this week, the NLF called for a "general mobilisation" against the al-Qaeda-linked fighters.
Fears for 3m people in rebel-held Idlib ahead of regime offensive

Show all 13
"Following the latest series of attacks by HTS, indicating how willing it is to shed the blood of revolutionaries, its disregard for Sharia rulings and its gambling with the higher interests of the blessed Syrian revolution, the National Liberation Front has announced the general mobilisation of all of its forces in all free territories to repel these attacks, deter the aggressors and recover all the areas they violated," the group said in a statement on Wednesday.
The move by Hayat Tahrir al-Sham came amid speculation that Turkey had reached an agreement with Russia to take action against it following the impending withdrawal of US forces from Syria.
"To make it more difficult for Turkey, HTS sensed an opportunity to make a power play to control one of the few critical areas in Greater Idlib that it does not have control or strong influence over," Nicholas Heras, a fellow at the Centre for a New American Security, told The Independent.
"HTS is trying to demonstrate to Turkey that it will not be beaten by any of the Turkish proxies in Greater Idlib and that Turkey has no quick and easy way to remove it," he added.
The renewed fighting in Idlib comes as winter is creating extremely difficult conditions for the roughly 3 million displaced people living in the province. Flash flooding has forced more than 12,000 people to abandon refugee camps along the border, where tents have been washed away.
"It's a tragic situation for the people who were already living in dire conditions; in flimsy tents with temperatures dropping to below 0C in the evenings," said Ahmed Mahmoud, Islamic Relief's Syria spokesman.
"People were already weakened by the lack of food, water and sanitation in the camps and now they are literally struggling to survive," he added.
Support free-thinking journalism and attend Independent events
Join our new commenting forum
Join thought-provoking conversations, follow other Independent readers and see their replies