Syria's three-way war: Free Syrian Army rebels fight the regime and, now, the Islamists
As Bashar al-Assad's troops press forward into the strategically important city of Homs, moderate, secular Syrian rebels must fight his forces back while also taking on an al-Qa'ida affiliate that is no longer on their side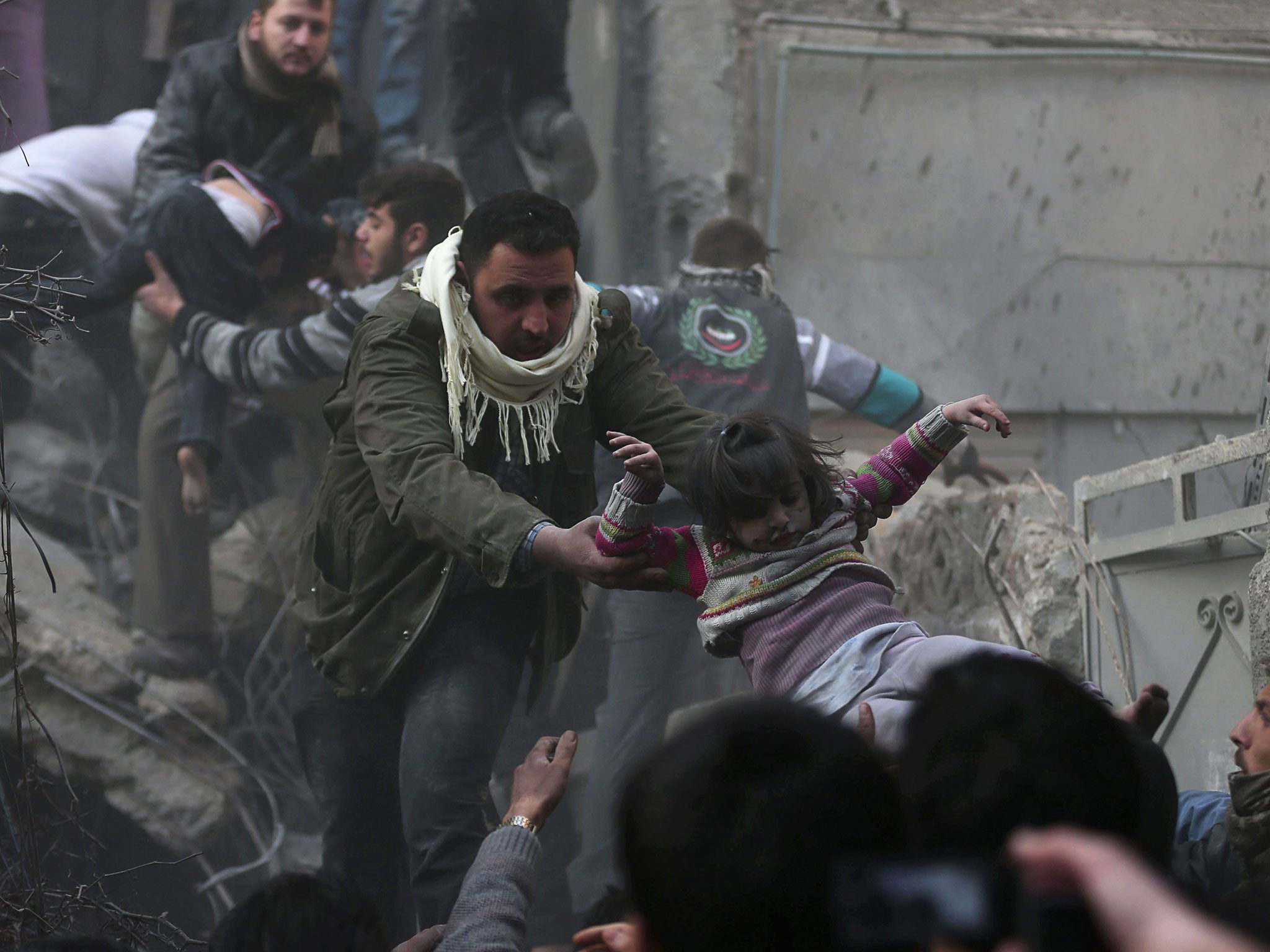 The regime's attacks came from ground and air. The initial losses were among the rebels, around 50 of them, some of their best fighters, who had been defending Homs's old city against the odds. The casualties after that were mainly civilians as missiles, mortars and artillery shells pounded into the broken buildings, what was left after months of violence.
Across the country in Aleppo were 50 more dead bodies, many with their hands tied behind their backs, some bearing marks of torture; prisoners executed in one of the last vengeful acts by jihadists linked to al-Qa'ida, retreating in the face of an offensive by revolutionary brigades who have turned against them.
Syria's civil war lurches from one bloody episode to another, continuing to take its toll among the men with guns and an exhausted population suffering hunger and disease as well as bombs and bullets. But amid the carnage, significant moves are being played out with new battle-lines are now being drawn and advances made, with Homs among the prizes sought.
This comes before the first face-to-face talks in Geneva between the regime and the rebels as the uprising enters its third year. No one expects peace to break out immediately, but there are flickering hopes that this was the start of a process which may result in a deal.
But there is recognition that any deal will, at best, be a partial one. Members of the opposition umbrella group, the Syrian National Coalition (SNC) have been meeting over the last week to work out what lies ahead. Isis (Islamic State in Iraq and Syria), the al-Qa'ida extension, has declared that anyone who agrees to a ceasefire is a traitor; a number of other Islamist groups have agreed.
The attacks on Isis by some of the other groups, including the Free Syrian Army (FSA), which is backed by the West, is the most open manifestation yet of a war within a war which is likely to continue. The forces of Bashar al-Assad have stepped up action in an attempt to take advantage of the schism.
Over the last 10 days the regime had slowly extended control of the main highway from Damascus to Homs which had been closed due to heavy fighting in the Qalaman mountains along the Lebanese border. After capturing parts of the town of Nabak, with atrocities carried out against civilians according to human rights groups, the troops were able to move heavy weaponry towards its targets.
The old city of Homs, with around 4,000 residents, has been under siege for over 18 months. Much of it has been destroyed. There is widespread malnutrition, especially among the children; six people are reported to have died of starvation.
Capturing Homs would be of immense strategic, as well as symbolic, value, lying at a crossing linking the capital to the coastal region of the Alawite community, from which President Assad and the ruling elite are drawn.
The assault focused on the Matahan area guarded by around 150 young fighters from Al Bayada Martyrs and Ansar and Ahrar al Sham brigades. Regime forces attempted to force their way through, but were driven out. But reinforcements, including armour, were seen heading down from Damascus yesterday.
Opposition reinforcements would be more difficult to supply, say their commanders, with fighting continuing against Isis in Aleppo and Idlib provinces in the north. To fighters like Abu Murad, a member of the Farouq Brigade, viewed as in the moderate wing of the opposition, the evidence of killings carried out by the Salafists, many of them foreign, is an incentive to continue.
"Most of the prisoners were not Bashar's men, but those who had been campaigning for the revolution, made sacrifices, long before al-Qa'ida came here" he said. "But they have also been shooting people saying they are against religion, when they are just ordinary people doing ordinary things. This shouldn't be happening in our country."
One such case earlier this week was in Idlib province where a diesel merchant had jokingly asked an Isis fighter, who had complained about impurities in his product, if he was "the god of fuel". That was enough for him to be arrested and executed for blasphemy.
There is a prevailing view among the opposition that the regime was secretly in league with the extremists. Some Chechen members of Isis had served in the Russian military in the past, leading to claims that they were Kremlin agents, acting as agent provocateurs.
Abu Murad says: "We have seen Bashar attack other khatibas (battalions) but Isis, he has left alone. Why? It is in his interest to let them win; then he can say all the revolutionaries are al-Qa'ida. The regime is not getting rid of Isis, we are clearing out Isis"
It remains unclear if Isis will remain cleared out. Currently it is also under attack by Iraqi security forces in Ramadi and Fallujah and its resources are stretched. If the situation changes across the border, al-Qa'ida's Syrian branch may re-establish itself.
Luay Mekdad, the FSA's political and media coordinator urged: "It's time for Isis to withdraw to their original strongholds, represented by Assad's security branches who created this group to try and infiltrate the ranks of revolutionaries." But most of areas Isis had pulled out of had passed to the Islamic Front, an Islamist alliance, rather than the Free Syrian Army.
The Front had stated its opposition to Isis. Hassan Aboud, one of its senior officials, said "Isis has attacked many other groups, stolen their weapons, occupied their headquarters and arbitrarily apprehended activists, journalists and rebels. It has tortured prisoner. Some of these people have attacked Isis positions, but Isis was the first to attack in other places, bringing this on itself."
However, just one member group in the alliance, Ansar al-Sham, has acknowledged taking part in the attack on Isis and the Front itself does not recognise the SNC. Jabhat al-Nusra, another powerful Salafist group, has so far declared itself to be 'neutral'.
There will be rounds of meeting between the SNC and its international backers before surrounding the Geneva talks. The opposition will be urging the Western states once again to supply the FSA with arms. The failure to do so, they say, will mean that the advantage gained against Isis will not last for long."
Join our commenting forum
Join thought-provoking conversations, follow other Independent readers and see their replies