Syrian schoolgirl arrested by religious police for 'inappropriate clothing' freed after classmate protest
There have been several protests against the implementation of sharia law by al-Qaeda affiliated rebels in Idlib province in recent months 
Thursday 16 February 2017 14:38
comments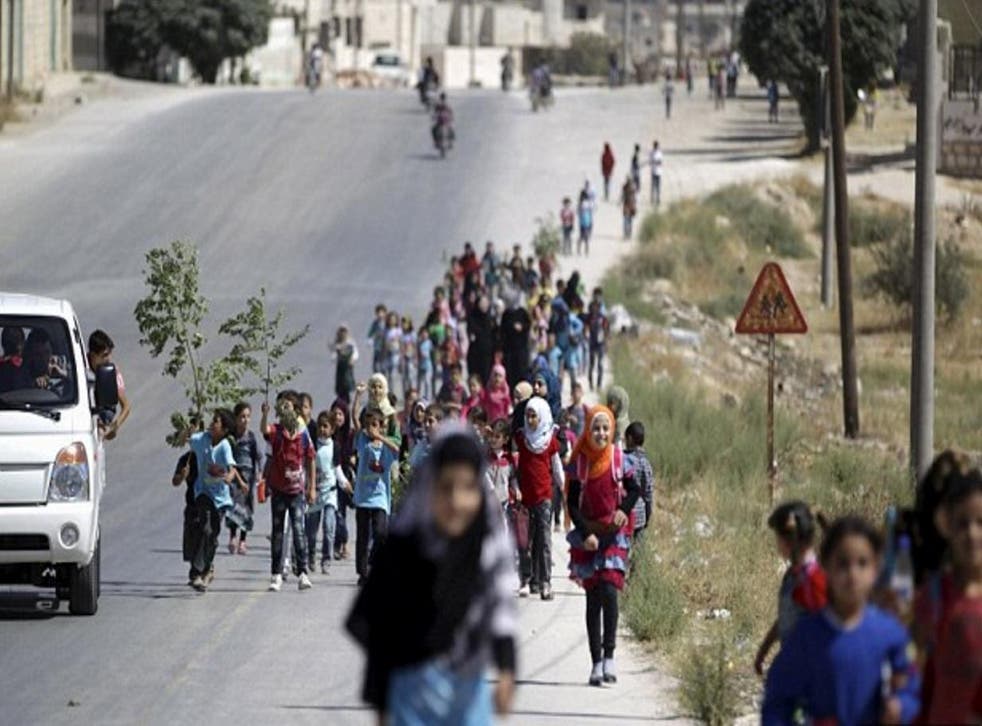 A young Syrian girl and her father, arrested by religious police in Idlib province, have been freed after vociferious protests from her classmates.
Several male members of Idlib's al-Hisba, or religious police, reportedly visited al-Orouba School for Girls without prior warning at the end of last month to inspect whether the girl's clothing was sharia-compliant.
According to eyewitnesses, five girls whose overcoats whose hems were more than 5cm from the ground were ordered to leave.
Cristiano Ronaldo offers children of Syria a message of hope
When one challenged the police, she was arrested – as was her father when he arrived at the school.
However, after an impromptu brave protest in defence of their friend, al-Hisba were cajoled into letting the pair go without charge.
"Female students know what it means to wear sharia-appropriate clothing, and they were already dressing modestly. Women here wear long clothing. It's not tight fitting. But the religious police have such exacting standards that it's ridiculous," one student, speaking anonymously, told Syria Direct.
In pictures: Children play underground in Syria

Show all 8
"The war has made just getting by extremely difficult, and most families don't have the money to buy their daughters more clothing. So it's not the fact that the girls object to wearing sharia-appropriate clothing but rather the ridiculous, excessive way that they have gone about it. They don't have any consideration for the position that families are in and the ways they've been affected by poverty."
Al-Qaeda affiliated rebels have controlled Idlib city and much of the surrounding province since 2015. In Idlib city itself, women must abide by strict conservative dress standards in all public spaces.
The area is where civilians were bussed to by the regime after fall of Aleppo in December. At the time, non-extremist activists forced to leave for Idlib warned that they would still be at risk from both al-Qaeda related rebel forces, and continued Russian and Syrian government air strikes.
One senior European diplomat said at the time that people fleeing Aleppo had a choice between surviving for a few weeks in Idlib or dying in Aleppo. "For the Russians it's simple. Place them all in Idlib and then they have all their rotten eggs in one basket," the source added.
There have been several protests against the implementation of sharia law in Idlib province, and particularly clothing regulations, in recent months.
Join our new commenting forum
Join thought-provoking conversations, follow other Independent readers and see their replies