Assad 'no longer immune' as Netanyahu threatens to strike Syrian targets unless Iran withdraws
Syrian president Bashar al-Assad is 'no longer immune, his regime is no longer immune. If he fires at us, we will destroy his forces'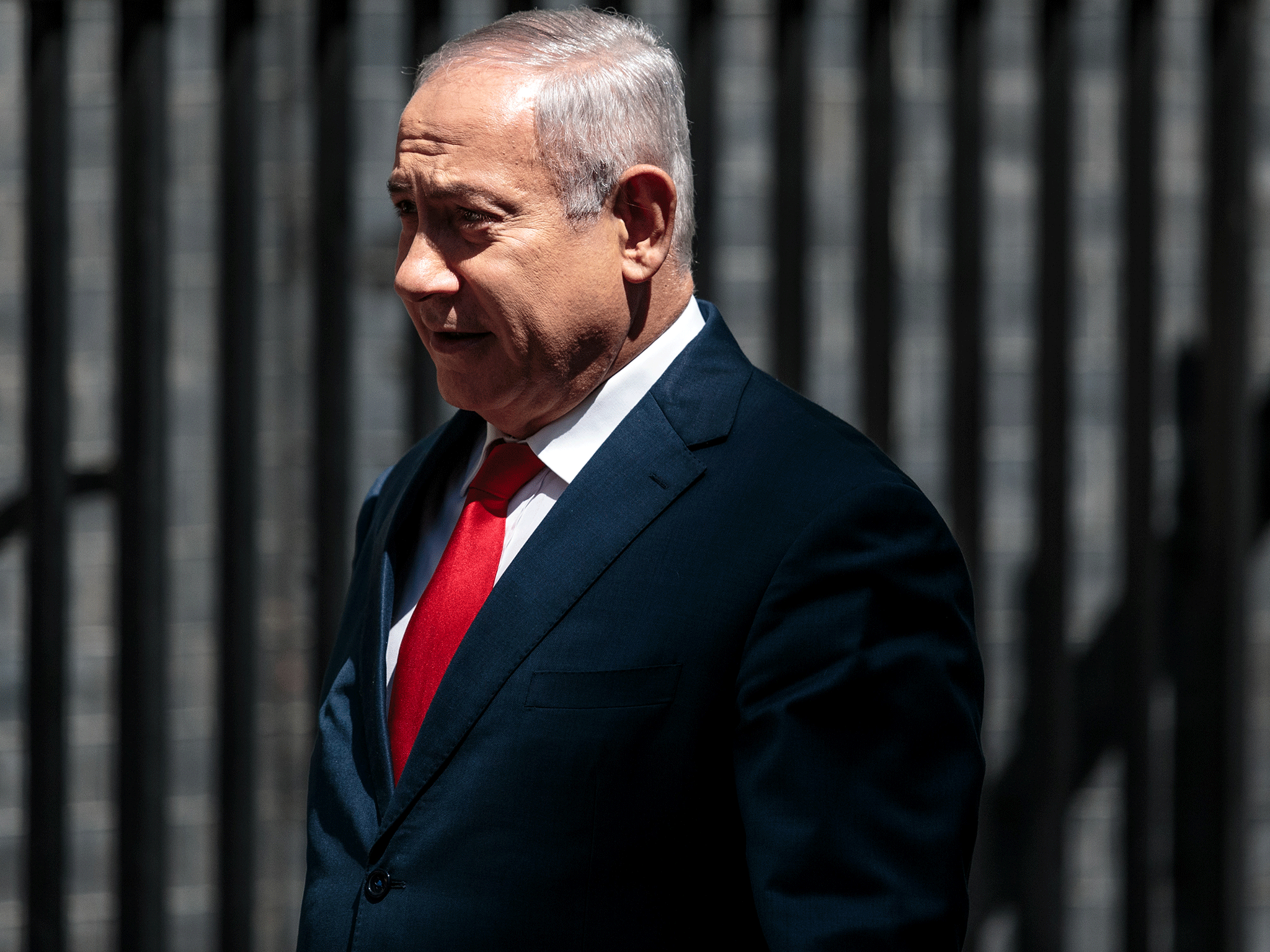 ​Israeli prime minister Benjamin Netanyahu has threatened to carry out direct military strikes targeting President Bashar al-Assad's regime unless all Iranian forces are withdrawn from Syria.
The aggressive ultimatum to Damascus is a significant escalation in the confrontation in Syria between Israel and Iran.
The Syrian leader was "no longer immune, his regime is no longer immune. If he fires at us, we will destroy his forces," Mr Netanyahu declared during a visit to London, speaking at a question and answer session at the Policy Exchange think tank.
Israel has carried out a number of air strikes on Iranian bases in Syria and has repeatedly demanded that Iran, which it considers "an existential threat", must remove its forces and weapons from Syria.
But this was the first time that it had been stated that the Assad regime would be punished for the presence of Iranian forces, which have been fighting Isis and Islamist rebels.
Mr Netanyahu said: "I think there is a new calculus that has to take place and Syria has to understand that Israel will not tolerate the Iranian military entrenchment in Syria against Israel.
"The consequences are not merely to the Iranian forces there but to the Assad regime as well, I think it's something that he should consider very seriously."
The Israeli prime minister blamed Assad personally for the presence of Tehran's forces in Syria as he warned of possible Israeli intervention.
"Assad has to consider this: when they waged this horrific civil war, Israel did not intervene. Now the war is nearly over, he invites Iran in to entrench itself?"
The Syrian leader was accused of facilitating Tehran "to move its army a thousand miles so it can threaten Israel. They want to bring in precision guided rockets with half a ton warheads and submarines to the Mediterranean… Iran does not believe in a master race, it believes in a master faith," and is bent on conquest, Mr Netanyahu charged.
The prime minister is on a tour of Western Europe to try to drum up support for further action against Iran, after US President Donald Trump reneged on an agreement between international powers and Tehran over its nuclear programme.
The other signatories to the deal – Britain, France, Germany, Russia and China – as well as the United Nations have all stressed that it was working and the Iranian government was abiding by its commitment.
Emmanuel Macron, Angela Merkel and Theresa May have told Mr Netanyahu that they are determined not to abandon the agreement, the scrapping of which could lead to nuclear proliferation in the region and beyond, they warned.
The Israeli prime minister maintained that his "real focus for this visit was not about the [nuclear] deal".
That, he boasted, had been effectively destroyed by him and Mr Trump.
Israel attack Iran targets in Syria: overnight airstrike in pictures
Show all 10
He warned European businesses of the punitive fines they would face under American sanctions if they continued trading with Iran.
Mr Netanyahu stated that his aim on the trip, instead, was to "expose" how "Iran is devouring one nation after another" and ask Western European governments to do more "about reversing Iran's aggression in the region and getting them out of Syria".
The French, German and British leaders have all raised their concerns with Mr Netanyahu about the recent brutal violence at the Gaza border in which dozens of Palestinians were shot dead by Israeli troops.
The UK foreign secretary, Boris Johnson, urged the Israeli government to open an independent inquiry into the deaths and injuries suffered during the protests.
Asked at the London meeting why non-lethal methods, such as water cannons and rubber bullets, were not used, or even a policy of shooting at legs, rather than shoot to kill, not pursued, Mr Netanyahu insisted: "We have tried all these methods, they don't work. These were not non-violent protests, quite the contrary.
"We are doing everything we can to both minimise casualties and, at the same time, protect Israeli lives."
Referring to Israel's success in technological innovations, Mr Netanyahu added "given our record, we probably will figure something out, but we haven't got there yet. The last thing we want is violence or confrontation."
Join our commenting forum
Join thought-provoking conversations, follow other Independent readers and see their replies