Syria war: Children among civilians killed in new air strikes on hospital and market in Aleppo province
At least 18 civilians were reported dead as the UN investigated a suspected chemical attack
Lizzie Dearden
Friday 12 August 2016 15:07 Comments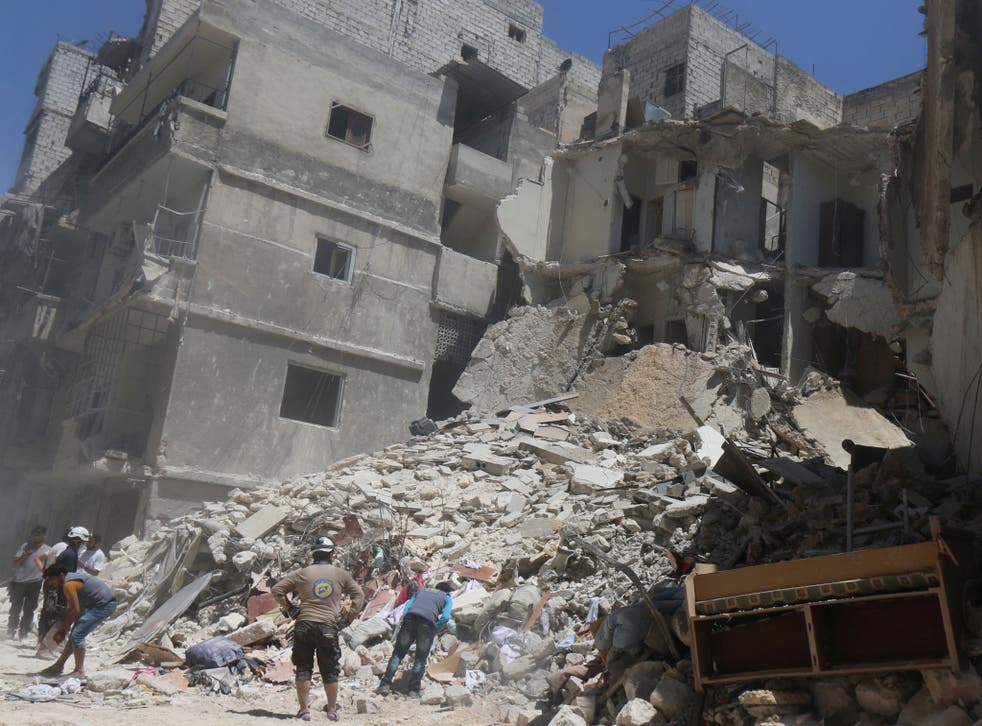 Children and medical staff were among at least 18 civilians killed in air strikes that hit a hospital, market and village as the Syrian regime continues attempts to dislodge rebels from Aleppo province.
Rescue workers said the only hospital for women and children in the town of Kafr Hamra was partially destroyed in a new bombing on Friday, killing two members of staff including a nurse.
The Syrian Civil Defence group said it pulled 10 injured people from beneath the rubble, which provided vital medical services for the surrounding area.
Hours later, air strikes hit a market in Urum al-Kubra, to the west of Aleppo city, killing at least six people according to the UK-based Syrian Observatory for Human Rights.
Children were among at least 10 other people reportedly killed in the bombing of the village of Hayan, where footage taken by opposition activists showed residents scrambling to recover the bodies of men, women and children strewn alongside a partially destroyed road.
No party in the conflict admitted the strikes but suspicion turned to Bashar al-Assad's forces and their Russian supporters.
All three of the areas hit lie on strategic roads through opposition-controlled territory, linking Aleppo with the Islamist stronghold of Idlib and running north towards the Turkish border.
The attacks came as the United Nations started its investigation into a reported chemical attack by the Syrian regime on opposition areas of Aleppo city on Thursday.
UN says Russia's three-hour daily truce is 'not enough' for Aleppo
At least seven civilians, including two children and their mother, were killed and scores more injured and left with breathing difficulties as doctors described a poisonous gas and the strong smell of chlorine.
President Assad's government has repeatedly denied the use of barrel bombs and chemical weapons despite numerous reports throughout the civil war.
Staffan de Mistura, the UN special envoy for Syria, said experts were investigating Thursday's attack after receiving "a lot of evidence".
"If it did take place, it is a war crime and as such it would require everyone to address it immediately," he added.
Doctors said the bombardment of health facilities was becoming so frequent that civilians were becoming afraid of going to hospital.
In July alone, aid organisations reported 43 facilities in opposition areas partially or totally destroyed.
Dr Hussein, who works in a hospital supported by Doctors Without Borders (MSF) in rebel-controlled eastern Aleppo, said essential services like paediatrics had been cut because of the number of civilians wounded in the war.
In pictures: Aleppo bombing

Show all 14
"The hospital has been damaged three times by bombings," he added, listing attacks in July and on 3 and 6 August.
"The hospital is running at the moment but is able to care only for the most urgent cases.
"People are scared to go to hospitals – they see them as potential targets. They only come to us now if it is an absolute emergency."
The UN has repeatedly called on all parties to comply with obligations under international law to protect civilians and vital infrastructure but, despite promises of a regime-backed ceasefire, the violence continues in Aleppo.
The city, divided between government and opposition control, remains the scene of fierce fighting after predominantly Islamist rebels fought through regime lines to break a two-month siege last week.
Jaish al-Fath, an alliance headed by former al-Qaeda affiliate Jabhat al-Nusra, is being targeted by the Syrian regime and its Russian allies as a designated terrorist organisation.
Elsewhere in Syria, the US-backed Syrian Democratic Forces rebel group was continuing an offensive to push Isis back along the Turkish border after driving militants out of their former stronghold of Manbij.
Register for free to continue reading
Registration is a free and easy way to support our truly independent journalism
By registering, you will also enjoy limited access to Premium articles, exclusive newsletters, commenting, and virtual events with our leading journalists
Already have an account? sign in
Register for free to continue reading
Registration is a free and easy way to support our truly independent journalism
By registering, you will also enjoy limited access to Premium articles, exclusive newsletters, commenting, and virtual events with our leading journalists
Already have an account? sign in
Join our new commenting forum
Join thought-provoking conversations, follow other Independent readers and see their replies