Syria war: More than 50 opposition fighters killed in 'Russian air strikes'
Those on the ground warn of 'a war coming' as a Russian-Turkish truce look increasingly fragile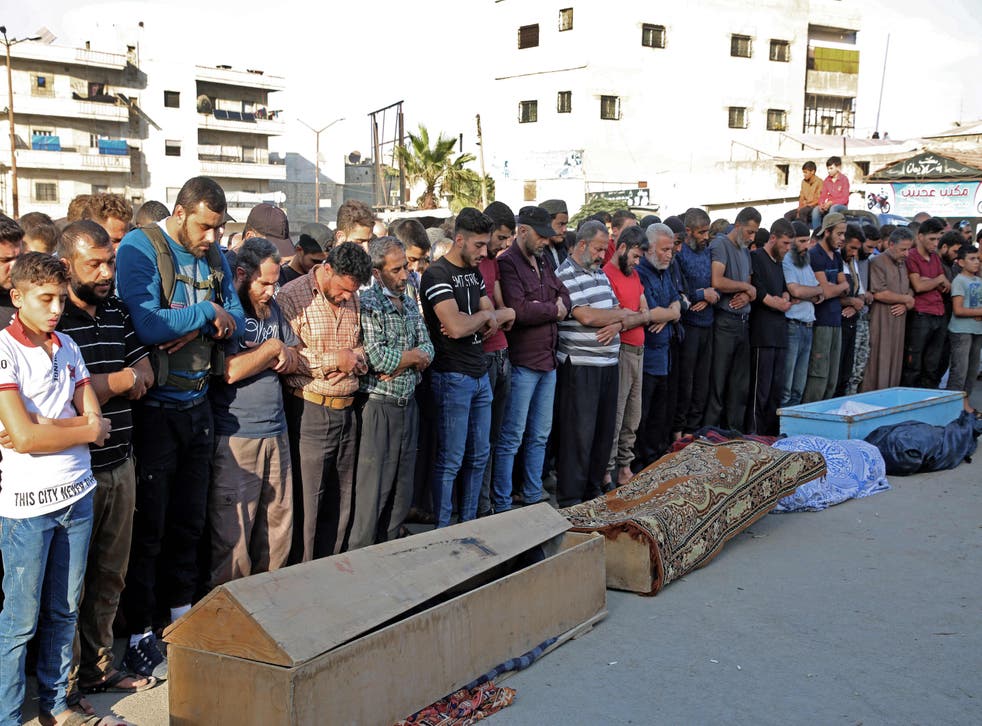 Leer en Español
More than 50 Syrian opposition fighters have been killed by an airstrike on a training camp in Idlib.
It was the deadliest attack on Turkish-backed forces in the region since a truce was agreed eight months ago.
Najji Mustafa, a spokesperson for the opposition forces, said dozens were killed in what they believed was a Russian air raid on a training camp of Faylaq al-Sham faction, one of the largest Turkish-backed armed groups.
However, Turkish-backed fighters in Idlib gave a higher toll saying as many as 80 had been killed and over 100 were injured.
Leaders of the camp were apparently among the dead, as well as at least one "media activist" said one commander, who warned a "war was coming".
The high death toll from the attack has sparked concerns it might see the end to a shaky ceasefire nominally in place since March.
"This is a bloody attack and violation of the truce between the Russians and the Turks," Abu Miqdad, a Turkish-backed commander told The Independent.
He said that Monday's strike followed repeated violations of the ceasefire in Idlib and could see a complete end to the agreement.
"We are preparing a counter-attack. Russia is trying to control Idlib on the pretext of eliminating extremists.
"I think the war is coming."
In early March, Turkey and Russia brokered a truce to halt a Russian-backed government offensive on Idlib, one of the last opposition-held enclaves in Syria.
The assault displaced almost a million people from their homes in one of the worst humanitarian crises of the nine-year civil war.
In the negotiations, Russia secured the right to deploy observation teams in the rebel enclave to monitor the ceasefire.
Last week, Turkish troops evacuated one of their largest military bases in the area, which was surrounded by Syrian government troops for months.
Syrian opposition fighters said it was part of Turkey's redeployment of its forces in the shrinking enclave.
The March truce has largely held, despite intermittent bombardments in the area from both sides. In the comparative calm at least 200,000 civilians have returned to their homes.
But analysts fear the high death toll from Monday's airstrike might see a breakdown in the agreement.
"It's hard to see Turkey not responding to this," wrote Nick Grinstead, a non-resident scholar with the Middle East Institute's Syria programme, on Twitter.
"Negotiations over Idlib reportedly broke down last month with Turkey reinforcing since then."
Register for free to continue reading
Registration is a free and easy way to support our truly independent journalism
By registering, you will also enjoy limited access to Premium articles, exclusive newsletters, commenting, and virtual events with our leading journalists
Already have an account? sign in
Register for free to continue reading
Registration is a free and easy way to support our truly independent journalism
By registering, you will also enjoy limited access to Premium articles, exclusive newsletters, commenting, and virtual events with our leading journalists
Already have an account? sign in
Join our new commenting forum
Join thought-provoking conversations, follow other Independent readers and see their replies