Bloody battle for last Isis territory nears end in Syria
Several hundred Isis fighters thought to be remaining in last village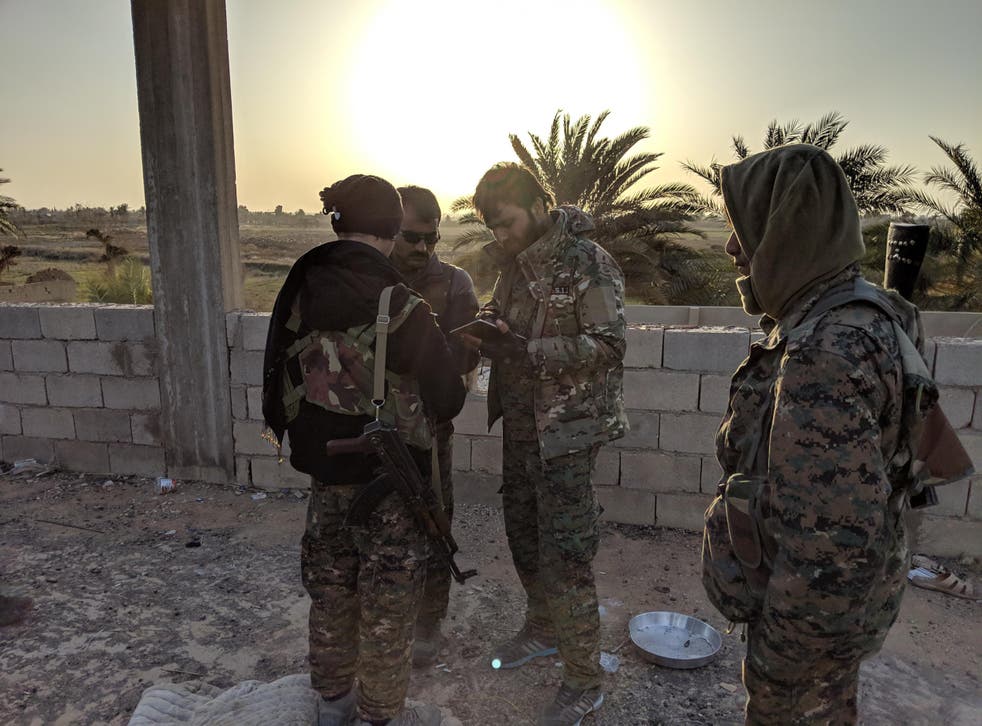 More than a dozen civilians have been reportedly killed in the last 24 hours as the battle for the last territory held by Isis nears its end in eastern Syria.
Some 16 people, among them seven children and eight women, were hit by an airstrike from the US-led coalition as they were fleeing the Isis-held village of Baghouz, according to the Syrian Observatory for Human Rights.
The US-backed Syrian Democratic Forces (SDF) announced the beginning of a "final battle" on Saturday to capture the small hamlet, which would effectively bring an end to the group's territorial ambitions in Iraq and Syria.
Some 600 Isis fighters are thought to be holed up in Baghouz, and have been stopping civilians from leaving in order to use them as human shields, the Observatory said.
Syrian state media, meanwhile, said 70 people were killed by an airstrike on the edge of the village, where they were taking shelter from the fighting. The government-controlled outlet is a less reliable source of news, however.
Isis's 'scorched earth' tactics damaged northern Iraq

Show all 6
The coalition said in a statement that it had launched a "precision strike" on Monday against an "Isis command and control facility, formerly used as a mosque", but it is unclear whether the strike caused civilian deaths.
"This mosque lost its protected status when Isis deliberately chose to use it as a command and control centre," said Maj Gen Christopher Ghika, deputy commander in the coalition.
Colonel Sean Ryan, a spokesperson for the coalition, told The Independent that the battle for the last Isis pocket has been "slow and methodical as the enemy is fully entrenched and Isis fighters continue to conduct a counter attack".
The capture of Baghouz would mark an important military and symbolic victory for the coalition of more than 70 countries that was forged to defeat Isis. The caliphate declared by the group in 2014 once ruled over 10 million people and spanned thousands of miles. It carried out genocidal attacks in Iraq, enslaved thousands of women and massacred all those who opposed it.
"We do not want to look too far ahead, however," said Colonel Ryan. "After Baghouz, clearing operations will have to take place as well and Isis has purposely left IED's behind to intentionally kill innocent civilians."
Isis has resorted to desperate tactics in the last few days as it faced an onslaught of airstrikes and attacks from the SDF on the ground. The group sent three car bombs towards the frontline on Tuesday, reportedly killing nine SDF fighters.
Over the past month, as the caliphate has shrunk smaller and smaller, more than 20,000 people have fled the area. Many of them are suspected of being family members of Isis fighters, and fighters themselves have tried to sneak out of the area by posing as civilians.
With the battle not yet done, the SDF is already preparing for an entirely different battle against Isis. The group has begun morphing back into an underground insurgency, activating sleeper cells to launch bomb attacks.
'I have no other home': Irish citizen suspected of Isis links Alexandr Bekmirzaev on his desire to return to Dublin
Donald Trump announced last month that the 2,000 US troops in Syria would be withdrawing from the country, which may force the SDF to strike a power-sharing deal with Bashar al-Assad's government in the areas it captured from Isis.
Join our new commenting forum
Join thought-provoking conversations, follow other Independent readers and see their replies