Syria war: US fighter jets scrambled to stop Syrian planes bombing special forces and allies in Hasakah
American special forces have been training Kurdish groups regarded as 'terrorists' by the regime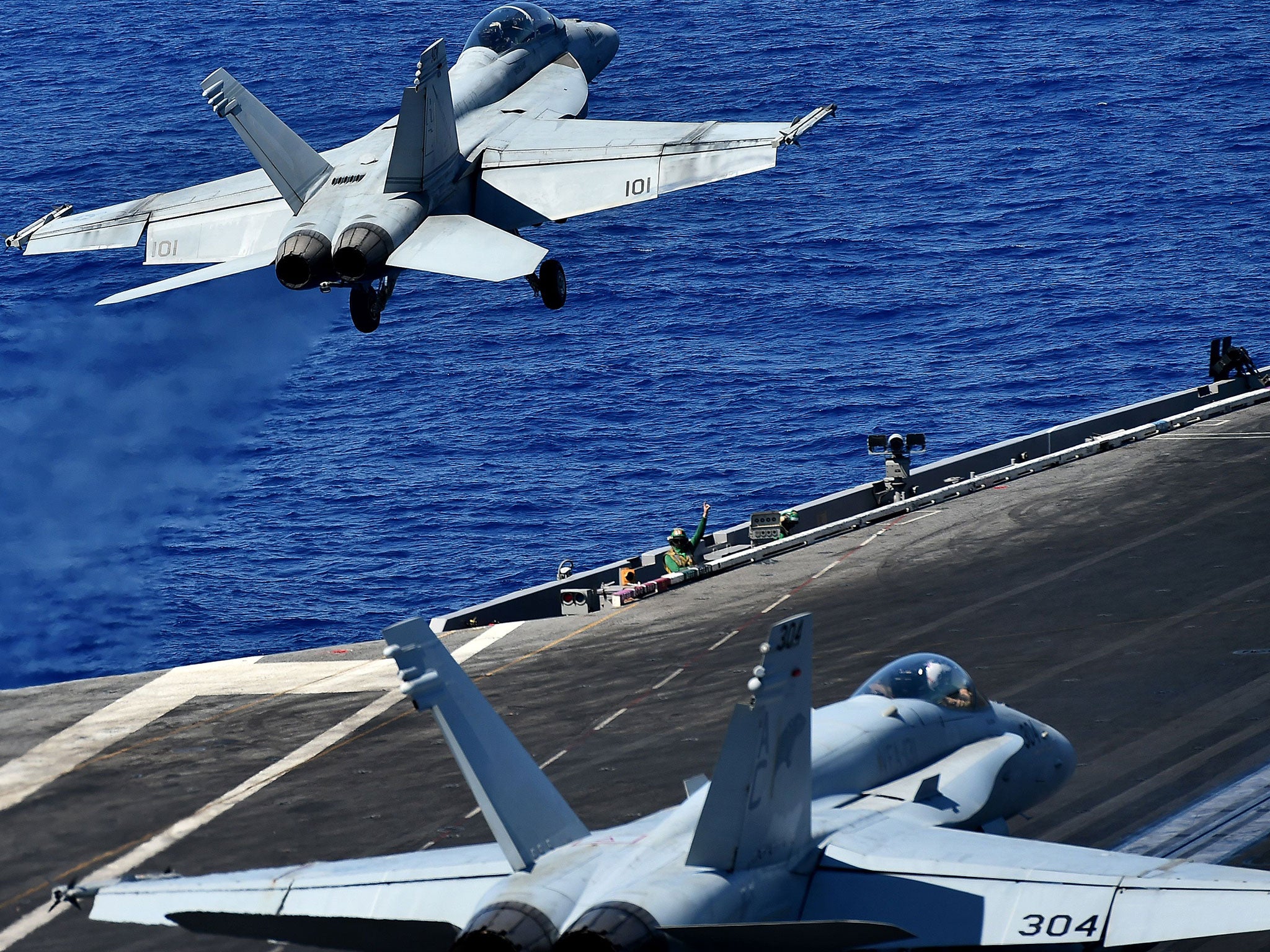 American fighter jets have been scrambled to stop Bashar al-Assad's air force bombing US special forces and anti-Isis allies on the ground as the Syrian conflict intensifies.
Defence officials said the Syrian planes were leaving as the coalition aircraft arrived, meaning they did not engage in combat, but that the US would not hesitate to defend its forces.
Captain Jeff Davis said the American jets were sent to the north-eastern city of Hasakah on Thursday after two Syrian air force SU-24s started air strikes near where coalition forces were conducting operations on the ground.
"It troubles us when we see regime airstrikes in Hasakah in an area where it's well known by everybody, to include the [Assad] regime, that the coalition is actively engaged in operations against Isis," the Department of Defence spokesperson said.
The video which shows the suffering of the children of Aleppo
"We view instances that place coalition personnel at risk with the utmost seriousness and we do have the inherent right of self-defence when US forces are at risk."
Elite troops are training and supporting the Kurdish People's Protection Units (YPG) in the area, where rebel territory provides an eastern base for an expected advance on Isis' de-facto capital of Raqqa.
But as the Syrian civil war continues, regime forces have turned their fire on Kurdish areas of Hasakah for the past two days, causing thousands of civilians to flee a series of air raids.
Capt Davis said Thursday's incident was the first time American planes had been scrambled in response to Syrian bombing, and the first known wide-ranging attack against the YPG by the regime.
Coalition military personnel attempted to contact the pilots over the "guard frequency" to prevent the confrontation but received no response, and moved in after being assured by Russian officials that their jets were not responsible for the bombing.
As allies of Assad, the Russians were asked to tell the Syrian government that US aircraft would move in if their troops were threatened, Capt Davies said.
In pictures: Russian air strikes in Syria
Show all 19
The US and Russia have established a special communications channel to avoid mid-air conflict as they continue to back opposing sides of the civil war, but no such contact exists with the Syrian government.
Capt Davis said no US personnel were injured and that airspace would be closely monitored by extra patrols to ensure their safety, adding: "As we've said in the past, the Syrian regime would be well-advised not to interfere with coalition forces or our partners."
The situation threatens to bring the international coalition into direct conflict with Assad's forces for the first time since US planes started an anti-Isis bombing campaign in September 2015.
Faysal Itani, a senior fellow at the Atlantic Council think tank, said it was easy for the Syrian government to avoid bombing large bases but far more risky to strike areas close to YPG forces being trained by the coalition.
"If the regime continues bombing in close proximity to US forces, then simply I think the United States will shoot down the regime aircraft," he added.
Britain, France and several other nations are also conducting air strikes, which are predominantly targeting the so-called Islamic State and supporting selected rebels fighting the group.
Russia and the Assad regime also say they are targeting Isis but class all opposition groups as "terrorists" and legitimate targets for their bombing raids.
In June, Russian planes hit a coalition-backed rebel group's base with cluster munitions after allegedly ignoring attempts to warn them off.
Several members of the New Syrian Army (NSA) were killed in the attack on al-Tanf, where Russian officials allegedly did not respond to entreaties over the official communications channel.
The Kremlin's jets reportedly retreated after the arrival of American planes, but returned after they left to carry out two devastating strikes during a supposed "cessation of hostilities".
British special forces units were photographed near al-Tanf in June, as NSA fighters continued efforts to push Isis back from a strategic base and the borders with Iraq and Jordan.
Battles raged in Hasakah on Saturday, where residents said government air strikes had killed and injured dozens of civilians, cut off the electricity supply and caused food shortages.
The city and surrounding areas came under the control of militias led by the YPG in 2012 after regime forces withdrew from the predominantly Kurdish region to focus on fighting rebels elsewhere in Syria.
In a statement carried by Syrian state media, the general command of the armed forces accused Kurdish forces of "attacking state establishments, stealing oil and cotton, disrupting examinations, carrying out abductions, and causing a state of chaos and instability".
Join our commenting forum
Join thought-provoking conversations, follow other Independent readers and see their replies