'At least take the children': Time running out to bring foreign nationals home as Syrian regime advances, the UN warns
Kurdish officials admit they have lost control of at least one camp holding thousands of people affiliated with Isis, other camps are 'ready to explode'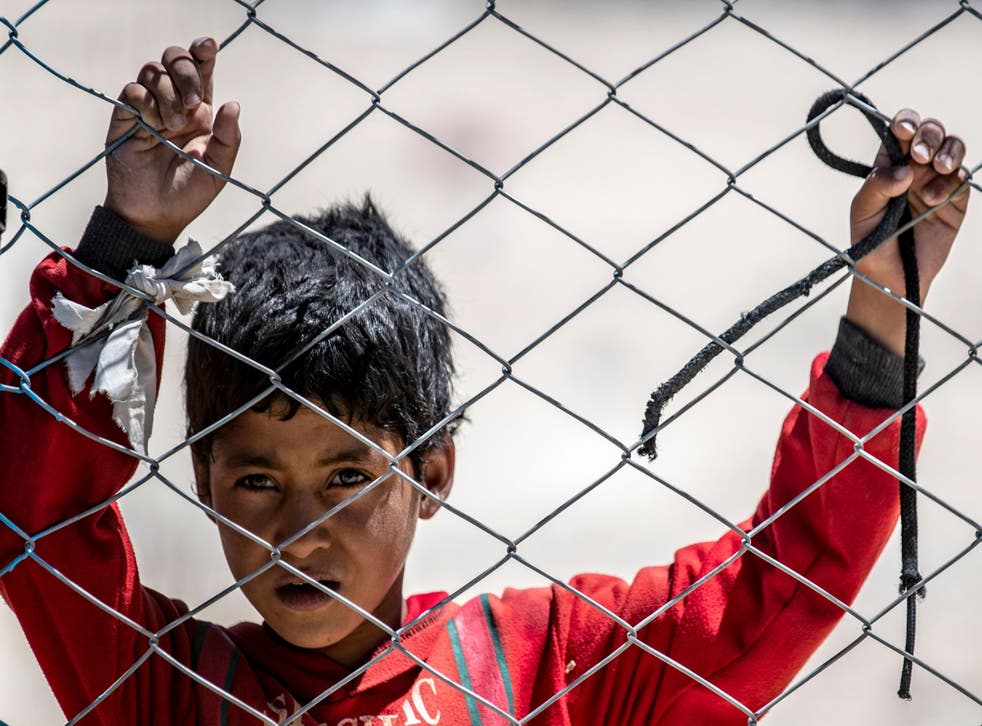 Time is running out for countries to repatriate their citizens held in camps and prisons in northern Syria, the UN has warned, as regime troops advance into Kurdish areas.
Local forces have lost control of at least one camp, allowing thousands of Isis affiliates to escape.
On Tuesday, President Assad pressed deep into Kurdish-controlled northern Syria, after striking a deal with the Syrian Democratic Forces (SDF) to halt a cross-border incursion from Turkey.
Rights groups have said foreign governments only have just weeks to act, warning that advancing regime soldiers may soon take over detention centres – making it near impossible to bring citizens home.
The UN echoed their pleas saying member states must repatriate nationals "as soon as possible ... in the face of the deteriorating situation".
The Independent understands that dozens of British Isis members and at least 30 of their children are in custody in northern Syria.
Smoke rises from Ain Issa camp in Syria as clashes continue
Three of those British minors only narrowly escaped, when they were evacuated from Ain Issa camp, just 35km from the Turkish border amid the fighting, Save the Children said.
The three orphans, first identified by the BBC, are being cared for in Raqqa, along with 24 other unaccompanied children, the group added.
Kurdish officials admitted they lost control of Ain Issa, once home to 13,000 people linked to Isis including 950 foreigners, as clashes between guards and "Isis sleeper cells" erupted amid the security breakdown.
They shared videos of the area in flames, with towers of smoke stretching into the horizon.
"There are clashes between [SDF] forces and Isis around the camp," Mervan Qamishlo, an SDF spokesperson told The Independent.
When asked about the number of people who have escaped, he added: "We don't know because the situation is out of control".
Witnesses on the ground and rights workers corroborated the report, saying the camp was almost entirely empty. Families linked to Isis, who fled the clashes, remain unaccounted for.
Meanwhile 200km east in al-Hol camp – where some 58,000 women and children, including roughly 11,000 foreigners, are being held – a head of the civilian administration there warned The Independent they were forced to leave as tensions soared within the camp.
The official, who only wanted to be identified as Eylul, said that a handful of guards were left to keep order in the sprawling encampment, as most had been diverted to the front line.
Turkey launches offensive into Syria

Show all 25
"We have left the camp due to the terrible security situation and since many of the guards were mobilised to front line. Isis is seizing the chance to attack the camp and help people escape," the official said.
"There are riots every day now, even by the foreign families. They are preparing to attack workers here. There are some rumours about assassinations and some people may attack from outside the camp," she added.
Mr Qamishlo added that it was so tense at al-Hol "the situation was ready to explode".
Rights groups have urged countries to take responsibility for their nationals saying a possible regime takeover would heighten the chance of poor treatment and torture.
"Our call is that countries act now while the SDF is still in control of these areas, while we still have access," said Sonia Kush, Syria director for Save the Children.
"There are 8,704 foreign children from more than 40 nationalities in these camps. We are worried about every one of them."
Northern Syria has been ripped apart since Turkish president Recep Tayyip Erdogan launched a cross-border incursion on Wednesday to snuff out Kurdish forces he labels terrorists for their links to Kurdish group PKK, which is outlawed in Turkey.
Over 130,000 people, including 70,000 children, have been displaced in the fighting according to the UN. At least 60 civilians, including over 20 children, have been killed.
Facing an uneven battle, the Kurds turned to the Syrian regime on Sunday when Washington, the SDF's long-term ally, announced it would be withdrawing all 1,000 soldiers in the country.
US officials told Reuters the bulk of the US pull-out could be completed within days. British and French forces on the ground are expected to follow suit.
Despite the deal with the regime, the SDF maintain they will not be handing the management of Isis prisons and camps that remain under their control to Damascus.
In an official statement to The Independent the SDF spokesperson said: "There is no change in internal or civilian matters. The agreement only deals with the deployment of Syrian forces on the borders".
Syrians take to the streets to celebrate agreement between the Kurdish fighters and government forces
But when pushed, an individual SDF official, who asked not to be named, admitted they "don't have answers to any questions on the Syrian regime as many things are still unclear".
Sara Kayyali, from Human Rights Watch, said abuse was endemic in regime jails, and Isis suspects or family members would be at great risk if power was transferred to Damascus.
"[The regime] tortures people within an inch of their lives, and it engages in extrajudicial killings, imagine what this would be like for a foreign Isis suspect or a family member?" she told The Independent.
"Our message is, at least please take the children. They are first and foremost victims," she added.
The Russia-brokered agreement has so far only publicly specified that Syrian regime troops would be sent to key border towns between Manbij, the western-most point in Kurdish-controlled Syria and Derik near the border of Iraq.
Analysts, with access to details of the talks, said the Kurds had also agreed to relinquish control of energy facilities such as oil fields.
Issues may arise when fuller details of the security arrangement emerge, as this has yet to be properly "fleshed out".
Danny Makki, a Syrian analyst said Damascus will want access to Isis prisoners "for leverage".
"At the moment the camps and prisons are under the control of the Kurds but it hasn't been discussed in length," he said from Damascus.
"There is easily an option where the Syria regime will say they want access to a camp to use detainees as leverage with the west."
"It is just a matter of time," he warned.

Elizabeth Tsurkov, a research fellow at the Forum for Regional Thinking, added that most foreign aid workers have now fled northeastern Syria fearing repercussions from the Syrian regime. 

"This is going to have an effect on the humanitarian crisis in general at a time of displacement and will impact the camps," she said. 
Questions have been raised about Kurdish-run Isis prisons in the border town Qamishli, where Canadian citizen Jack Letts, nicknamed "Jihadi Jack" is believed to be held. He was a British national until his citizenship was stripped by the UK government in August.
Local Kurdish journalists in Qamishli confirmed to The Independent the prison was still under Kurdish control.
But regime forces, who before the Turkish invasion maintained a small presence in the south of the town, have expanded their grip on the city.
Save the Children and other rights organisations say that their staff have evacuated the area and so have no access to monitor the situation. Other rights groups like Mercy Corps and Medecins Sans Frontieres also said their staff were forced to pull out.
Shamima Begum, part of the "Bethnal Green trio" of girls who joined Isis, also had her British citizenship revoked and is believed to be in Roj camp, near the border with Iraq.
Save the Children confirmed that Roj camp, which houses some 1,700 people, including 1,200 foreign women and children, is stable for now. However, regime troops are expected to be deployed that far east relatively soon.
At least one camp, Mabrouka, which lay between the frontline border towns of Ras al Ain and Tal Abyad, was completely evacuated bar 15 families, who are now being held by the Turkish-backed Syrian National Army.
The rest were taken to Arisha camp, which lies 30km outside of Hasakah city, and may also eventually fall under regime control.
"The options of repatriating women and children over the last two years have been good but if control of these areas changes, it may get harder," Save the Children's Sonia Khush added.
There are some indications that Kurdish forces have taken high-priority Isis suspects with them as they retreat.
Turkish troops published footage on Monday they claimed showed an empty Isis prison in Tal Abyad which they now control.
"Prison guards appear to have released dangerous [Isis] militants, as they had formerly threatened to do," a senior Turkish official claimed.
Kurdish officials denied the claim saying there were no Isis jails in the town.
Additional reporting by Nader Seif El-Din
Register for free to continue reading
Registration is a free and easy way to support our truly independent journalism
By registering, you will also enjoy limited access to Premium articles, exclusive newsletters, commenting, and virtual events with our leading journalists
Already have an account? sign in
Join our new commenting forum
Join thought-provoking conversations, follow other Independent readers and see their replies