Nikki Haley attacks Russia for 'stalling' vote on Syria ceasefire: 'How many more people will die before Security Council votes?'
America and allies are backing cessation of fighting for besieged eastern Ghouta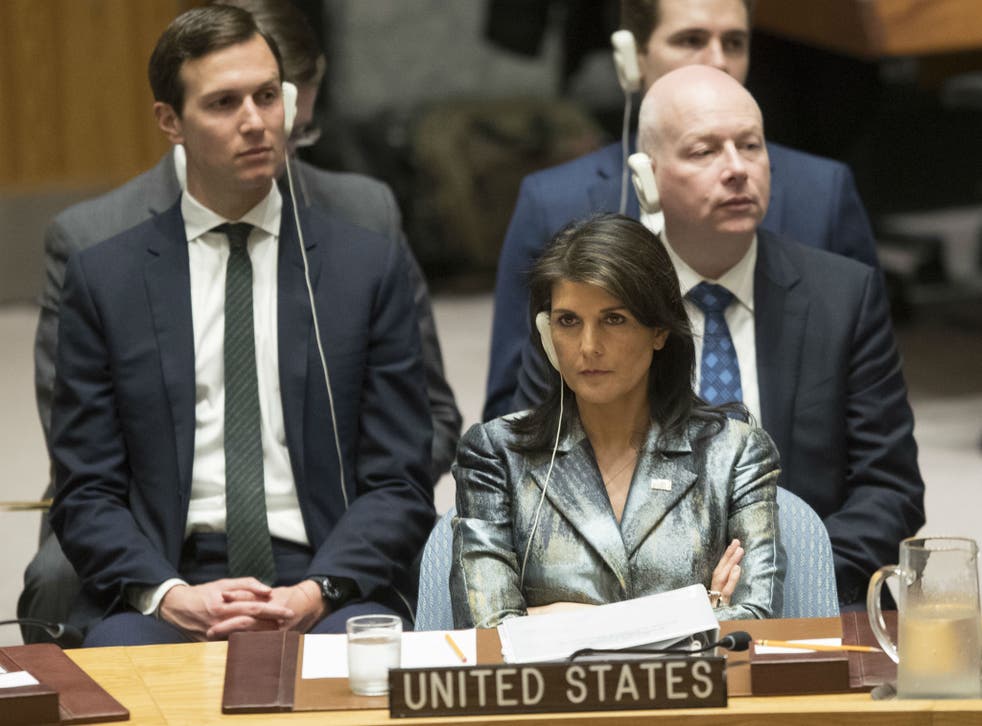 America's ambassador to the United Nations blasted Russia for delaying a vote on a ceasefire in Syria for the besieged area of eastern Ghouta, saying "the Syrian people can't wait".
"Unbelievable that Russia is stalling a vote on a ceasefire allowing humanitarian access in Syria," Nikki Haley said on Twitter.
"How many more people will die before the The Security Council agrees to take up this vote? Let's do this tonight."
Hundreds of civilians are estimated to have died in a bombardment of eastern Ghouta, leading the US and others to urge a temporary ceasefire allowing humanitarian aid.
Debate around a ceasefire resolution extended into a second day after Russia objected to an earlier version that would have imposed a 30-day halt in hostilities, with UN ambassador Vassily Nebenzia calling the proposal "unrealistic" and accusing other council members of being misled by a "massive psychosis".
Russia has been a key backer of Syrian leader Bashar al-Assad's regime, lending military support to government forces in the bloody civil war.
As a permanent member of the UN Security Council, Russia wields veto power and has repeatedly blocked resolutions on Syria. In November it vetoed its 10th Syria-related UN resolution, a US-drafted call to investigate who was culpable for chemical weapons attacks.
Eastern Ghouta bombings: Syrian war in pictures

Show all 14
The US this week accused Assad of a systematic campaign to "bomb and starve" residents of eastern Ghouta, a suburb of the regime-controlled capital of Damascus, with US ambassador for economic and social affairs, Kelley Currie, telling the UN Security Council attacks "have been relentless".
"The regime wants to keep bombing and gassing these 400,000 people, and the Assad regime is counting on Russia to make sure the Security Council is unable to stop their suffering," Ms Currie said.
Scenes of devastation in Syria after deadly shelling and airstrikes and eastern Ghouta
The UN's Syria envoy, Staffan de Mistura, pleaded with members earlier this week to take action and prevent a "massacre".
"We will be judged by history," Mr de Mistura said.
Join our new commenting forum
Join thought-provoking conversations, follow other Independent readers and see their replies