US troops forced out of Syrian town by anti-Assad rebels
Video purportedly shows supposed American allies of the Free Syrian Army chanting: 'We're going to slaughter you'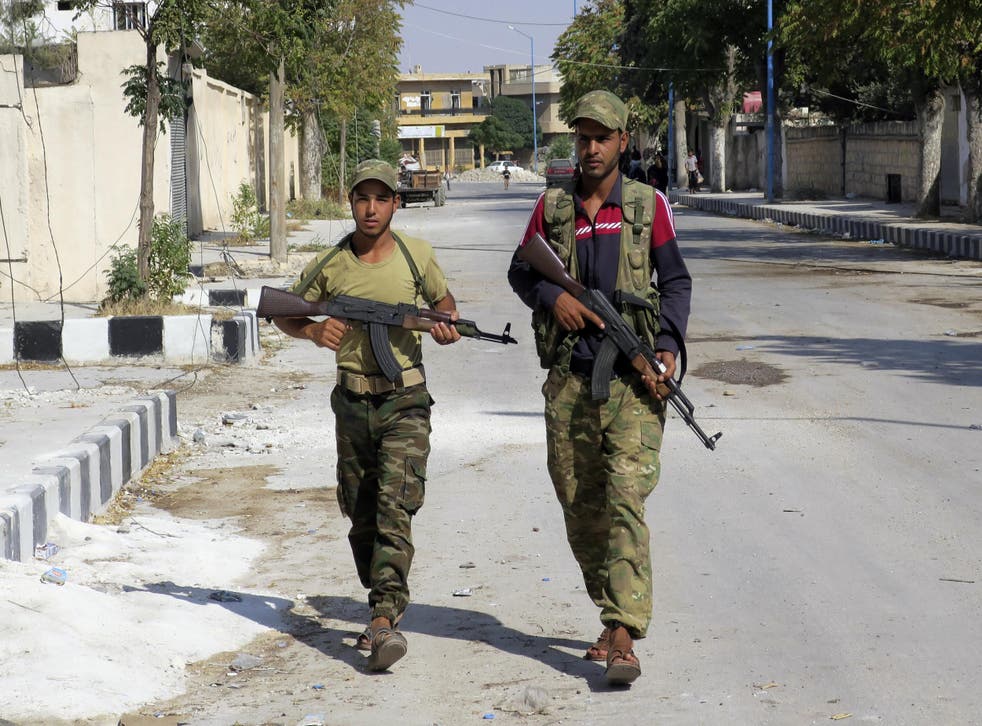 Syrian rebels have chased American forces out of the town of al-Rai, according to local sources.
The Associated Press reports that US troops headed back towards Turkey after a dispute about their presence.
The five or six US special forces were there to support Operation Euphrates Shield, which began last month with Free Syrian Army fighters backed by Turkish artillery and jets.
In recent weeks they have managed to push jihadists of the Islamic State (IS) back from the Turkish border.
However, the latest episode highlights the complexity of the conflict in Syria.
Purported video of the incident appears to show FSA fighters chanting anti-American slogans.
"Dogs, agents of America," one man can be heard to say in Arabic, according to a translation by Middle East Eye, while others chant "They are crusaders and infidels", "Down with America", "'Get out you pigs" and "They are coming to Syria to occupy it".
Syrian rebels and Turkish tanks 'seize' ISIL-held town
The episode will be deeply embarrassing to the US as it struggles with criticism that it lacks a coherent Syria policy. The FSA is seen by the US as a "moderate" rebel group fighting to bring down the regime of Bashar al-Assad.
And it comes after clashes between Turkish-allied forces and the Kurdish YPG militia -a key American partner in the fight against IS - which have have created tension between Washington and Ankara.
Meanwhile, a shaky ceasefire continues to hold amid complaints that the aid is not being delivered to cities in need.
On Friday, the United States told Russia it would not proceed with plans to set up a committee to enable joint targeting of militants in Syria until humanitarian supplies began to reach the besieged city of Aleppo and other areas.
Mr Kerry, US Secretary of State, delivered the message in a phone call to Sergei Lavrov, his Russian counterpart.
A State Department spokesman said: "Secretary Kerry expressed concerns about the repeated and unacceptable delays of humanitarian aid, and emphasised that the United States expects Russia to use its influence on the Asad regime to allow UN humanitarian convoys to reach Aleppo and other areas in need."
Register for free to continue reading
Registration is a free and easy way to support our truly independent journalism
By registering, you will also enjoy limited access to Premium articles, exclusive newsletters, commenting, and virtual events with our leading journalists
Already have an account? sign in
Register for free to continue reading
Registration is a free and easy way to support our truly independent journalism
By registering, you will also enjoy limited access to Premium articles, exclusive newsletters, commenting, and virtual events with our leading journalists
Already have an account? sign in
Join our new commenting forum
Join thought-provoking conversations, follow other Independent readers and see their replies