Syrian army announces new offensive on rebel-held Aleppo
Military headquarters in the city urges civilians to avoid areas where 'terrorists' are located
Thursday 22 September 2016 23:33
Comments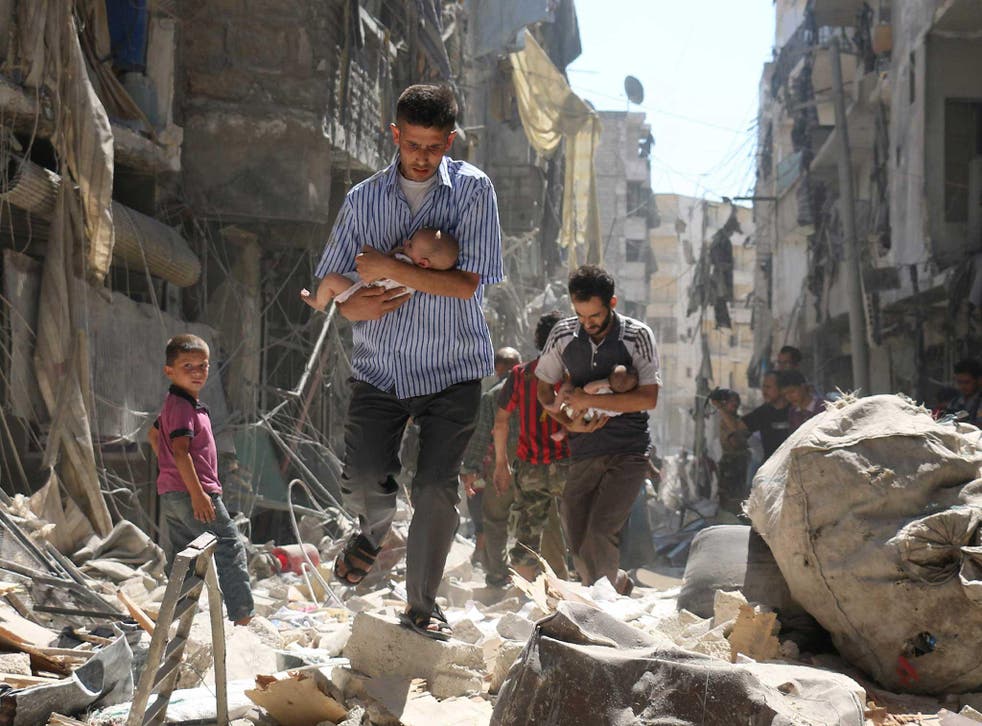 The Syrian army have announced a start of a new offensive on Aleppo, leaving the hopes of renewing a ceasefire in tatters.
State media has reported the army intend to attack the rebel-held city, signalling a further escalation to the bombing campaign by Russian and Syrian jets which has already intensified in the last 24 hours.
The military headquarters in the city has reportedly urged civilians to avoid areas where "terrorists" are located.
It is not yet clear if the attack will be a ground operation or a series of air raids.
A spokesman for the Nour el-Din el-Zinki rebel factions in Aleppo said government forces had not managed to make any advances in the city in the last 24 hours.
The Syrian Observatory for Human Rights confirmed the recommencing of raids on eastern Aleppo this week, saying at least 14 people, mostly civilians, had been killed so far.
World news in pictures

Show all 50
Since the start of the week Syrian air forces have increased their bombing raids of rebel-held areas.
The Syrian American Medical society said one of its facilities had been hit and the UN said another clinic had been destroyed, killing several medical staff and civilians, the Guardian reported.
Bashar al-Assad, the Syrian President, denied his government were responsible for the attacks.
"We don't attack any hospitals. This is how we can help the terrorists, if we attack hospitals, schools, and things like this," he told the Associated Press.
The seven day ceasefire agreed by the US and Russia collapsed last week as the two nations continue to push for a lasting ceasefire.
Register for free to continue reading
Registration is a free and easy way to support our truly independent journalism
By registering, you will also enjoy limited access to Premium articles, exclusive newsletters, commenting, and virtual events with our leading journalists
Already have an account? sign in
Register for free to continue reading
Registration is a free and easy way to support our truly independent journalism
By registering, you will also enjoy limited access to Premium articles, exclusive newsletters, commenting, and virtual events with our leading journalists
Already have an account? sign in
Join our new commenting forum
Join thought-provoking conversations, follow other Independent readers and see their replies