Syrian civil war: Aleppo hit by another day of bombing as temporary truce excludes divided city
Hundreds of civilians are believed to have died in recent days in both government and rebel-held aeras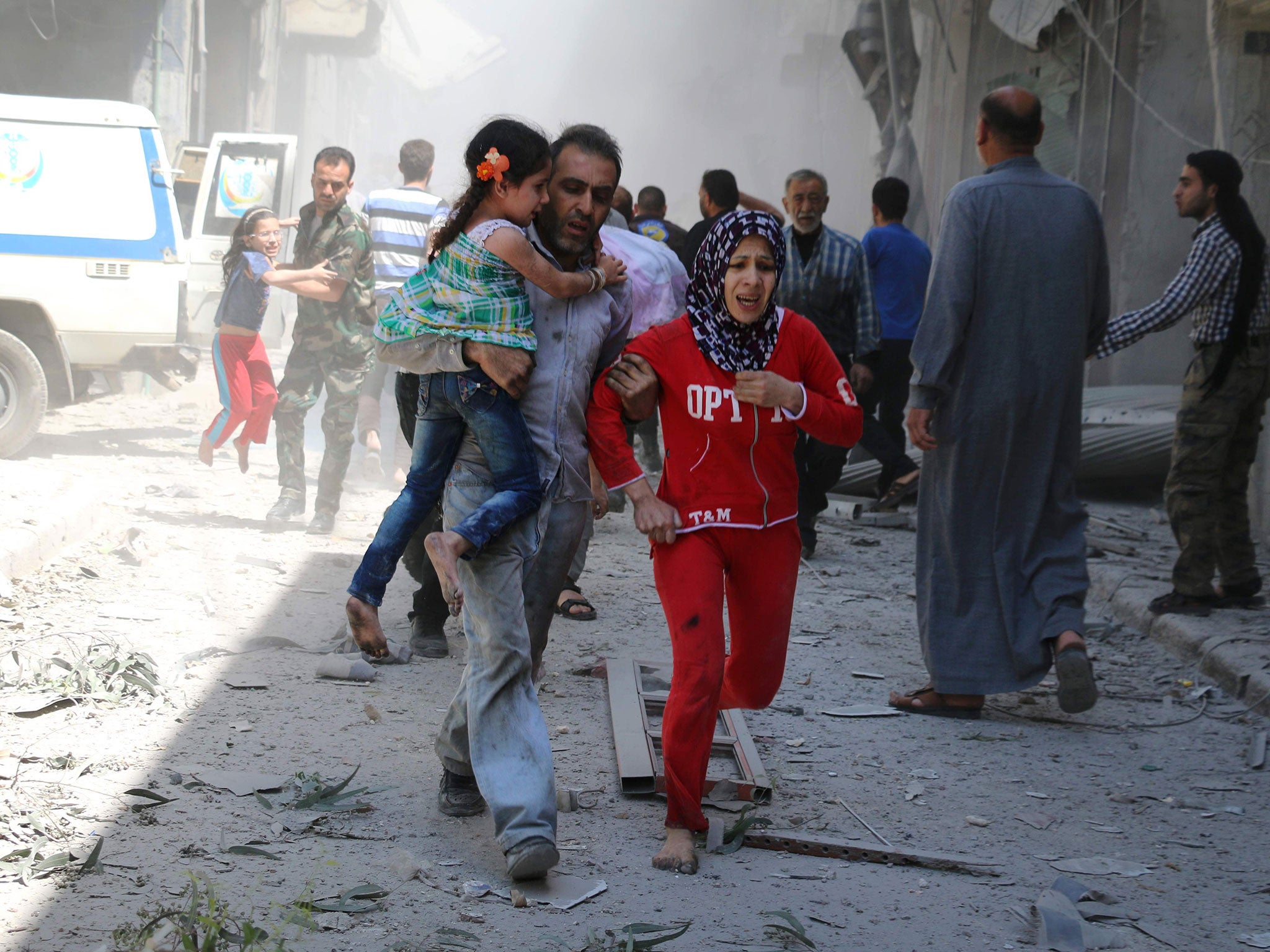 More air strikes and rockets were raining down on Aleppo on Saturday as the divided city remained excluded from a partial ceasefire agreed elsewhere in Syria.
Bashar al-Assad's government said it would adhere to a "regime of silence" that started at midnight and was due to continue for 24 hours in Damascus and 72 hours in Latakia province.
Rebel groups, excluding Isis and Jabhat al-Nusra, are not part of the agreement brokered by Russia and the US.
But in the country's second largest city, where hundreds of civilians are believed to have died in recent days, air strikes and bombardment showed little sign of slowing
Dozens killed in wave of air strikes in Syria's Aleppo
At least five people were killed in Aleppo early on Saturday in the latest round of air strikes on rebel areas, which were believed to have been carried out by Syrian government planes, according to the Syrian Observatory for Human Rights (SOHR).
Rami Abdulrahman, director of the UK-based monitoring group, said government-held areas were "a bit quieter today", but that shells fired by rebels were still intermittently hitting.
"There aren't clashes in Latakia, there aren't clashes in Ghouta (Damascus suburbs)," and only some lower-level violence between rival rebel groups outside Damascus, he added.
At least 22 civilians were killed and 80 injured on the government side of Aleppo in the 24 hours to Saturday afternoon, state media reported.
It was the ninth consecutive day of deadly bombardments in the city, which has borne the brunt of increased fighting that has almost destroyed a fragile ceasefire agreed in February.
Rocket and artillery strikes attributed to Bashar al-Assad's forces hit a medical centre and other civilian areas of rebel-controlled Aleppo on Friday.
Meanwhile, rebels possibly including Islamists al-Qaeda affiliate Jabhat al-Nusra were held responsible for rocket barrages fired into the government-held side of the city.
In pictures: Aleppo bombing
Show all 14
At least 16 worshippers were killed after Friday prayers at the Malla Khan mosque in regime-controlled Bab al-Faraj, officials said, while the Russian Consulate said its building was hit the previous day.
In rebel areas, strikes reportedly left at least 11 dead and destroyed a medical facility on Friday - the second to be hit in a week following the internationally condemned bombing of Al Quds Hospital, where more than 50 died.
Barrel bombs were also reported to have smashed into residential neighbourhoods as rescue workers struggled to cope with the destruction.
The SOHR documented more than 220 civilians killed in Aleppo between 22 and 29 April, including 134 in rebel-controlled areas and 84 in government districts.
Violence started to rise earlier this month despite the ongoing "cessation of hostilities" implemented in February, which excluded internationally designated terrorist groups.
The UN High Commissioner for Human Rights condemned the "monstrous disregard for civilian lives" by all parties to the conflict and called for urgent de-escalation.
"The violence is soaring back to the levels we saw prior to the cessation of hostilities," Zeid Ra'ad Al Hussein said.
"There are deeply disturbing reports of military build-ups indicating preparations for a lethal escalation."
Rebel areas of Aleppo are almost surrounded by the Syrian regime, leaving only one major road in and out, raising fears that Assad's forces are preparing to cut it off for a final assault.
The US government accused the Syrian regime of deliberately targeting a hospital during bombardment on Wednesday night, where more than 50 people were killed including a leading paediatrician.
John Kerry, the US Secretary of State, said American authorities were still gathering information but believed the hospital strike was a "deliberate" attack by Syrian forces, adding: "This follows the Assad regime's appalling record of striking such facilities and first responders."
A Syrian military official in Damascus denied the government had hit the hospital and Major General Igor Konashenkov said Russian planes had not flown any missions in the region for several days.
A proposed UN resolution that supporters hope will be adopted next week demands that all parties to conflicts protect medical workers, hospitals and medical facilities against violence and attacks.
The draft resolution circulated on Friday expresses deep concern that the number of attacks is increasing despite obligations under international law, and condemns "the prevailing impunity" for war crimes.
Security Council members are due to vote on the resolution on Tuesday after a briefing from Secretary-General Ban Ki-moon and the presidents of Doctors Without Borders (MSF) and the International Committee of the Red Cross.
Additional reporting by agencies
Join our commenting forum
Join thought-provoking conversations, follow other Independent readers and see their replies