Syrian civil war: Thousands flee Deraa as government gears up for crippling attack on rebels
US reportedly warns Syrian opposition it will not intervene ahead of looming army offensive which has sent 17,000 people seeking safety in direction of Jordanian border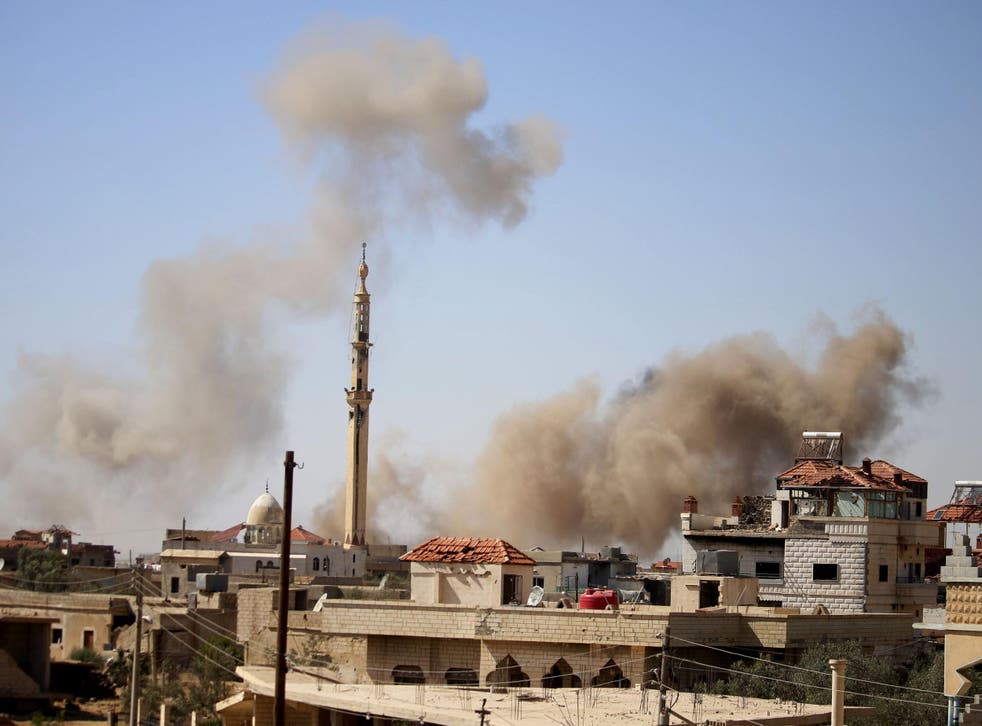 The Syrian military and allied Russian air force say they have killed 70 rebels in Syria's southwest as fears grow for civilians fleeing a massive government offensive on Deraa, one of the last opposition strongholds in the country.
War monitors and rebel sources said that thousands of people fled the city on Monday in the face of barrel bombing from government helicopters. Leaflets dropped on the city, which was the cradle of the 2011 popular uprising, warned residents the army was coming and urged civilians to "kick out the terrorists as your brothers did in eastern Ghouta".
The area is supposedly part of a de-escalation deal between Syrian president Bashar al-Assad's forces and rebel groups brokered by the US, Russia and neighbouring Jordan last year – but the flare-up in fighting follows a pattern seen elsewhere in the war-torn country as the government seeks to regain control against the now weak rebels.
Diane Abbott dodges question of whether Labour would ever back military action in Syria
Mr Assad's troops have advanced deep into Deraa under the cover of Russian airstrikes in the past six days. At least 26 people have died in strikes and shelling and 17,000 have left their homes, the UK based Syrian Observatory for Human Rights said.
"My wife and I left with only the clothes on our backs, because the house was completely destroyed," Muhammad Abu Qasim, 45, told Reuters. Heavy bombing had turned his village northeast of Deraa into "an unbearable hell", he said.
On Sunday an airstrike hit a medical centre in the nearby town of Busra al-Harir, causing damage but no casualties, according to a statement from the Union of Medical Care and Relief Organisations, a charity that works in opposition parts of Syria.
Airstrikes and street fighting in Busra al-Harir could cut off a rebel area, leaving it under siege – although Abu Shaima, spokesperson for a central operations room for rebels fighting under the banner of the Free Syrian Army (FSA), said on Monday the opposition had stopped the government advance.
Eastern Ghouta bombings: Syrian war in pictures

Show all 14
Deraa, which has been divided between rebel and government-controlled zones for years, is particularly internationally sensitive as it lies so close to the Jordanian and Israeli borders.
Jordan on Monday reiterated that it would not take in any more refugees from the looming offensive. A tweet from foreign minister Ayman Safadi demanded the de-escalation agreement be respected.
"We urge all parties to uphold ceasefire in south Syria to avert a new catastrophe," Mr Safadi said. "The solution is political and focus must be on reaching it.
Jordan "can't host more" refugees, Mr Safadi said, adding that the "consequences" of the new escalation were the "responsibility of those behind it".
Israel has no asylum policy for citizens of Syria – a country with which it technically does not have diplomatic relations – but does provide medical assistance for both fighters and civilians near its borders.
Amnesty International condemned Jordan's decision, saying that "closing the border to people in need of protection violates Jordan's international obligations".
The US has also reportedly backed away from its previous commitments to the Syrian opposition, warning rebels not to expect a US intervention to defend them from the army offensive.
In Moscow, deputy foreign minister Mikhail Bogdanov was quoted by RIA news agency as saying Russian officials hoped to discuss the situation with US national security adviser John Bolton soon, as well as with Jordan.
The Syrian military said in a statement through state media on Monday it was committed to protecting civilians in the area.
Apart from Deraa, the only other major rebel base left in Syria is the northwest province of Idlib.
The conflict, now in its eighth year, has killed more than 500,000 people and driven half the pre-war population of 22 million from their homes.
News agencies contributed to this report
Join our new commenting forum
Join thought-provoking conversations, follow other Independent readers and see their replies