Syrian civil war: Russian warplanes carry out airstrike on school near Aleppo, killing at least eight children
Airstrike in the town of Anjara in Aleppo province also seriously injured 20 people, monitors said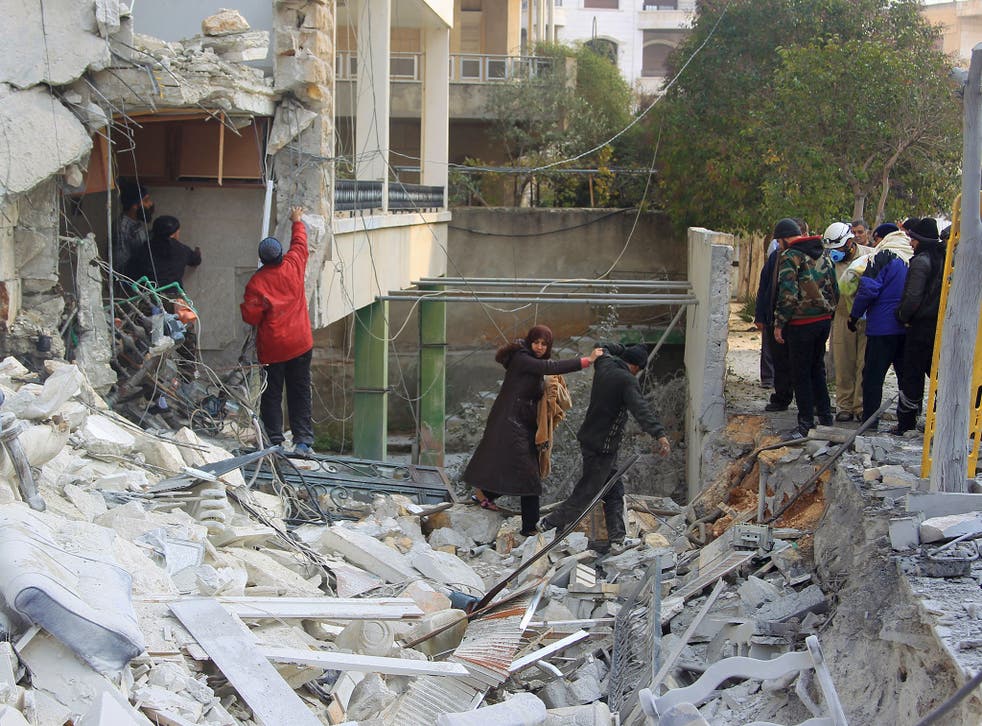 At least eight children have been killed after Russian warplanes carried out an airstrike on a school in north west Syria.
The Syrian Observatory for Human Rights said the airstrike in the town of Anjara in Aleppo province also seriously injured 20 other people, including a number of children.
The news comes as the death toll from recent Russian airstrikes in Idlib province hit close to 100.
Russian jets bombarded rebel-held areas of the province on Saturday, with a court and prison run by the Al Qaeda-affiliated Nusra Front in Maarat al-Numaan baring the brunt of the bombing.
"After 32 hours of our rescue operation, and following the deaths of those who were critically injured, the total death toll of the strikes has risen to 96," the Syria Civil Defence said in a press release yesterday.
The province of Idlib in western Syria in almost entirely controlled by the Fatah Army coalition, which is made up of a number of jihadi groups, including the aforementioned Nusra Front as well as Jund al-Aqsa, Jaish al-Sunna, Liwa al-Haqq and Ajnad al-Sham.
Russian jets also bombarded the Damascus suburb of Douma yesterday afternoon killing at least eight people and seriously injuring several others. The death toll is expected to rise.
In total more than 250,000 people have been killed in the five-year-old Syrian civil war, which started after President Bashar al-Assad used extreme force to crackdown on popular protests. Since then rebel militias, including Isis, have seized vast swathes of land in the country.
Register for free to continue reading
Registration is a free and easy way to support our truly independent journalism
By registering, you will also enjoy limited access to Premium articles, exclusive newsletters, commenting, and virtual events with our leading journalists
Already have an account? sign in
Register for free to continue reading
Registration is a free and easy way to support our truly independent journalism
By registering, you will also enjoy limited access to Premium articles, exclusive newsletters, commenting, and virtual events with our leading journalists
Already have an account? sign in
Join our new commenting forum
Join thought-provoking conversations, follow other Independent readers and see their replies