Syrian civil war: Aleppo doctor calls on Barack Obama and Angela Merkel to help end the bombing of civilian targets
'We have seen no real effort from President Obama or Chancellor Merkel to prevent the criminal attacks against civilians and our hospitals'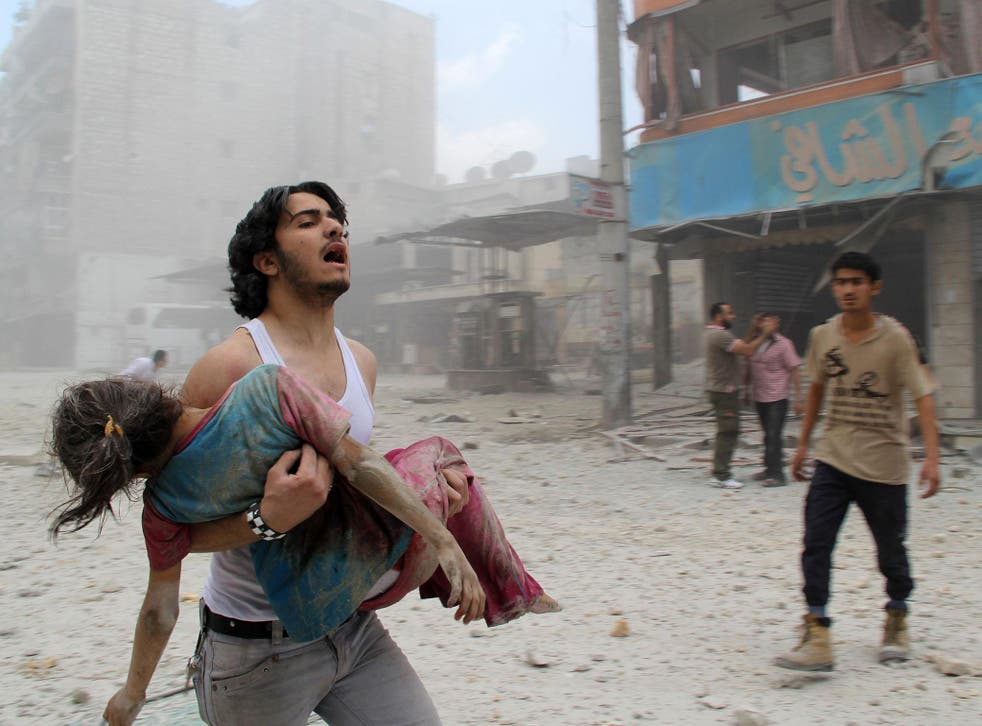 One of the few remaining doctors in Aleppo has started a petition calling on President Obama and Chancellor Merkel to help end the bombing of civilians, schools and hospitals in the city.
Doctor Hamza Al Khatib has previously written to both President Obama and Chancellor Merkel calling on them to use their influence to help civilians and doctors in Aleppo.
"But their response is the same as it has been for the past five years," Dr Khatib says in his petition, "from Merkel we heard silence and from the White House our letter was met with yet another tepid condemnation - but no talk of action.
"We have seen no real effort from President Obama or Chancellor Merkel to prevent the criminal attacks against civilians and our hospitals."
Nearly 200,000 people have signed the petition so far.
In pictures: Aleppo bombing

Show all 14
Describing the ongoing situation in Syria, Dr Khatib writes: "I am one of the very last doctors serving the remaining 300,000 citizens of eastern Aleppo.
"Atrocities are being committed every day. The Syrian regime and Russian aircraft are systematically targeting civilians and hospitals across the city."
He continues: "For five years, we have borne witness as countless patients, friends and colleagues suffered violent, tormented deaths. For five years, the world has stood by and remarked how 'complicated' Syria is, while doing little to protect us.
"Last month there were 42 attacks on medical facilities in Syria, 15 of which were hospitals in which my colleagues and I work. At this rate, our medical services in Aleppo could be completely destroyed in a month, leaving 300,000 people to die.
Children play games in the streets of Aleppo while bombs fall on surrounding neighbourhoods
"What pains me and my fellow doctors the most is choosing who will live and who will die. Young children are sometimes brought into our emergency rooms so badly injured that we have to prioritise those with better chances, or simply don't have the equipment to help them.
"A few weeks ago, four newborn babies gasping for air suffocated to death after a blast cut the oxygen supply to their incubators. Their lives ended before they had really begun.
"Despite the horror, we choose to be here. We took a pledge to help those in need. We have a duty to remain and help. All we ask now is for Obama and Merkel to do their duty, too.
"We do not need their tears or sympathy or even prayers, we need them to act. We need them to prove that they are the friends of Syrians."
Pictures of a dazed and bloody boy, who was rescued from the rubble of a bombed building, have become a haunting symbol of the terror those living in the city experience in their day-to-day lives.
Video shot by media activists showed five-year-old Omran Daqneesh being lifted from the ruins of a house, covered in grey dust, and placed on a seat in an ambulance.
In the footage, Omran sits alone in the chair, staring blankly ahead before wiping blood from his forehead.
The video which shows the suffering of the children of Aleppo
Aleppo has seen fierce fighting in recent weeks, as government forces fight to secure control of the city from rebel factions.
In August, the International Committee for the Red Cross called the battle for Aleppo "one of the most devastating conflicts in modern times".
Pro-government forces, supported by overwhelming Russian air power, had managed to encircle rebels and around 300,000 civilians in the city's eastern quarters in July, leading the UN to raise the concerns of catastrophic suffering if a protracted siege ensued.
However, a fierce offensive led by thousands of rebels from outside the city broke the blockade on 31 July and fighting has only intensified since then. Both sides are bombarding their opponents indiscriminately, at a tremendous cost to both infrastructure and human life.
The main Kurdish militia, known as the People's Protection Units (YPG) controls several predominantly Kurdish northern neighborhoods.
The main insurgent groups in the city are the Nour el-Din Zenki brigade; the ultraconservative Ahrar al-Sham group; and the al-Qaida linked Jabhat Fatah al-Sham, formerly known as Jabhat al-Nusra.
Register for free to continue reading
Registration is a free and easy way to support our truly independent journalism
By registering, you will also enjoy limited access to Premium articles, exclusive newsletters, commenting, and virtual events with our leading journalists
Already have an account? sign in
Register for free to continue reading
Registration is a free and easy way to support our truly independent journalism
By registering, you will also enjoy limited access to Premium articles, exclusive newsletters, commenting, and virtual events with our leading journalists
Already have an account? sign in
Join our new commenting forum
Join thought-provoking conversations, follow other Independent readers and see their replies