Syrian government approves humanitarian aid deliveries to 7 besieged areas, UN says
The seven areas are considered to be the most in need of relief by the International Syria Support Group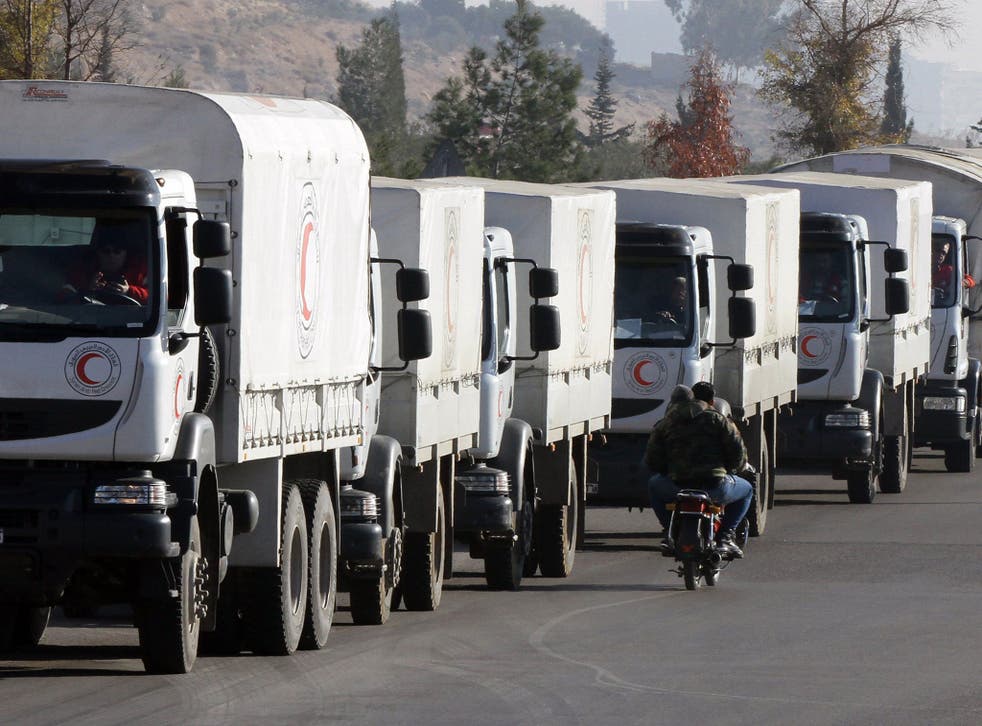 The Syrian government has approved humanitarian aid deliveries to seven besieged areas, the United Nations said.
The seven areas are considered to be the most in need of relief by the 17-member International Syria Support Group.
They include Deir el-Zour, under siege by Isis, Foah and Kefraya, besieged by rebels, and Madaya, Muadhamiya, Kafr Batna and Zabadani, under siege from Syrian government forces.
"Humanitarian agencies and partners are preparing convoys for these areas, to depart as soon as possible in the coming days," a UN spokesperson said.
Almost half a million people live in the besieged areas, according to the UN.
In pictures: Syria conflict

Show all 40
Damascus approved the aid convoys after the UN special envoy for Syria, Staffan de Mistura, visited the capital on Tuesday.
Earlier that day, Mr Mistura announced an aid convoy would be sent on Wednesday to several towns under siege by the government or the rebels.
"It is clear it is the duty of the government of Syria to want to reach every Syrian person wherever they are and allow the UN to bring humanitarian aid, particularly now after so long time," he told journalists, after a meeting with the Syrian Foreign Minister.
World powers agreed to a temporary "cessation of hostilities" to start within a week, along with the acceleration and expansion of aid deliveries.
But there is little hope for long-term peace after President Bashar al-Assad vowed to retake control of the entire country by force.
Register for free to continue reading
Registration is a free and easy way to support our truly independent journalism
By registering, you will also enjoy limited access to Premium articles, exclusive newsletters, commenting, and virtual events with our leading journalists
Already have an account? sign in
Register for free to continue reading
Registration is a free and easy way to support our truly independent journalism
By registering, you will also enjoy limited access to Premium articles, exclusive newsletters, commenting, and virtual events with our leading journalists
Already have an account? sign in
Join our new commenting forum
Join thought-provoking conversations, follow other Independent readers and see their replies