Syrian Islamists believe they will be targets of US air strikes: Jihadists move personnel and weaponry ahead of expected intervention
Leaders say that no one trusts the Americans as a result of their policy in Iraq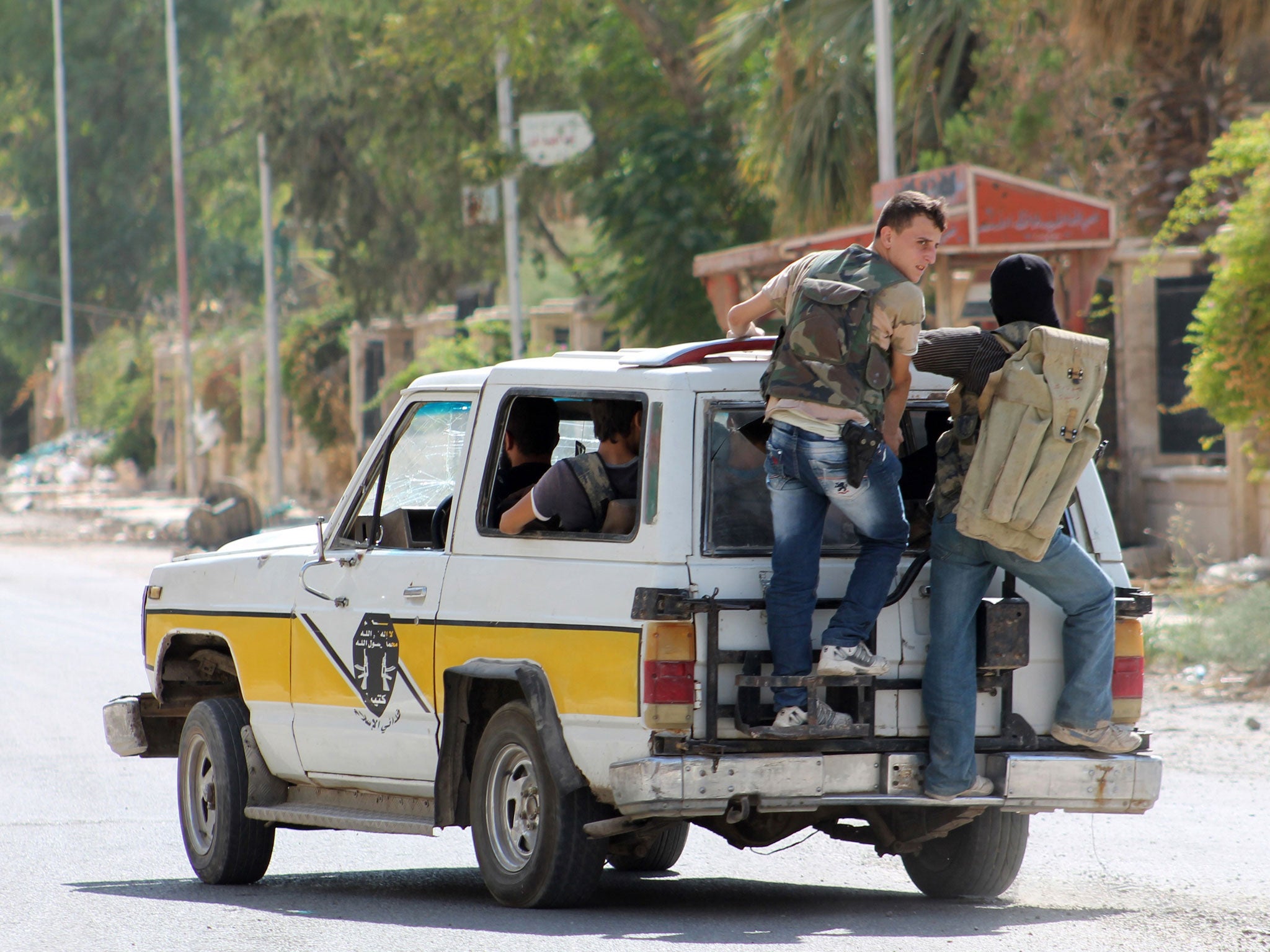 Hardline Islamist rebels in Syria are taking elaborate security precautions after becoming convinced that they, as well as the forces of Bashar al-Assad, will be targeted in the expected US air strikes.
The Americans will make use of the opportunity for military action to try and weaken the strong jihadist presence in the opposition ranks, these groups have come to believe. The blame for the hits will be put on stray missiles or retaliation by the regime, it is claimed.
Islamic State of Iraq and Syria (Isis) and Jabhat al-Nusra, two organisations affiliated with al-Qa'ida, have begun to move their fighters and weapons from established bases. In some of the areas they have sought assurances that other rebel khatibas (brigades) would not take advantage of the situation to move forward and take territory.
Raqaa, Tal Rifaat and Manbij, three towns dominated by the Islamists in a stretch of northern Syria outside the regime's control, have seen numbers of fighters thinned out and some buildings vacated.
"There are still guards outside to [make it] look as if these places are important, but important people and things inside have gone" said Iyad al-Abdi, an activist who has worked with Jabhat al Nusra. "No one trusts the Americans, in Iraq they divided the resistance and they are trying to do the same here. They don't want either side to win, they want to keep Syria divided… A lot of the leaders [of the rebels] think they will be bombed."
Any US-led operation, aimed at the regime's chemical warfare capabilities, is also expected to target other military installations such as command and control systems, air bases and missile sites. In return for their support in Congress, advocates of intervention, such as Republican Senators John McCain and Lindsay Graham are reported to have extracted agreement from President Barack Obama for a more wide-ranging attack than previously envisaged.
One of the arguments against such an assault has been that the ones to benefit the most would be the jihadists, now the largest and best armed faction in the opposition. The more moderate elements have become progressively weaker through a lack of supplies and defection of members.
Training camps run by former military personnel – mainly American but also some British – in Jordan for the moderates were supposed to redress the balance. After more than eight months, the first trained fighters are ready to be sent into Syria.
However, there were only 50 of them and these camp graduates are unlikely to have any significant impact on the ground where the Islamists have driven other khatibas away from towns and cities and killed commanders.
Kamal Hamami, a senior officer with the Free Syrian Army (FSA) was shot dead by a member of Isis outside Latakia. Al-Farouq Brigade, one of the largest of the more moderate groups, was driven out of Raqaa by Jabhat al-Nusra and Ahrar al-Sham, an Islamist group, but seen as less extreme. In Dana, following clashes, Isis fighters seized leaders of the FSA affiliated Hamza Assad Allah brigade, one of whom, Fadi al-Qesh, was beheaded.
Abu Mahmoud, a member of al-Farouq Brigade agreed Islamists are taking precautions but dismissed the idea that his group would like to benefit from US air strikes against them.
"We have to wait to see if the Americans do anything, they haven't done anything for the last two years. Some groups believe the Americans will try and kill them so it is not surprising they are being careful. We will not take their areas. We also don't want foreigners to interfere… we will settle our difference ourselves."
However, foreign interference is now very much part of the landscape. The regime has been supported in its campaigns by the Lebanese Shia group, Hezbollah, and, it is believed, members of Iran's Revolutionary Guard and the rebel ranks have seen an influx of international jihadists.
Accompanying conspiracy theories are plentiful. There has been a recent presence of Chechens among the rebels; the Saudi intelligence chief, Prince Bandar bin Sultan, allegedly told Russian President Vladimir Putin that his country was using them as shock troops against the regime. But here there are also dark rumours that many of them are former soldiers and some of them are agents of the FSB, the successor to the KGB, eliminating the moderate leadership on behalf of the regime.
In this febrile atmosphere, the notion of American air strikes against Islamists do not seem so strange. Unlike most of his fellow rebel fighters Khalid Abdullah holds there will soon be western boots on the ground as well.
"These fighters they are sending from Jordan will not be able to cope, so the Americans will send special forces to help them. That is what we are hearing anyway," he said.
Join our commenting forum
Join thought-provoking conversations, follow other Independent readers and see their replies