Syrian protest in pro-regime city of Latakia calls for execution of President Assad's cousin
Demonstrations were sparked when Suleiman al-Assad allegedly gunned down Colonel al-Sheikh over a road rage incident
Sunday 09 August 2015 17:22 Comments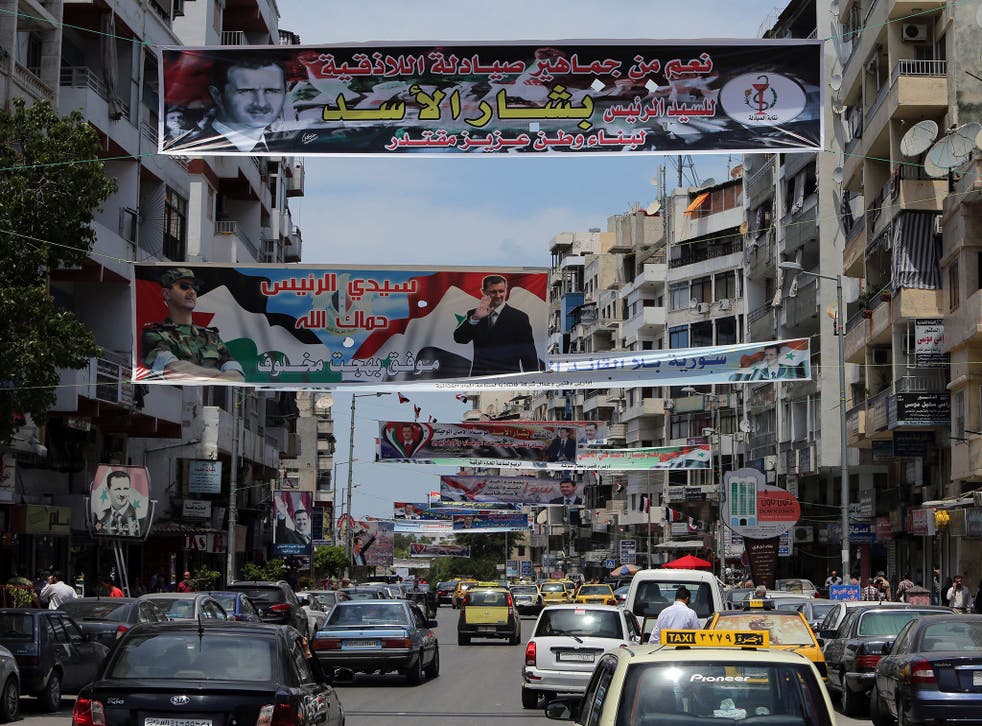 Rare protests in the Syrian government stronghold of Latakia, President Assad's hometown, have taken place, calling for the execution of the President's cousin.
Details of the incident vary, but according to the British based Syrian Observatory for Human rights and supporters of President Al Assad on social media, Suleiman al-Assad allegedly gunned down Colonel al-Sheikh, a prominent member of the Alawite community, over a road rage incident.
The brother of Al-Sheikh, who was in the car at the time of the incident, spoke to Syrian radio station Sham FM, "[Suleiman] overtook us and then blocked the road."
In pictures: Syria conflict

Show all 40
"My brother got out of the car and identified himself as an officer; the guy cursed my brother and the Syrian army. He then pointed a Kalashnikov [assault rifle] out of the car's window and shot at us, and that's when I saw my brother was killed."
"The shot was fatal and my brother died instantly," he said, adding that the colonel's wife and twins were present in the car with them and witnessed the entire incident.
The colonel's brother has filed an official complaint accusing the President's cousin and reports say that eye witness accounts agree with his claims.
Syria's state media chose not to report the protest, the traffic incident or the reported killing, but reports say that over 1000 people gathered demanding justice for the incident. Protestors carried posters of Assad and the Colonel and held torches while chanting, "The people demand Suleiman's execution," and "The people demand retribution for the colonel," in scenes reminiscent of those seen during the Arab Spring. They did however also chant slogans of support for the Assad regime.
The demonstration took place amid increased security, with opposition news sites reporting that snipers were stationed on nearby rooftops.
Sheikh's brother, who originally called for the demonstration, addressed the crowd:
"This, really, is the Syrian people," he said. "We will return here tomorrow [9 August]," he said, calling for daily demonstrations at 20:00 local time until their demands are met.
The protests called for national unity but show the growing discontent in Syria's continuing civil war. The Alawites who make up roughly 10 percent of the population and are a majority in Latakia, have dominated Syria's government and army for decades, but opposition activists say that dissent has been growing amongst the community for a while due to the high death toll of Alawite fighters and civilians.
The region of itself has not suffered the same extent of turmoil as the rest of the country thanks to the vigorous defences by Assad's forces. Rebels have however taken towns which are only 90 km away and in June residents told the World Policy institute they were concerned by the presence of rebels so close to the town.
Register for free to continue reading
Registration is a free and easy way to support our truly independent journalism
By registering, you will also enjoy limited access to Premium articles, exclusive newsletters, commenting, and virtual events with our leading journalists
Already have an account? sign in
Join our new commenting forum
Join thought-provoking conversations, follow other Independent readers and see their replies