Syrian rebels accused of massacre after seven die in attack on TV station
Building stormed hours after President Assad warns that Syria is now 'in a real state of war'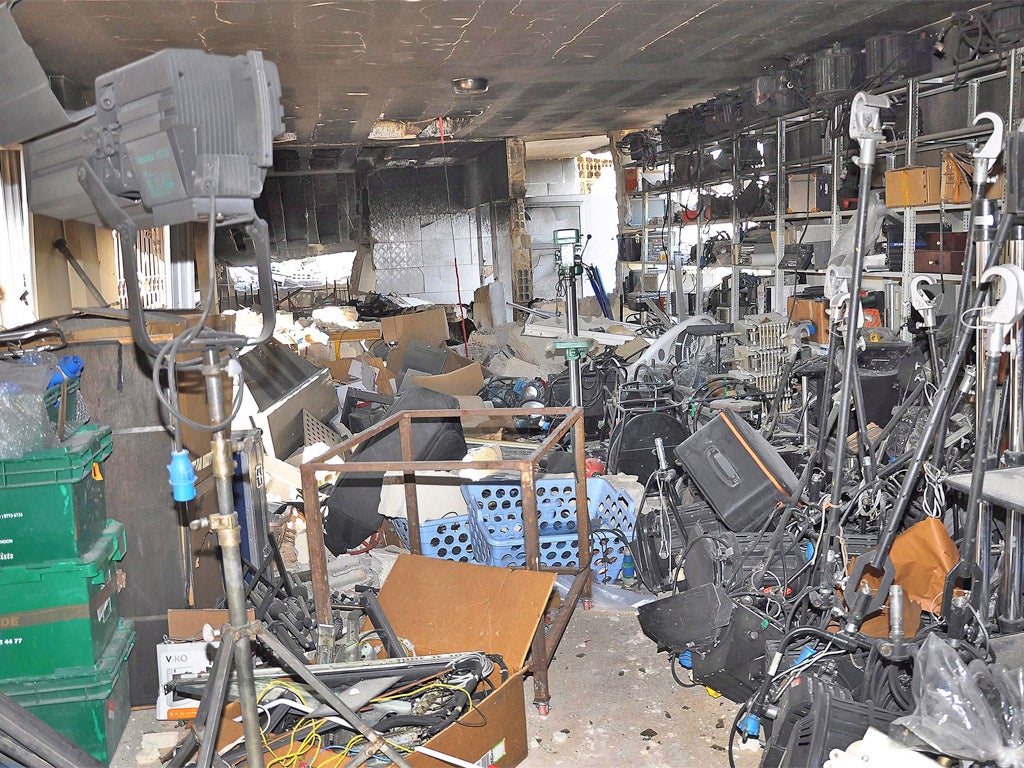 The Syrian regime accused opponents of staging a massacre yesterday after insurgents attacked a pro-government television station near Damascus and killed seven employees.
The assault came as United Nations investigators warned that the violence in Syria had "reached or even surpassed" the levels seen before the UN-backed ceasefire agreed in April, as they presented a report into the massacre at Houla last month in which more than 100 civilians were killed.
As rebels intensify attacks on the regime and its supporters, the UN and Arab League envoy, Kofi Annan, has called a meeting of permanent members of the UN Security Council. It pointedly excludes Saudi Arabia, which supports the insurgents, and Iran, which backs the government.
The al-Ikhbariya TV station, 15 miles south of Damascus, was stormed by gunmen at about 4am, hours after President Bashar al-Assad said his country was in "a real state of war".
A photographer who visited the remains of the station said five buildings used for offices and studios had collapsed. The newsroom was burned out. The walls of a two-storey building had been sprayed with bullets, there was blood on the floor and wooden partitions were still on fire.
Accurate information about fighting in Syria was already difficult to obtain and is likely to become more so if rebels target journalists and news organisations they regard as hostile.
Al-Ikhbariya is privately-owned but is strongly supportive of the government, as is the rest of the Syrian media. However, many Syrians get their news from satellite television channels highly critical of the state.
An employee at the television station told a news agency that several staff were wounded in the assault on its compound in the town of Drousha.
He was driven 200 yards from station by the rebels before they blew it up. He said: "I was terrified when they blindfolded me and took me away." They released him soon afterwards, but kidnapped the station's guards.
The Information Minister, Omran al-Zoebi, called the killings "a massacre against the freedom of the press".
The UN report on last month's massacre at Houla, near the northern city of Homs, does not name those responsible, saying only that forces loyal to the government "may have been responsible" for many of the deaths.
It does not name the Alawite militia – the Shabiha – as being responsible, as has been widely reported, but said they had easiest access to Houla.
Join our commenting forum
Join thought-provoking conversations, follow other Independent readers and see their replies