Syrian rebels call for support as they face attacks on three fronts
The US-backed rebel group is battling Isis, the regime of President Bashar al-Assad, and Jabhat al-Nusra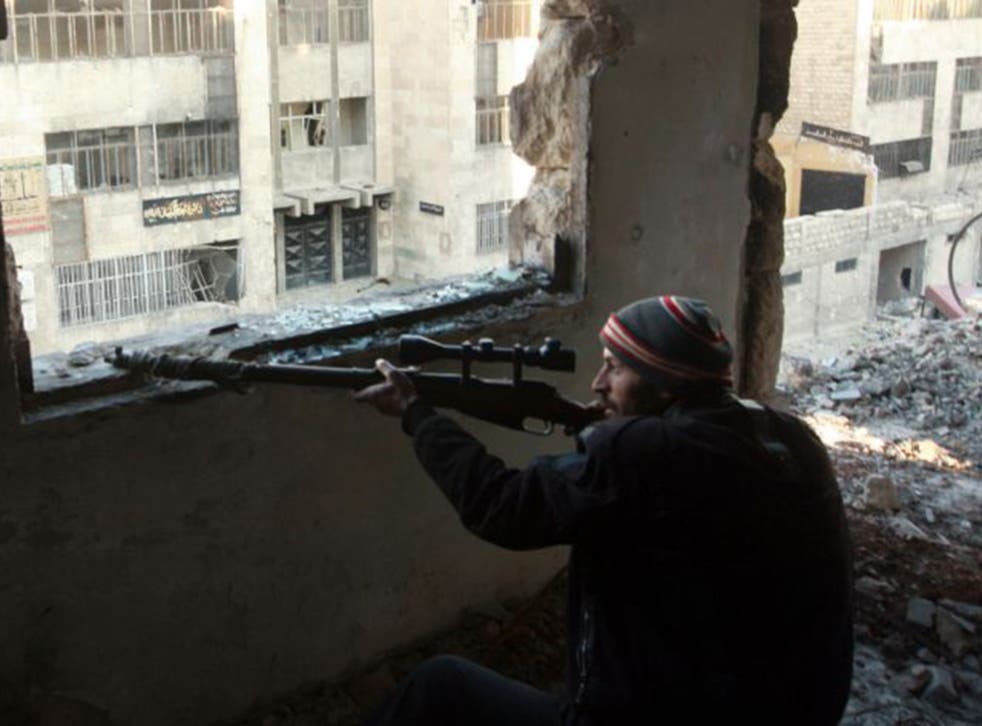 In what has become an all-too-familiar scene, US-backed Syrian rebels have been beaten back by militants affiliated with al-Qaeda.
About 60 fighters died and 70 were captured as Jabhat al-Nusra and other Islamist groups attacked a key base of the moderate group Harakat Hazm, west of Aleppo, leaving the US-backed rebel group facing Islamic State (Isis), the regime of President Bashar al-Assad, and Jabhat al-Nusra.
It is a setback for the US-backed group, which was among the first to be vetted and receive arms and support from the US-led coalition and now finds itself being attacked consistently on three fronts.
Earlier this month the US and Turkey signed a long-awaited agreement allowing Syrian rebels to train on Turkish soil. The plan is to select 1,500 rebels for training, with most likely to come from the already vetted "moderate" groups that receive aid from the US-led Military Operations Centre in the Turkish border town of Reyhanli.
In pictures: Syria conflict

Show all 40
Each "class" of 200-300 fighters will receive training in Turkey, Qatar and Saudi Arabia, and the Pentagon announced on Friday that up to 1,000 US troops would provide logistical support.
A Pentagon spokesman, Rear Admiral John Kirby, admitted the challenges of the programme but said "actual training" would begin in four to six weeks.
"There's been progress now with not only identifying an initial pool, but starting to screen them. So that's important. We didn't even, as of last week, have quite that level of specificity," he said.
Rebel commanders, however, say Jabhat al-Nusra needs to be confronted sooner rather than later.
"Nusra are walking in the footsteps of Isis," Iyad Shamse, the military commander of the Authenticity and Development Front, told The Independent on Sunday in the southern Turkish town of Antakya.
His group not only has experience in fighting Isis, but has been vetted and receives support from the US-led coalition and is expected to participate in the training programme in Turkey.
Commander Shamse's fighters suffered heavy losses at the hands of Isis in the oil-rich south-eastern town of Deir ez-Zor last summer.
"We fought [Isis] for six months without funding – people had to sell their cars, houses, their land to buy weapons," he said, claiming the group was "$500,000 [£324,000] in debt".
The selective support of rebel groups has already caused some tensions, but those receiving funding complain that it is not enough to fight the regime, IS and now Jabhat al-Nusra.
"We are at least sure they [the US] still want to fight Assad," commander Shamse says. "But the amount we're getting is very limited – we can't grow. Look at Isis… they have limitless funding."
Register for free to continue reading
Registration is a free and easy way to support our truly independent journalism
By registering, you will also enjoy limited access to Premium articles, exclusive newsletters, commenting, and virtual events with our leading journalists
Already have an account? sign in
Register for free to continue reading
Registration is a free and easy way to support our truly independent journalism
By registering, you will also enjoy limited access to Premium articles, exclusive newsletters, commenting, and virtual events with our leading journalists
Already have an account? sign in
Join our new commenting forum
Join thought-provoking conversations, follow other Independent readers and see their replies