'We never turn a child away': Helping the young Syrian refugees who don't make it to Europe
Lebanon has a long history of welcoming refugees, but hostility towards the vast number of Syrians in the country is growing 
Monday 05 September 2016 17:14 Comments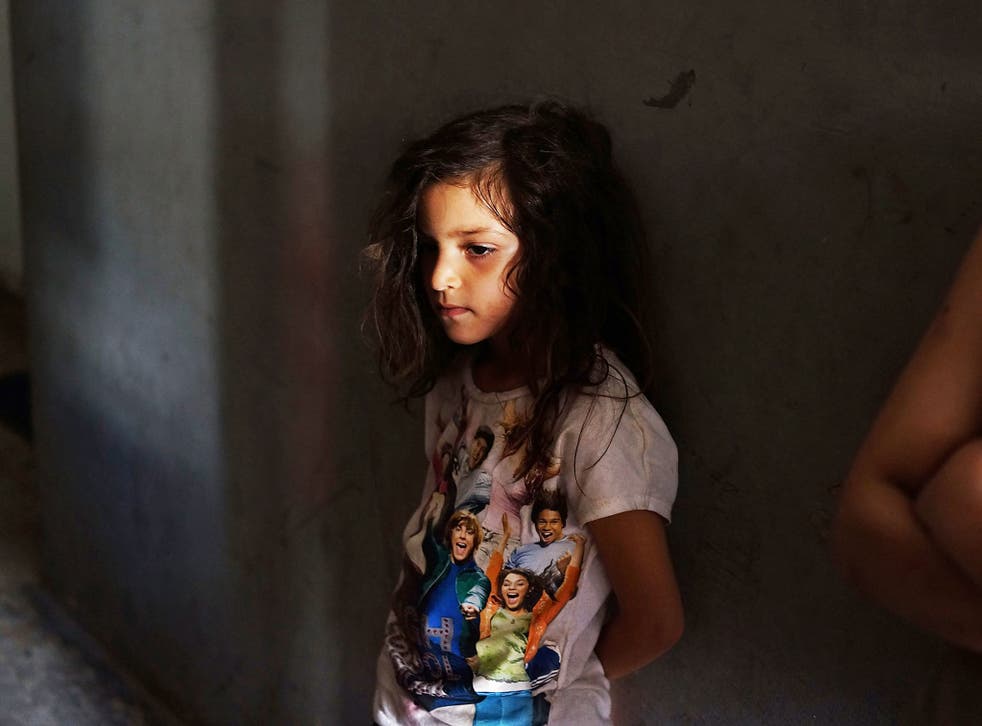 "Je suis Syrienne," a thin little girl in downtown Beirut says in French, gesturing, eating with one hand while holding the other out for donations. When given some coins and asked what her name is, she runs away, sandals too big for her feet clapping against the pavement.
Refugee children like her – whether selling gum, roses or offering to shine shoes – are an increasingly visual phenomenon on the streets of the Lebanese capital.
"There are so many, and even then it's hard to grasp the scale of the problem. The past five years have been tragic," says Arveen Iskandarian, who works at children's charity Jabid.
Charities and rights groups are worried that begging is just the tip of the iceberg: organised gangs target vulnerable Syrian children for sex work and other criminal activity, says Maher Tabarani, the director of Home of Hope, the only Beirut organisation dedicated to helping children on the street.
"Almost all the kids who come to us have been sexually abused, trafficked, and some have even been destined for organ trafficking. It's shocking what they've been through at such a young age."
Since haunting pictures of the body of three-year-old Alan Kurdi on a Turkish beach appeared a year ago, the world's focus has shifted from the refugee crisis in Europe to a photograph of Omran Daqneesh, a distressed five-year-old sitting in an ambulance in the aftermath of an airstrike on Aleppo.
Less attention is paid to how the brunt of the fallout from Syria's civil war is still being felt by its neighbours – Turkey, Jordan and Lebanon – where conditions for refugees are often abysmal.
"[The image of Alan Kurdi] has become iconic, while media coverage of millions of other Syrian children going through the same suffering as he did has since dwindled," said Tanya Chapuisat, the Unicef Country Representative in Lebanon.
"Families of hundreds of thousands of children still live in conditions like the ones Alan's family was fleeing, and are still forced to take the same decisions as his family did on matters of life and death."
Alan's family, like 2.7 million other Syrians, tried to make a life for themselves in Turkey before attempting to reach the Greek island of Kos across the Aegean Sea. An estimated 1.3 million Syrians have gone to Jordan, but more than 1.5 million people have fled to Lebanon since the 2011 uprising against Bashar al-Assad began – making one in four people in the tiny country a refugee, and Lebanon the world's biggest host of refugees per capita.
Lebanon has a long history of welcoming refugees, opening its arms to Armenians, Iraqis and Palestinians in the past century. And while the Lebanese – remembering how Syria took their people in during their own civil war between 1975-90 – initially welcomed Syrians into their communities, the past five years have taken an unprecedented economic toll on the country. As a result, Syrians are often the target of hostility and discrimination.
The usual image associated with refugees is one of camps filled with row upon row of white tents, but in reality most of Lebanon's Syrian population live in towns and cities. There are no official camps run by the government, so Syrian families move into rented farmsteads, or derelict or abandoned buildings, often in already overcrowded Palestinian areas.
There has been a significant Palestinian presence in Lebanon since the 1948 Arab-Israeli war, but to this day they are not allowed citizenship and are unable to seek work on the same terms as Lebanese citizens. The situation now faced by Syrians is similar: many work illegally to make ends meet, but undocumented Syrians are vulnerable to exploitation by landlords and loan sharks. UNHCR says that recent visa restrictions bought in by the Lebanese government are likely to drive many more into abject poverty.
While a 2015 report from Unicef estimates there are at least 400,000 Syrian children in Lebanon, the already financially crippled school system has only been able to accommodate around half. One in ten Syrian children is now working for a living instead, and that figure is expected to rise as the impact of stricter visa rules are felt. In areas like the Beka Valley, boys and girls as young as ten are working on farms for as little as $4 a day, according to Save the Children.
Some have to work to support their families, and some are forced to because they're on their own. It is these children who are particularly at risk of abuse, Unicef says – and the problem is getting worse, thanks to the cost of caring for a growing refugee population, which is not matched with increased funding. "Unicef's funding was 123 times bigger than in 2011… [but] the needs are unprecedented. It's never enough," Chapuisat says.
The 75 children at Home of Hope, a Christian home for abandoned and disadvantaged children located in a quiet hillside suburb, were all picked up off the streets by police and placed in the home's care by court order. "These kids have no rights," Tabarani says. "I'd say 85 per cent of them don't even have ID. They legally don't exist, so it's no wonder they fall through the cracks."
Tabarani himself knows how that feels. As the child of a Palestinian refugee father and Lebanese mother, he was not allowed to apply for Lebanese citizenship on the maternal side. "I wanted to be a paediatrician," he says. "But it was never possible for me to go to medical school here – I wasn't allowed the right licences."
Just this week, Home of Hope took in two Syrian three-year-olds who were found in a dumpster, and an abandoned two-year-old Sudanese girl who is now the youngest resident. The other children have named her Sasha. Sitting in the canteen of her new home at lunchtime the toddler is quiet, but smiles at the care worker helping her eat.
In the five years Tabarani has worked at the home, he's seen the number of children in their care nearly double – from 40 to 75. But they are the lucky ones.
"We never turn a child away from our door," he says. "We help all children in need, regardless of their background. The question is: how do we stop them becoming in need in the first place?"
Register for free to continue reading
Registration is a free and easy way to support our truly independent journalism
By registering, you will also enjoy limited access to Premium articles, exclusive newsletters, commenting, and virtual events with our leading journalists
Already have an account? sign in
Join our new commenting forum
Join thought-provoking conversations, follow other Independent readers and see their replies