Syria: Children play underground to avoid bombing as half a million remain trapped in besieged areas
UN says almost 500,000 children are living in 16 besieged areas across the country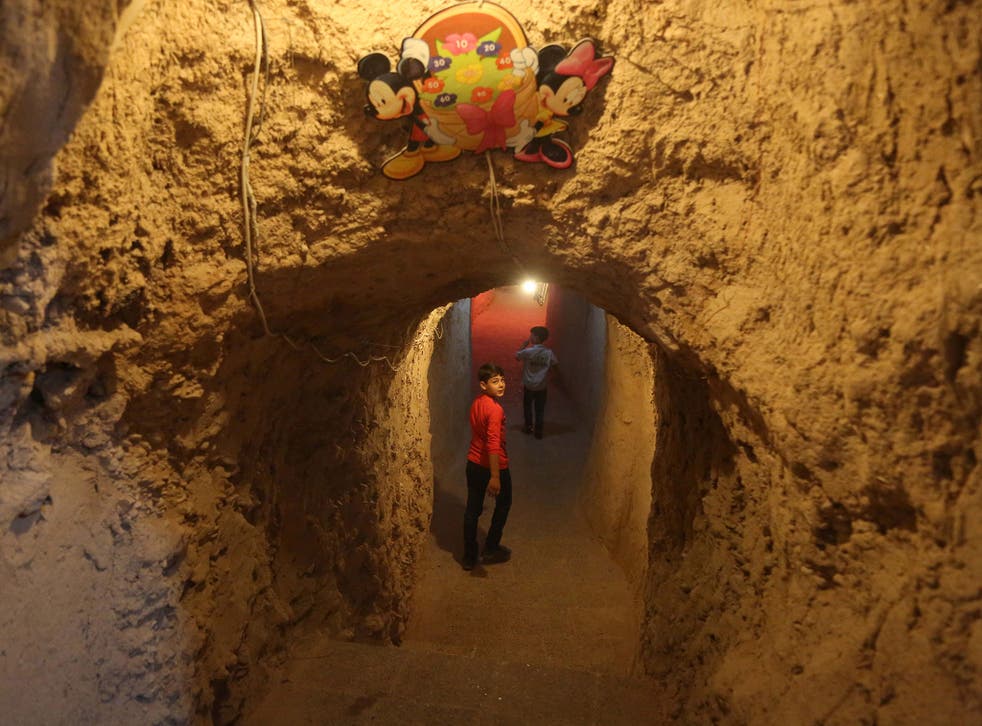 "My mum doesn't allow me to play in the street with the neighbours' children, but when she learnt that this place is underground she let me come here to play," says 10-year-old Abdulaziz.
He has been playing with his friends in earthen tunnels that form part of a subterranean playground where they can be kept safe from relentless bombardment by Syrian government forces and their allies.
The "Land of Childhood" sits hidden in a rebel-held region of the war-torn country as it continues to be besieged, trapping civilian families inside under fire and facing shortages of food and vital medicine.
Underground playgrounds give solace to children in Syria's Aleppo
Abdulaziz, whose father was killed in the war, is one of many youngsters attempting to live normal childhoods amid the unending violence.
The network of basements linked by volunteers led by a former architecture student, allows them and their parents a moment of relative safety to play.
Toy cars sit on display in an enclave dug into the earthen walls, while a Wendy house, ball pit and park complete with climbing frame and rocking horses has been installed.
In one corner, volunteers make homemade sweets while a makeshift ferris wheel takes up another wall decorated with colourful paintings of flowers and trees – a reminder of the outside world that is no longer safe for these children and many more.
"My friends and I come here because it's the last theme park that is still working [...] the one we used to go to was attacked and is not working anymore," a young girl told Unicef workers during a visit.
In pictures: Children play underground in Syria

Show all 8
Another child, seven-year-old Massa, travels from a nearby town to play in safety.
She said: "I wasn't afraid of bombardment because my dad told me that we're in the basement."
More than 200 children visit the playground every day, while in another besieged area an underground school is allowing 50 girls to continue their education.
Yaseen, the Land of Childhood's designer, told Unicef volunteers dug tunnels themselves before adding coloured lights and toys.
"We wanted to turn the tunnel from being linked to attacks, fear and horror to a fun place that attracts children to pass through it," he said.
The UN says worsening violence in Syria's fifth year of civil war has caused the number of children living under siege to double.
Almost 500,000 children are estimated to live in 16 besieged areas across the country, almost completely cut off from humanitarian aid and basic services, some for two years.
Anthony Lake, Unicef's executive director, said: "For millions of human beings in Syria, life has become an endless nightmare - in particular for the hundreds of thousands of children living under siege.
"Children are being killed and injured, too afraid to go to school or even play, surviving with little food and hardly any medicine. This is no way to live – and too many are dying."
Bashar al-Assad's forces and allies are responsible for the vast majority of sieges, along with Islamist rebels in the Jaysh al-Fath coalition and Isis.
International pressure resulted in aid reaching the rebel-held town of Madaya and Shia towns of Kefraya and Foua earlier this year after evidence of mass starvation emerged but many other areas remain cut off by fighting and in desperate need.
Unicef, which is calling for all parties in the conflict to lift sieges and allow unconditional humanitarian access, estimates that 100,000 children are living under siege in eastern Aleppo alone.
Opposition-controlled districts of the divided city are the focus of an intensified campaign by Syrian government forces attempting to drive rebels out of their symbolic stronghold and deliver a major psychological blow to opponents.
Assad's forces said troops captured another rebel neighbourhood on Saturday. The UK-based Syrian Observatory for Human Rights said regime soldiers gained control of most of Hanano, which was the first district of Aleppo to fall into the hands of rebels in 2012.
Monitors say at least 357 people have been killed in the city and surrounding areas since the government offensive resumed on 15 November, despite consternation from the United Nations and humanitarian organisations.
Syrian state media said rebel shelling of government-controlled west Aleppo killed three people and wounded 15 on Saturday, adding that 150 residents of east Aleppo were able to leave the besieged area of 275,000 people.
Deals have reportedly being made to evacuate rebels and weapons from two surrounded suburbs of Damascus as regime troops advance on the besieged opposition stronghold of Ghouta.
Register for free to continue reading
Registration is a free and easy way to support our truly independent journalism
By registering, you will also enjoy limited access to Premium articles, exclusive newsletters, commenting, and virtual events with our leading journalists
Already have an account? sign in
Register for free to continue reading
Registration is a free and easy way to support our truly independent journalism
By registering, you will also enjoy limited access to Premium articles, exclusive newsletters, commenting, and virtual events with our leading journalists
Already have an account? sign in
Join our new commenting forum
Join thought-provoking conversations, follow other Independent readers and see their replies