Syrian war: Islamist rebel commander killed in air strikes
Abu Omar Saraqib was a founding member of al-Qaeda's former Jabhat al-Nusra group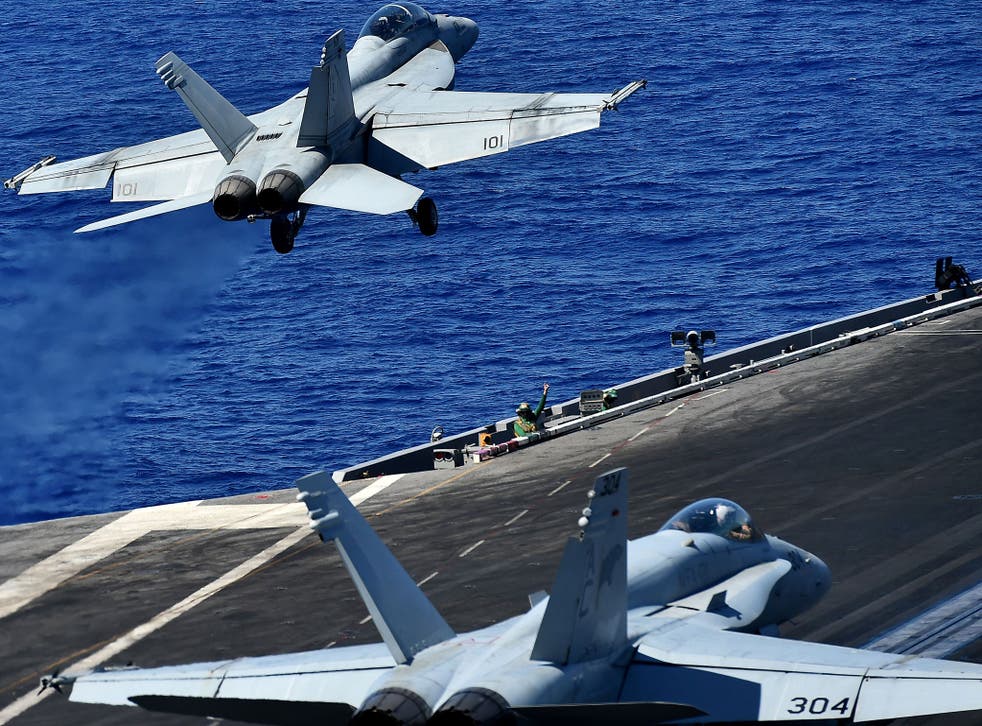 A senior military commander of the former Jabhat al-Nusra rebel group in Syria has been killed in air strike targeting Islamist leaders.
A spokesperson for the militants, who rebranded themselves to become Jabhat Fateh al-Sham (JFS) after claiming to cut ties with al-Qaeda, said Abu Omar Saraqib was "martyred" in a rural part of Aleppo province on Thursday.
Its Twitter account named him as the "general commander" of the group, with analysts believing the name is an alias for Abu Hajer al-Homsi, who was among jihadists who fought American forces in Iraq after the 2003 invasion before returning to Syria.
He was a founding member of Jabhat al-Nusra, the Syrian branch of al-Qaeda whose fighters later spawned Isis and split from the group.
Its "emir" Abu Mohammad al-Jolani announced the group's supposed departure from al-Qaeda leadership in July and re-named it as Jabhat Fateh al-Sham.
But the organisation, which is among the most powerful rebel forces in the Syrian civil war, has not been shy of declaring its Islamist ambitions, announcing it would "continue our jihad" with the aim of establishing an "Islamic government" and the downfall of President Bashar al-Assad.
Analysts suspected the rebrand was a move to generate support from potential rebel allies deterred by al-Qaeda and the presence of foreign fighters in its ranks.
It was also seen as a pitch to prevent fighters being targeted by international air strikes against Isis and other terrorist groups.
But American commanders said their operations would continue, with State Department spokesperson John Kirby saying: "They are still considered a foreign terrorist organisation. We judge a group by what they do, not by what they call themselves."
The nationality of the planes that carried out Thursday's strike was not immediately known, but a rebel source told Reuters initial information suggested it was most likely an American fighter jet that struck the hideout.
It would be the first time the US-led coalition had targeted the group since its rebrand.
JSF is currently leading the Jaish al-Fath (Army of Conquest) coalition of Islamist rebels battling Syrian government forces and Shia militias in Aleppo city, which in split between regime and opposition control.
They succeeded in breaking a siege of eastern districts earlier this year but have been pushed back in fierce battles over recent days, seeing forces loyal to President Assad retake the key Ramouseh district on Thursday.
In pictures: Aleppo bombing

Show all 14
JFS' main strongholds are in the province of Idlib, where Sharia law is enforced in parts amid reports of numerous summary killings and executions.
The group itself advertises regular suicide bombing operations, with 14 listed in the past three months using vehicles laden with explosives and driven into targets.
Its militants have also been hit by Russian air strikes that have turned the tide of the civil war in favour of President Assad since Vladimir Putin's intervention started in September.
The US Secretary of State, John Kerry, and Russian foreign minister, Sergei Lavrov, have been trying to reach a deal on deeper cooperation between their respective militaries against radical groups operating in Syria, particularly Isis and JFS.
One of the complications is that former Nusra militants often co-operates with Western-backed Free Syrian Army (FSA) rebel groups along major frontlines against government forces, putting both in the sights of Russian air power and Iran-backed militias.
American and Russian diplomats continue attempts to negotiate a ceasefire in Aleppo, which has seen mass casualties, destruction and food shortages after years of battle and bombardment.
Register for free to continue reading
Registration is a free and easy way to support our truly independent journalism
By registering, you will also enjoy limited access to Premium articles, exclusive newsletters, commenting, and virtual events with our leading journalists
Already have an account? sign in
Register for free to continue reading
Registration is a free and easy way to support our truly independent journalism
By registering, you will also enjoy limited access to Premium articles, exclusive newsletters, commenting, and virtual events with our leading journalists
Already have an account? sign in
Join our new commenting forum
Join thought-provoking conversations, follow other Independent readers and see their replies