Syrian war: More Turkish tanks cross border into al-Rai as operation against Isis and Kurds enters 'new phase'
Turkish backed rebels are fighting against Isis from both the east and west to clear border regions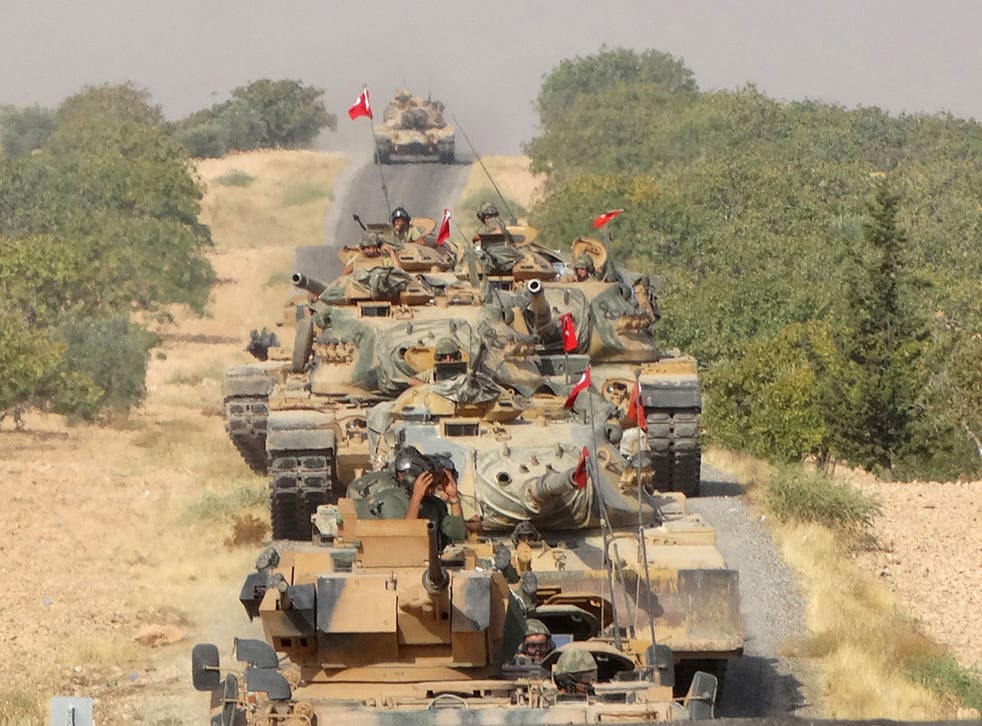 More Turkish tanks have crossed into Syria as rebels open up a new front against Isis' ever-shrinking territory.
Troops with armoured personnel carriers entered the town of al-Rai on Saturday as howitzers pounded extremists' positions to clear the way for Free Syrian Army (FSA) rebels.
The strategic town has changed hands between Isis and the FSA several times during the Syrian civil war because of its strategic position near a border crossing and on the former Baghdad railway.
It fell under rebel control again last week after battles supported by Turkish ground forces and the US-led coalition, and is now being used as a base to drive jihadists further from the border.
Turkey denies reaching ceasefire with Kurdish forces in Syria
The state-run Anadolu Agency described the push as a "new phase" in operation Euphrates Shield, which started on 24 August with an advance on the former Isis stronghold of Jarablus.
Al-Rai is almost 20 miles west of the Turkish-backed forces' other frontline near the town of Qundarah, which was captured from Isis on Friday, and battles are expected to focus on clearing Isis from the border region lying between.
"The operations are to work from al-Rai towards the villages that were liberated to the west of Jarablus," Colonel Ahmed Osman of the Sultan Murad rebel group told Reuters.
The Hamza Brigade, part of the FSA, said it had taken control of Arab Ezza on Saturday, while the Islamist Faylaq al-Sham alliance announced the capture of villages including Fursan, Lilawa, Kino and Najma.
The Turkish Armed Forces said the villages of İdalat and Talyah Garbiyah along with the Kubba Turkuman airport were also captured by advancing FSA units during the day.
Fighting between rebels backed by Recep Tayyip Erdogan's government and groups supported by the US-led coalition have calmed in recent days.
In pictures: Turkey launches operation in Syria

Show all 9
There were concerns over a developing proxy war between the US and Turkey after rebels in the Jarablus offensive started advancing on territory controlled by the Syrian Democratic Forces (SDF).
The predominantly Kurdish group had been armed and trained by members of the US-led coalition for a successful advance that drove Isis' out of swathes of northern Syria, including the key city of Manbij.
But the SDF's main component, the People's Protection Units (YPG), are regarded as terrorists by Turkey, which was alarmed by advances enabling Kurdish groups to control of land stretching almost the entire length of the Syrian border.
YPG fighters have been bombed by Turkish jets and attacked by the FSA rebels it supports in recent days but a tentative lull in fighting set in last week after the US called on the SDF to pull back east of the Euphrates River.
But Kurdish fighters speaking to The Independent have vowed to fight to the death to defend the territory they have gained in Syria's long civil war.
John Kirby, a spokesperson for the US State Department, said the calm continued on Friday.
"We continue to call on everybody to focus their efforts on Daesh [Isis] inside Syria," he told a press briefing. "The clashes were doing nothing to help us focus our efforts against Daesh."
On Saturday, Euphrates Shield officials released footage purporting to show battles between Turkey-backed rebels and Isis militants, with heavy gun battles seen on frontlines near Tilalayn, outside Azaz.
Activists have reported protests in Syrian towns near the border in recent days against what demonstrators have called "imperialism", being met by tear gas and water cannon fired by Turkish security forces on Friday.
There have also been allegations of civilian casualties during the FSA advance, dismissed by Turkish officials as "false news…spread by terror organisations".
President Erdogan has said the incursion into Syria, which came without approval from Damascus or the United Nations, was justified as self-defence following a series of terror attacks by both Isis and Kurdish separatist groups.
He called both groups "terrorists" while speaking in China ahead of the G20 summit.
"There is no good terrorist - all terrorists are bad," Mr Erdogan said. "All organisations involved in terrorism are cursed. This is how we see things and how we put up our struggle."
The Turkish border town of Kilis was also stuck by three rockets fired from Isis-held territory on Saturday, wounding one person.
Turkey responded with howitzers, striking two weapons pits and bunkers, and "destroying the locations and the Daesh terrorists there," Anadolu reported.
Elsewhere in Syria, air strikes and battles continued around the city of Hama, where opposition and Islamist rebels were clashing with troops loyal to President Bashar al-Assad.
The al-Qaeda linked Jund al-Aqsa group released a video purporting to show its first "air strikes" using a homemade bombs dropped from a drone. The explosives did not appear to cause any casualties.
Air strikes were also reported in Isis' de-facto capital of Raqqa. The so-called Islamic State has suffered a series of territorial losses in Syria and Iraq in recent months, including the cities of Manbij, Fallujah and Palmyra.
Register for free to continue reading
Registration is a free and easy way to support our truly independent journalism
By registering, you will also enjoy limited access to Premium articles, exclusive newsletters, commenting, and virtual events with our leading journalists
Already have an account? sign in
Register for free to continue reading
Registration is a free and easy way to support our truly independent journalism
By registering, you will also enjoy limited access to Premium articles, exclusive newsletters, commenting, and virtual events with our leading journalists
Already have an account? sign in
Join our new commenting forum
Join thought-provoking conversations, follow other Independent readers and see their replies