The 300,000 Syrians about to get trapped by President Assad's regime
Wednesday 17 February 2016 15:31
Comments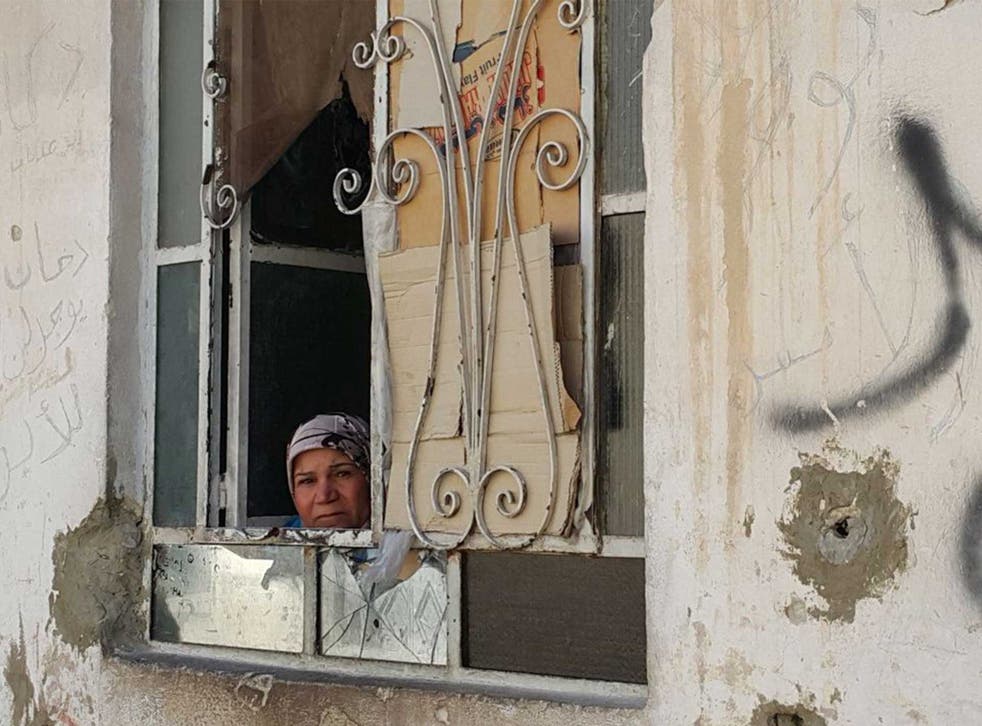 Syria's government has approved humanitarian access to seven besieged areas, including the city of Madaya where dozens of people are thought to have died from starvation, the UN has said.
After talks in Damascus, UN envoy Staffan de Mistura said aid convoys will be sent on Wednesday in what will be a test of whether the warring parties will allow in humanitarian supplies.
"It is the duty of the government of Syria to want to reach every Syrian person wherever they are and allow the UN to bring humanitarian aid," he said after meeting Syria's Foreign Minister Walid Muallem. "Tomorrow we test this," he added.
Recent images of emaciated civilians in blockaded areas, such as the Syrian town of Madaya, have prompted global outrage. The United States says President Bashar Assad is violating the rules of war with what it calls a policy of "surrender or starve."
But as forces loyal to President Bashar al-Assad advance on the opposition-controlled neighbourhoods of Aleppo, there are fears that some 300,000 people risk being trapped.
Here we answer questions on Syria's siege warfare:
How widespread are sieges in Syria's civil war?
Assessments vary. A recent report by the Netherlands-based non-profit PAX and the Washington-based Syria Institute said 46 communities with more than 1 million residents are under siege to varying degrees, and pro-government forces are responsible for nearly all the blockades. The U.N. has listed 18 besieged communities with nearly a half-million residents, including Madaya, along with dozens of towns with 4.5 million people it defines as "hard to reach."
The discrepancy may stem from different definitions of siege, although the Syria Institute report says there's also been underreporting. It says Madaya, where aid groups say at least 44 people have starved to death, initially was not on the U.N. list.
What are the military advantages?
Laying siege to enemy-controlled cities allows attacking armies to keep their own casualties low by avoiding urban combat. The goal is to force trapped fighters to surrender.
Assad's government began besieging opposition-held areas more than three years ago because it did not have the manpower to take and hold territory.
In recent months, Russian airs strikes have sent tens of thousands of civilians fleeing targeted areas, making it easier to encircle those who remain, along with rebel fighters, said Andrew Tabler of the Washington Institute for Near East Policy.
Aram Nerguizian, of the Center for Strategic & International Studies in Washington, says siege warfare is used by both sides, but "in terms of scale, the willingness and ability to do this, the Assad regime obviously has a massive edge."
Syrian rebels are besieging two pro-government towns, while Islamic State extremists blockade parts the eastern town of Deir el-Zour, where the U.N. says about 200,000 people are trapped.
In some cases, sieges have led to local cease-fires.
In pictures: Russian air strikes in Syria

Show all 19
Why besiege Aleppo?
Aleppo, a trade hub in antiquity, was besieged in the past, including by Mongols and Crusaders in the 13th century. In the Syrian civil war, both sides view Aleppo as a major prize. Rebels seized several neighborhoods in 2012, but pro-government forces regained territory north of the city this month, threatening rebel supply routes from Turkey. Only a narrow corridor of several kilometers (miles) in width links rebel-held areas in the city and the nearby countryside. A government siege of Aleppo would deliver a major blow to opposition morale.
Will renewed truce efforts put an end to sieges?
It's doubtful, particularly in the Aleppo area. Syria and Russia have signaled that the Aleppo offensive will continue, despite a plan for a temporary Syria-wide halt in hostilities announced by the U.S. and Russia last week. Syrian aircraft recently dropped leaflets over parts of Aleppo, warning militants that "the belt is tightening around you" and urging their surrender.
An international task force on humanitarian access recently said it hopes sustained aid deliveries to besieged areas can begin shortly.
Has the legal view of siege warfare changed?
Yes. Until a few decades ago, there were few restrictions on siege warfare.
"In the old days, you could besiege an entire area without real regard to the health and welfare of the civilian situation," said Beth Van Schaack, a visiting professor of human rights at Stanford Law School.
The World War II siege of the Russian city of Leningrad, now called St. Petersburg, was one of the longest and deadliest in history. A top German commander involved in the campaign was subsequently acquitted by a U.S. military commission, Van Schaack said.
"There was a much more permissive legal environment, even as late as the mid-20th century," added Sean Watts, a law professor at Creighton University in Omaha, Nebraska.
What is the view today?
International humanitarian law still does not prohibit siege warfare outright.
However, restrictions introduced since World War II - such as a blanket ban on starving civilians - make it virtually impossible to besiege areas inhabited by both civilians and combatants without violating the rules of war, Watts said.
"Once it becomes apparent that the civilian population is starving, they (those conducting the siege) have an obligation to either allow in the supplies that are necessary to prevent starvation or let the civilian population leave," he said.
In Syria, pro-government forces and opposition fighters have largely ignored such prohibitions. Blockades are also often accompanied by random attacks on trapped populations, including by imprecise mortar fire and crude, explosives-stuffed barrels dropped from government helicopters.
U.S. Secretary of State John Kerry has denounced "surrender or starve" tactics in Syria. U.N. chief Ban Ki-moon has said denying humanitarian access to besieged areas is "deplorable and against the law."
Those responsible for starvation sieges could also face the more-severe charge of crimes against humanity for "extermination," or an attempt to kill large numbers of civilians, Van Schaack said.
Do such classifications matter?
Perhaps not now, but later.
"If we look over the course of history, we see increasingly that impunity is no longer the norm and that eventually the long arm of justice catches up with people," Van Schaack said.
"So we obviously lack the political will right now, in the midst of this conflict, to establish a tribunal or make the referral to the International Criminal Court, but over time, eventually this war will end, let's hope sooner rather than later," she said.
Associated Press
Register for free to continue reading
Registration is a free and easy way to support our truly independent journalism
By registering, you will also enjoy limited access to Premium articles, exclusive newsletters, commenting, and virtual events with our leading journalists
Already have an account? sign in
Register for free to continue reading
Registration is a free and easy way to support our truly independent journalism
By registering, you will also enjoy limited access to Premium articles, exclusive newsletters, commenting, and virtual events with our leading journalists
Already have an account? sign in
Join our new commenting forum
Join thought-provoking conversations, follow other Independent readers and see their replies