Tair Kaminer: Israeli teenager jailed for refusing to do military service because of Palestinian territories occupation
Caroline Lucas raised 'concern' about her imprisonment in the House of Commons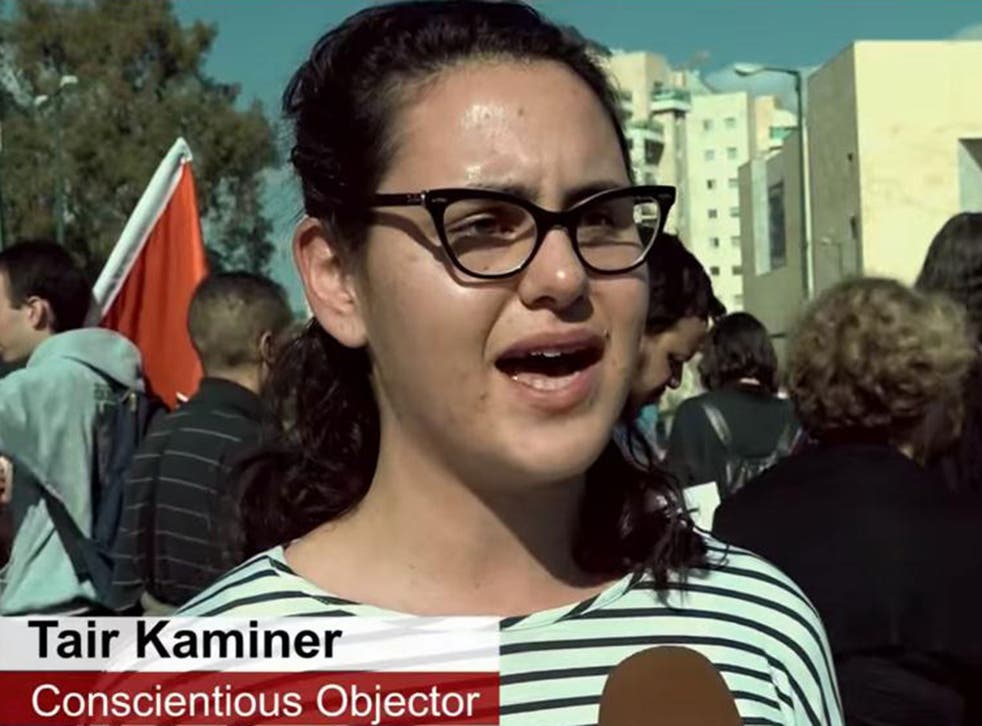 A 19-year-old Israeli woman who refused to do compulsory military service as a protest against the occupation of the Palestinian territories has been released from jail – but could return within days.
Tair Kaminer's case has been the subject of fierce debate in Israel, driving calls for reform to laws punishing conscientious objectors, while seeing her labelled as a "traitor" by others.
Before being sent to prison for 20 days earlier this month, she said her experience volunteering with the Israeli Scouts helping children traumatised by the Israel-Gaza conflict made her unable to accept conscription.
Tair Kaminer - Conscientious Objector

Conscientious objector Tair Kaminer does not want to "take part or contribute to hatred and fear" and prefers jail over enforcing the occupation and serving in the Israeli Army. via Israel Social TV - הטלוויזיה החברתית

Posted by Jewish Voice for Peace on Thursday, 14 January 2016
"I saw children (in Sderot) growing up in a warzone," Ms Kaminer told Israel Social TV.
"I saw the effect on them – the fear and sometimes, the hatred.
"I realised I did not want to take part, not to contribute to further hatred and fear and not to take part in the occupation."
Protesters have held regular demonstrations outside her prison and training bases for conscripts, while the Mesarvot campaign group is taking support messages from around the world.
Amnesty International Israel opposed the sentence, which was also raised in the Houses of Parliament, where Caroline Lucas brought an early day motion on 19 January noting MPs' "concern".
The Green Party MP for Brighton Pavilion wrote: "With tensions high in Israel, this is a particularly difficult time to be a conscientious objector … (we call) on the Government to request the Israeli authorities to accept the conscientious objection of Israeli citizens who do not wish to bear arms against a civilian population under military occupation."
The statement, supported by 19 MPs from parties including Labour, the Conservatives, Scottish National Party and Plaid Cymru, called for legal exemptions for conscientious objectors and the "immediate and unconditional release" of Ms Kaminer and other prisoners of conscience.
Supporters said Ms Kaminer was released on Wednesday and Russia Today filmed her emotional reunion with her parents.
Her father, Micha Kaminer, told the broadcaster: "I think it is a stupid move by the government and the military authorities to force people to serve in contradiction to their beliefs.
"A girl declares that she has a conscience opposing the occupation and she wants to do an alternative service is being put in jail – that's just outrageous."
Ms Kaminer could be jailed many more times if she continues to refuse conscription, with the next term reportedly starting as soon as Sunday, when she is due to report to a training base.
Each refusal to enlist is normally met with a prison term of up to a month, which is repeated until the IDF grants an official discharge.
Recent cases have seen conscientious objectors jailed up to 10 times, for almost 180 days each.
The Israeli–Palestinian conflict intensifies

Show all 10
Calling military service a "political decision", Ms Kaminer previously said that she aspires to peace, quality and security for everyone living in Israel and the Palestinian territories but that compulsory military service was not the way to ensure it.
"When I look at all of these children, and the next generation on both sides and the reality in which they grow up, I see only more trauma and pain," she said. "Military jail frightens me less than our society losing its humanity."
Military service is compulsory for all Israeli citizens over the age of 18, with the exception of groups including Arab Israelis, Orthodox women and anyone unable to serve for medical reasons.
Arutz Sheva reported that police complaints have been launched against Ms Kaminer alleging that she is "inciting" others to dodge the draft.
The Israeli Embassy in London has not yet responded to The Independent's request for a comment.