Taliban in Afghanistan announces historic three-day ceasefire after dozens killed in attacks
Militants pledge to halt attacks over Muslim Eid holiday - but foreigners are excluded
Sunday 10 June 2018 01:28 Comments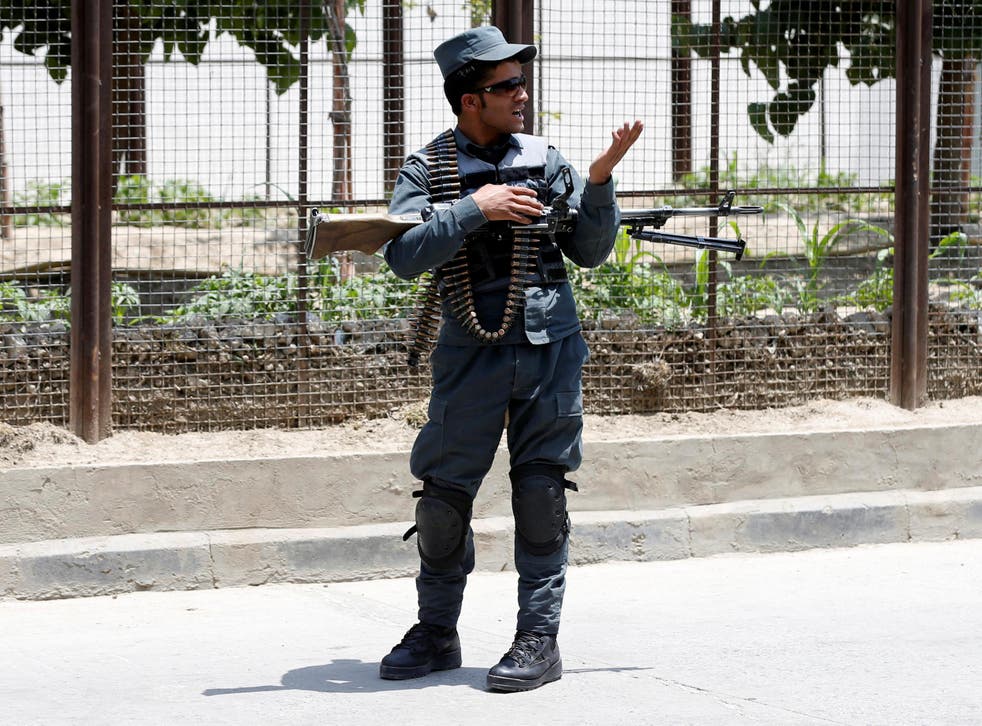 The Taliban in Afghanistan has announced a surprise three-day ceasefire – hours after dozens of people were killed in a string of attacks.
In the first offer of its kind, the militant group said it would halt attacks over the Muslim Eid holiday in the middle of June.
Foreign forces would be excluded from the ceasefire, and operations against them would continue, the Taliban said, adding that they would defend themselves against any attack.
"Members of the Taliban should not participate in public gatherings during the Eid festivities because the enemy could target us," they said in a statement.
The news came two days after the government declared an unconditional ceasefire of its own, with president Ashraf Ghani unveiling a week-long ceasefire with the Taliban to coincide with the holiday.
The presidential palace welcomed the Taliban announcement, saying it hoped it could lead to lasting peace.
Omar Zakhilwal, Afghanistan's ambassador to neighbouring Pakistan, described it as an "important step towards prospects for peace".
"Hope the pleasure of shedding no Afghan blood in Eid becomes so overwhelming that rest of year is also declared as Afghan Eid," he said on Twitter.
The palace statement referred to a gathering of top clerics last week in which they issued a decree against suicide attacks and called for peace talks. A suicide bomber struck just outside the gathering as it was dispersing, killing at least seven people and wounding 20 in an attack claimed by Isis.
The Taliban had denounced the gathering, insisting that its jihad - or holy war - against foreign invaders was justified. It instead urged the clerics to side with it against the "occupation".
Nato has led international security efforts in Afghanistan since 2003, winding down its combat mission in 2014. But almost 16,000 troops from 40 countries are still there to train Afghan soldiers.
Then just hours before the announcement, the Taliban attacked security checkpoints in the western Herat province, killing 17 troops and wounding several.
One soldier was wounded and eight insurgents were killed in the gun battle in Zewal district, according to Gelani Farhad, a spokesman for the provincial governor.
In northern Kunduz province, at least 13 local policemen were killed early today when their checkpoint came under attack by Taliban fighters, said Nematullah Temori, spokesman for the provincial governor.
Seven others were wounded and around 10 insurgents were killed in Qala-e Zal district, he said.
In eastern Nangarhar province, a possible candidate for a district council seat was killed when his vehicle was destroyed by a sticky bomb, said Mohammad Nasim, Rodat district governor. The Islamic State group admitted the attack.
A separate bomb blast in Nangarhar killed at least four civilians and wounded 16 others, including four children. Three of them were said to be in a critical condition.
No one immediately admitted the attack in Kot district, but both the Taliban and Islamic State are active in eastern Afghanistan, especially in Nangarhar.
Meanwhile, in northern Sari Pul, at least six public-protection officers were killed as a checkpoint came under an attack by Taliban fighters, said Zabi Amani, spokesman for the provincial governor.
World news in pictures

Show all 50
The Taliban statement said its leadership may also consider releasing prisoners of war if they promise not to return to the battlefield.
The conflict in Afghanistan has been at a stalemate for several years, and Nato's best chances of leaving lie in the Taliban agreeing to peace talks and eventually joining the government.
The Trump administration has sent additional troops to try to change the course of America's longest war. Senior US officials said last night that they would intensify combat against the Isis affiliate in the country.
US defence secretary, Jim Mattis, said this could, for example, allow the US to partially shift the focus of aerial surveillance from the Taliban to IS fighters as well as al-Qaeda extremists.
Register for free to continue reading
Registration is a free and easy way to support our truly independent journalism
By registering, you will also enjoy limited access to Premium articles, exclusive newsletters, commenting, and virtual events with our leading journalists
Already have an account? sign in
Join our new commenting forum
Join thought-provoking conversations, follow other Independent readers and see their replies