Taliban say peace deal breakdown with Donald Trump 'will harm America more than anyone else'
President announced he would be scrapping agreement and cancelling secret White House meeting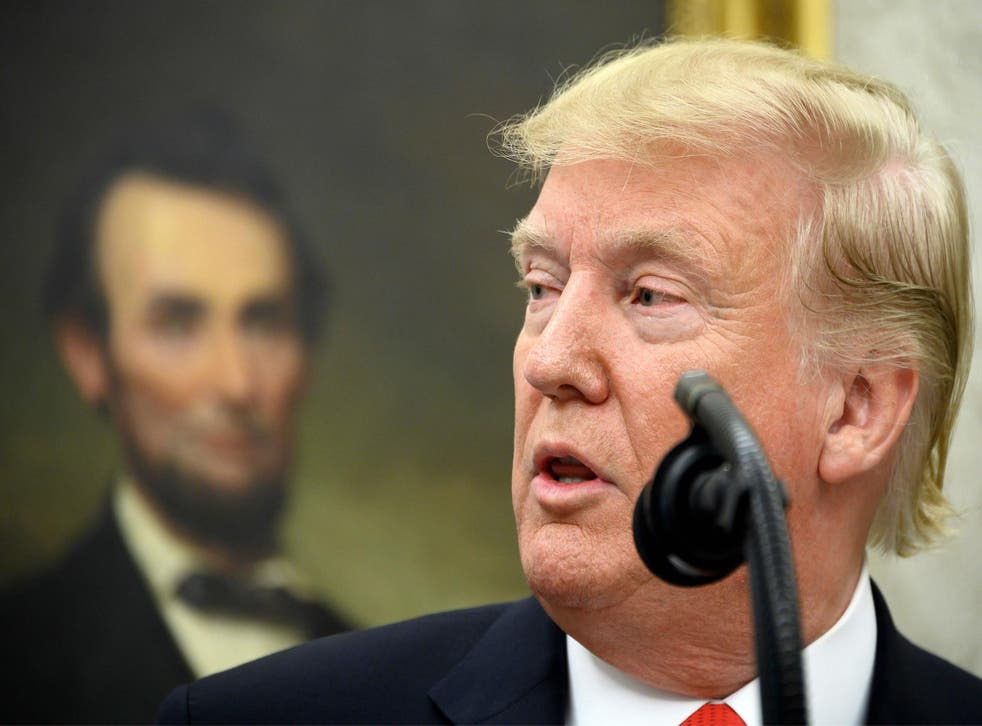 The Taliban has warned Donald Trump's decision to cancel peace negotiations with the militant group after a car bomb claimed the life of a US soldier would increase America's "human losses".
Mr Trump confirmed he would not attend a planned meeting with Taliban leaders and the president of Afghanistan in a tweet on Sunday after the militant group took credit for a car bomb in Kabul that claimed the lives of 12 people including a US soldier.
The president tweeted: "I immediately cancelled the meeting and called off peace negotiations. What kind of people would kill so many in order to seemingly strengthen their bargaining position?"
The Taliban have warned that Mr Trump's decision to cancel their agreement would "harm America more than anyone else".
A spokesman for the militant group said talks, which had been ongoing for a year, had been completed "in a favourable atmosphere", adding that the scrapping of the deal "will damage [America's] status, will make it clear to the world its most hostile stance for peace, will increase its material and human losses, and its role will be known as shaky and fragile in political dealings".
Afghanistan war: lives of children devastated by the endless conflict

Show all 20
Before the president's announcement the meeting between members of the Afghan government, the Taliban and US officials, scheduled to take place in his Camp David residence, had been a closely guarded secret.
But critics in the US denounced Mr Trump's decision to hold the talks on the week of the 18th anniversary of the 9/11 terror attacks. The Taliban harboured al-Qaeda members before the attack, providing a safe base of operations for the group making up a key reason for the US war in Afghanistan of 2001.
Since the invasion, and with US military involvement dramatically reduced in the country from a height of 100,000 in 2010 to 14,000 in 2019, the Taliban has been able to regain a significant foothold across the country.
Around 14.5 per cent of Afghanistan is considered to be under the militant group's control, compared to the 56.3 per cent of the country overseen by the Afghan government.
Late-night Taliban suicide attack in Kabul hours after US agrees deal to withdraw 5,000 troops from Afghanistan
While growing in stature, the Taliban has continued to campaign for a complete withdrawal of US troops in Afghanistan, where there has been a US military presence for 18 years.
A draft framework agreement drawn up by the three parties had paved the way for US troops to leave five military bases in Afghanistan within 135 days, with the Taliban guaranteeing in return that the country would not be used as a launch pad for global terror.
Afghanistan's government has remained sceptical of the talks, while the possibility of an accord has placed pressure on the election campaign of President Ashraf Ghani, which is due to take place next month.
Register for free to continue reading
Registration is a free and easy way to support our truly independent journalism
By registering, you will also enjoy limited access to Premium articles, exclusive newsletters, commenting, and virtual events with our leading journalists
Already have an account? sign in
Register for free to continue reading
Registration is a free and easy way to support our truly independent journalism
By registering, you will also enjoy limited access to Premium articles, exclusive newsletters, commenting, and virtual events with our leading journalists
Already have an account? sign in
Join our new commenting forum
Join thought-provoking conversations, follow other Independent readers and see their replies