Talk to Egypt, and trust us on Iran: Hillary Clinton's plea for patience in Jerusalem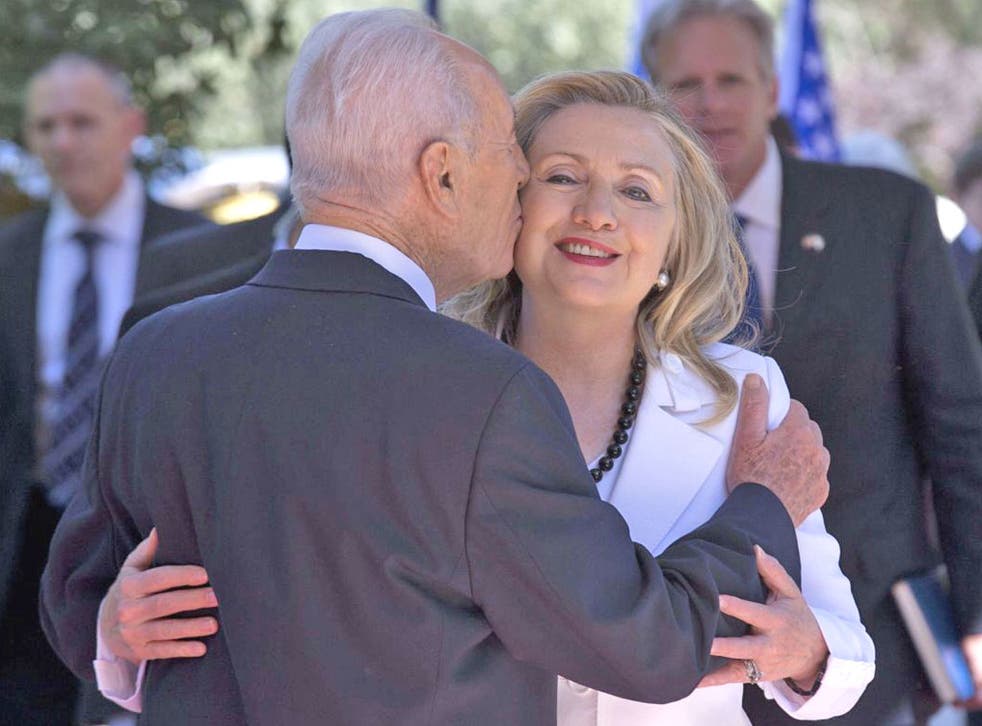 The US Secretary of State, Hillary Clinton, said last night that the United States will use "all elements of American power" to stop Iran acquiring nuclear weapons and insisted it was on "same page" as Israel on the issue.
Ms Clinton told reporters after meeting the Israeli Prime Minister, Benjamin Netanyahu, that proposals made by Tehran in the most recent talks last month with the big powers on its nuclear programme were "non-starters."
She said that everyone would prefer a diplomatic solution to the crisis and added: "Iran's leaders still have the opportunity to make the right decision. The choice is ultimately Iran's." But she declared: "We will use all elements of American power to prevent Iran developing a nuclear weapon."
She said: "It's absolutely fair to say that we are on the same page at this moment trying to figure our way forward to have the maximum impact on affecting the decisions that Iran makes"
Given the repeated emphasis Ms Clinton put in her press conference on the importance of the US alliance with Israel, it was not immediately clear whether the negative outcome of last month's talks with Tehran had helped to narrow the gap between the two governments or whether she was publicly glossing over continuing and sharp differences behind the scenes with Mr Netanyahu.
Israel has been deeply sceptical about the demand from the big powers – the US, Britain France Russia, China and Germany —for Iran to suspend its present uranium enrichment to a level of 20 per cent, preferring to see all enrichment halted. But for now that has become less of an issue given Iran's refusal unless sanctions are halted first.
On the other hand, part of the purpose of Ms Clinton's visit may have been an unspoken domestic electoral one —to help shore up the Obama administration's pro-Israel credentials in advance of planned visit by the Republican President candidate Mitt Romney later in the month.
Ms Clinton had arrived earlier arrived in Israel asserting that that the two allies must "think together and act together" – a declaration seen as heralding an effort to bridge differences over how to handle the nuclear threat posed by Iran.
Speaking after meeting with President Shimon Peres amid continuing apprehension in some Western capitals that Israeli government here could yet launch a strike on Iran's nuclear facilities ahead of November's US presidential election, Ms Clinton said: "We are called to be smart, creative and courageous". Ms Clinton had been expected to use the visit partly to seek insight into whether the government of Benjamin Netanyahu is contemplating such a strike in the wake of the abortive talks and Tehran.
On Syria, Ms Clinton said the US was working hard with UN Special envoy Kofi Annan on a new resolution "with consequences" on Syria and reiterated her belief that the regime of its president Bashar al-Assad "cannot survive"
While saying that "an urgent negotiated solution" was needed for the Israeli Palestinian conflict and that the status quo was "unsustainable", Ms Clinton gave no hint on how the two sides could be brought together for meaningful talks.
Asked about future relations between Israel and Egypt's new Muslim Brotherhood President Mohammed Morsi, Ms Clinton said both countries had an interest in maintaining the three decade old peace treaty.
Register for free to continue reading
Registration is a free and easy way to support our truly independent journalism
By registering, you will also enjoy limited access to Premium articles, exclusive newsletters, commenting, and virtual events with our leading journalists
Already have an account? sign in
Register for free to continue reading
Registration is a free and easy way to support our truly independent journalism
By registering, you will also enjoy limited access to Premium articles, exclusive newsletters, commenting, and virtual events with our leading journalists
Already have an account? sign in
Join our new commenting forum
Join thought-provoking conversations, follow other Independent readers and see their replies