Ten years after the invasion: Iraq helpless under rain of terror
Saddam Hussein may have gone but, for many poor Iraqis, little has improved. Now a devastating flood has left villagers homeless and there is precious little government support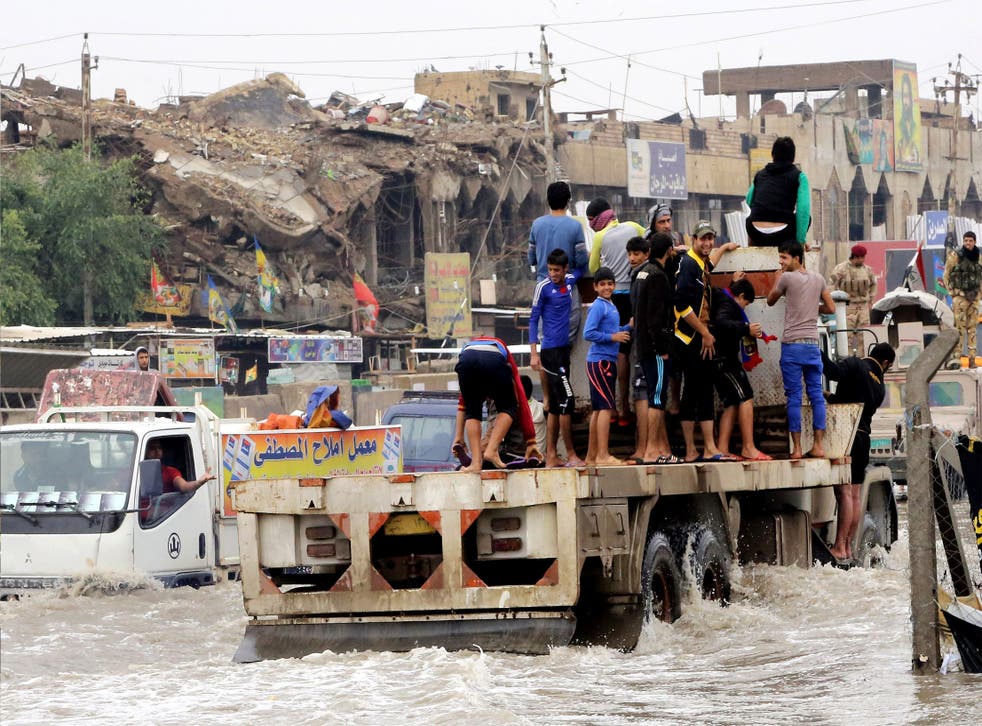 "A wall of water came at us as if a dam had broken," lamented Razaq Madloul, as he looked at the ruined houses standing in a muddy swamp where he and dozens of other farmers had lived until a devastating flood last week.
"Even our fathers had not seen such rain," he said of the four-day downpour that hit southern and central Iraq and northern Saudi Arabia, washing away roads and villages in places that seldom see any rain. Villagers outside Najaf, the Shia holy city 100 miles south-west of Baghdad, stood little chance.
"Government officials came at three in the morning last Friday and told us to get out," said Sami Abdullah, who worked as a brick-maker in a district dominated by the tall smoke-blackened chimneys of brick factories west of Najaf. He said most of the brick-makers escaped, though a woman and three of her children were drowned as houses, built from poor quality bricks, collapsed under the impact of the water.
The brickworks are beginning to dry out but, further towards a shallow lake called the "Sea of Najaf", the fields on either side of the road have turned into swampland, with deep mud interspersed with ponds. In one village, farmers said most of their flocks of sheep had drowned and the body of the occasional animal was rotting beside the road. The mukhtar, or leader, of a farming village said: "I have lived here since 1973 and have seen nothing like this." Caught by surprise, villagers had no time to save their possessions, and such vehicles as they owned were submerged by mud as if in some modern Herculaneum.
Aside from that first warning from officials of impending disaster, the Iraqi government has remained inert and dysfunctional at all levels. Displaced villagers all say, with varying degrees of anger, that they have received no help from the central or provincial authorities. In Baghdad, Prime Minister Nouri al-Maliki was much derided for blaming the floods in the capital on sabotage of the sewage system by his political enemies.
Water and drainage experts say that $7bn (£4.3bn) has been spent on new sewage and drainage projects in Baghdad since 2003, but they do not work because of corruption and incompetence. In some districts of the capital last week, people took to makeshift rafts to negotiate streets turned into rivers of diluted sewage and water.
It is not that people in the countryside outside Najaf had much to lose in the first place. In Baghdad, the sewers and water pipes may have been badly built but in the provinces they were often never built at all. Today, there is nothing much to distinguish the ruins of houses destroyed last week from the remains of Sumerian villages abandoned 3,000 years ago.
One party of refugees said that until a few years ago they had lived in the remains of one of Saddam Hussein's abandoned military camps, but they had been moved on by the government to the outskirts of Najaf; they had never had water or electricity.
The only people offering help were from the Iraqi Red Crescent Society, which provided tents and distributed meals in plastic containers. "I have never seen anything like it," said Ahmed al-Jabouri, in charge of crisis management at Red Crescent. "It must be the result of climate change." Much of the relief work was being carried out by staff from the office of the populist Shia religious leader Muqtada al-Sadr, who were rebuilding roads to link up isolated communities that have been cut off by the flood waters.
Abbas al-Kufi, an official in Mr al-Sadr's office in Najaf, said that on the night of the great storm he desperately telephoned the defence ministry "to get helicopters to rescue people, but nobody was answering there, day or night". He added: "I borrowed a small boat from the river police but the man in charge of it said the waters were too turbulent for it to be used. The boat later capsized."
Iraq's inability to help its own people when they are hit by natural disasters, despite oil revenues of $100bn a year, underlines the dysfunctional nature of the government 10 years after the fall of Saddam Hussein's regime.
Such coverage as Iraq receives in the international media these days, when reporting of the Middle East is dominated by Syria and Egypt, is almost exclusively about the bombings that kill 1,000 people a month.
But, for most Iraqis, the worst problem in their life is not sudden death but poverty. In Najaf, which is better off than many Iraqi cities, the very poor make up an estimated 40 per cent of the population.
The district of Jadaid al-Rabiya in Najaf is at a higher altitude than the ruined villages caught by the heavy rains and it suffered less flood damage – but its people's lives are still a struggle for day-to-day survival.
"Either you work and eat or you don't work and you don't eat," said Sayid Sa'ad Aziz al-Hilli al-Moussawi, a shopkeeper and community leader. "In Saddam's time they didn't get anything and they don't get anything now. Their clothes are poor. They work as construction labourers or taxi drivers if they have a car. People think about food, not education. "
Older people here often do not have any qualifications, because their education was interrupted by long service in the army under Saddam. In most of Iraq the government is the main source of employment, but Mr al-Moussawi says that nobody in Jadaid al-Rabiya has a job working for the state "because the two ways of getting a job are paying a bribe or knowing somebody important – and we're too poor to do either".
I asked if it was not strange that in a country like Iraq, with so much oil and money, there was so much poverty? "It is not strange," said an old man who had been sitting silently on a chair. "It is stranger than strange."
Join our new commenting forum
Join thought-provoking conversations, follow other Independent readers and see their replies