The footage that reveals the brutal truth about Bahrain's crackdown
Seven protest leaders arrested as video clip highlights regime's ruthless grip on power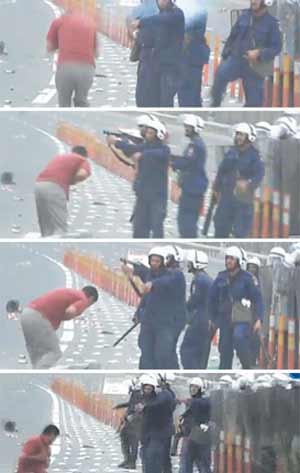 The unarmed, middle-aged man in the video seems to pose no threat to the Bahraini security forces. He gesticulates at a group of soldiers or policemen, dressed in blue jumpsuits and white helmets, just a few feet away.
One of them gestures as if to wave away a nearby protester filming the incident. Then the civilian is shot.
He sinks to his knees. He stands. He is shot again. And this time he does not get up.
The footage of the incident leaves many questions unanswered. There is no evidence of when it was filmed, or of whether the man was shot with rubber bullets, tear gas or live bullets. The victim's name is unknown. And there is no word whether he lived or died.
But as it spread around the world online yesterday, at the same time as the government arrested seven top opposition leaders and kept injured protesters away from the country's main hospital, it seemed to emblematise the lengths to which the authorities were prepared to go to maintain their grip on power. In another short clip posted on YouTube, another civilian takes his shirt off and waves his arms to show he is unarmed. He, too, is shot. As blood pours from his leg he is taken away in a car in search of treatment, but according to the user who uploaded the video, he is denied access to the hospital. Another video shows him being treated in an ordinary home.
Such ruthlessness appeared to be an indication of the strength of the authorities' rejection of reform. It shows that the ruling Sunni Muslim al-Khalifa family has decided to fight to the finish against Bahrain's Shia majority.
There were few cars on the streets of the capital Manama yesterday, even before the start of the curfew. Soldiers, backed by tanks, established checkpoints on the main roads, while side streets were blocked by skips and shopping trolleys. Shops were mostly closed and there were long lines outside those that were open. A man who had the red and white Bahraini flag – adopted by demonstrators as their banner – in his car was arrested by police wearing black ski masks.
The opposition accuses the Sunni-dominated government of stoking sectarian hatred by portraying the month-long protests as a movement solely of Shia. "Our aim and goal is democracy," said opposition activist Mohammed al-Maskati in a telephone interview.
"The slogan of the protesters has been to say: 'there are no Shia and there are no Sunni'. Several of those arrested this morning are Sunni."
He complained that the pro-government media is falsely claiming that Shia clerical leaders were behind the mass demonstrations over the last month.
King Hamad bin Isa al-Khalifa and the royal family have acted violently against the protests ever since they started in imitation of what had happened in Tunisia and Egypt. The US Secretary of Defence Robert Gates visiting Bahrain last week-end to counsel moderation said there had been only "baby steps" towards reform.
Mr Maskati said that the military had taken over the main Salmaniya hospital and anybody going there was being interrogated. "In one case friends were not allowed to take away the body of one of the protesters who had been killed." The Salmaniya hospital had been a focus for demonstrators last month.
The takeover of medical facilities by the security services was confirmed by the UN High Commissioner for Human Rights Navi Pillay. She said that "there are reports of arbitrary arrests, killings, beatings of protesters and of medical personnel and the takeover of hospitals and medical centres by various security forces. This is shocking and illegal conduct".
Mr Maskati says there could be little resistance because of the strength of the forces deployed by the state. He said some people were going into the streets to beat drums in a symbolic breach of curfew, but police "come within 10 minutes" and open fire. In some cases he said the security forces were using .50 calibre machine guns.
He did not think there would be demonstrations after Friday prayers because of the heavy security presence and the opposition parties had not called for street protests because police and army would open fire. With their leaders under arrest and charged with "incitement to kill" and being in communication with foreign powers, Mr Maskati said opposition had no definite plan for future action.
The Bahraini government has armed forces numbering some 30,000 – all of whom are Sunni – and police and security services with about the same size, many of them being Baluchi, Yemeni or Syrian.
A central demand of the two thirds of Bahrainis who are Shia is that there should be an end to job discrimination against them. It is not known how the al-Khalifa royal family reached the decision to rely wholly on force to keep their grip on absolute power, though they have clearly been encouraged to do so by Saudi Arabia.
The most powerful opponent of reform is the uncle of the king and prime minister for the last 40 years, Khalifa bin Salman al-Khalifa, who is said to be the richest man in Bahrain. His departure was a key demand of the opposition.
Not a single person was flown out on the first of two planes chartered by the British government to evacuate Britons from Bahrain. Those who wanted to get out found seats on commercial flights. A second flight lands today.
Join our commenting forum
Join thought-provoking conversations, follow other Independent readers and see their replies