The Saudi woman who took on nail polish police
Justin Vela
Thursday 07 June 2012 10:42 Comments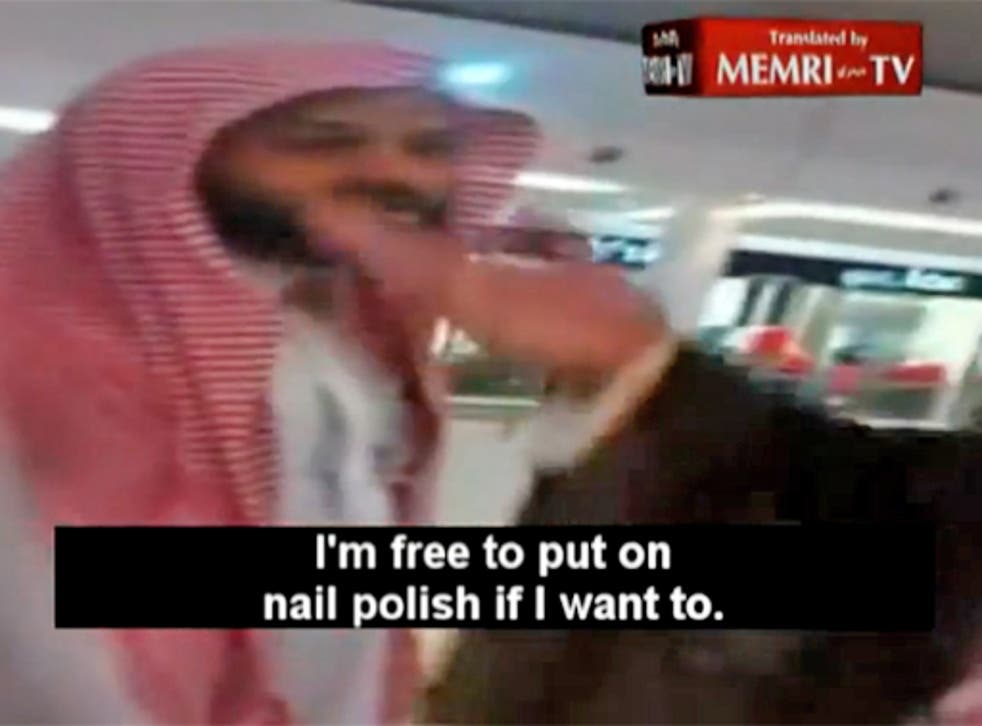 A video of a Saudi woman who dared to defy members of the country's feared religious police has gone viral on social media, reigniting the debate on women's rights in the ultra-conservative kingdom.
The woman filmed herself standing up to members of the Committee for the Promotion of Virtue and the Prevention of Vice (CPVPV), who ordered her out of a shopping mall last month after spotting her nail varnish. The woman, who is not visible in the video, can be heard saying: "Get out of the mall? I'll show you who's getting out of the mall."
The religious police claimed it was their duty to make her leave, but the woman responded: "Why are you chasing me? The government said no more chasing. Your duty is to advise people."
Women in Saudi Arabia must be covered from head to foot in black when they go out and are not allowed to drive. Last year, many challenged the restrictions by taking to the roads.
The video of the "manicured woman", as she has become known, shows two security guards to whom she had complained talking to the officers. The woman can be heard saying that she planned to publish the video on the internet: "I will publish this video on Twitter and Facebook so the [CPVPV] chief, Sheikh Abdullatif al-Asheikh, may see your behaviour."
Mr al-Asheikh appeared to side with the woman appeared to side with the woman in comments reported in the local daily al-Watan on Monday, according to AFP: "The way the member of the commission behaved was not right, even if the girl had gone too far."
It was unclear from the video whether the woman was eventually forced to leave the mall.
Register for free to continue reading
Registration is a free and easy way to support our truly independent journalism
By registering, you will also enjoy limited access to Premium articles, exclusive newsletters, commenting, and virtual events with our leading journalists
Already have an account? sign in
Join our new commenting forum
Join thought-provoking conversations, follow other Independent readers and see their replies