The West is to blame for Syrian conflict, says Saudi prince
Kim Sengupta
Tuesday 02 December 2014 20:01 Comments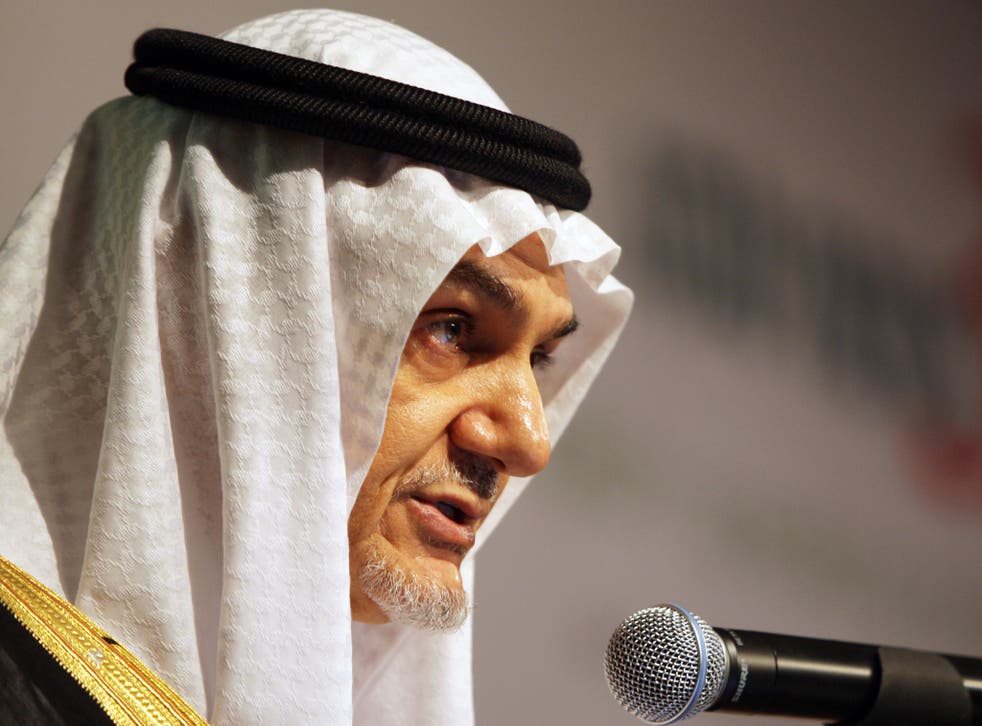 The West's failure to intervene in Syria's civil war contributed to its descent into a bloodbath and not enough is being done, even now, to protect the battered population, according to a senior and influential member of the Saudi royal family.
The decision by western European states to restrict air strikes against Isis was "unacceptable" and "boggles one's mind", said Prince Turki al-Faisal, a former head of the kingdom's intelligence service who served as ambassador to both Britain and the US.
While America and its Middle East allies bomb Isis in Syria and Iraq, Britain, France and other countries are limiting air strikes to Iraq. "How does this make sense, to bomb one place and not the other? It is like taking action against a thief stealing from one neighbour's home, but not [doing] anything about the home next door. It boggles one's mind and is unacceptable," the Prince told the European Council on Foreign Relations in London.
The US and western Europe failed to act on Saudi recommendations in 2012 to arm the moderate Syrian rebels against Bashar al-Assad's regime, he pointed out. "If that had been done, then there would have been no need to use our air force now. The difference between the good guys and the bad guys in the opposition was clear cut then. It was the dilly-dallying at the time that gave Jabhat al-Nusra [branch of] al-Qaeda [its] chance. Because of the time lost it has, of course, become much more difficult now between the good guys and the bad guys."
The Prince said he hoped the US would devise a programme to address the reasons behind extremism, as well as ways to combat it. "We have had 200,000 Syrians die in the past two years," he said. "We don't want another 200,000 to die in the next years."
It was wrong, he added, for the international coalition to carry out operations against Islamist extremists but not the Syrian regime. "What is the biggest killer around now? It is not Ebola. It is not cholera. It is not diphtheria. It is Assad and his cohorts. They are the ones throwing fire barrels on a civilian population, terrorising them using chlorine gas. What is needed, we believe, is the setting up of a no-fly zone in the border between Syria and Turkey, and the coalition [opposition] to establish itself in Syrian territory."
Prince Turki maintained that President Assad would not last "more than a couple of months" if the Russians and Iranians withdrew support for him. Tehran, he added, was also intent on destabilising other parts of the Middle East. He blamed Iran and America for "opening the Pandora's box" of sectarian strife by promoting Shia ascendancy.
But the Prince refuted claims that Saudis had bankrolled Sunni extremists. "Those who make these claims should put up or shut up. We have worked with the US and the UN on this and action has been taken when necessary. Now, if you have evidence of this going on, come forward with what you have, don't wag your finger at us."
Register for free to continue reading
Registration is a free and easy way to support our truly independent journalism
By registering, you will also enjoy limited access to Premium articles, exclusive newsletters, commenting, and virtual events with our leading journalists
Already have an account? sign in
Join our new commenting forum
Join thought-provoking conversations, follow other Independent readers and see their replies