Theresa May warns Isis is 'not yet defeated' after Iraq declares victory in war with extremist group
Extremists 'still pose a threat to Iraq, including from over the Syrian border', says Prime Minister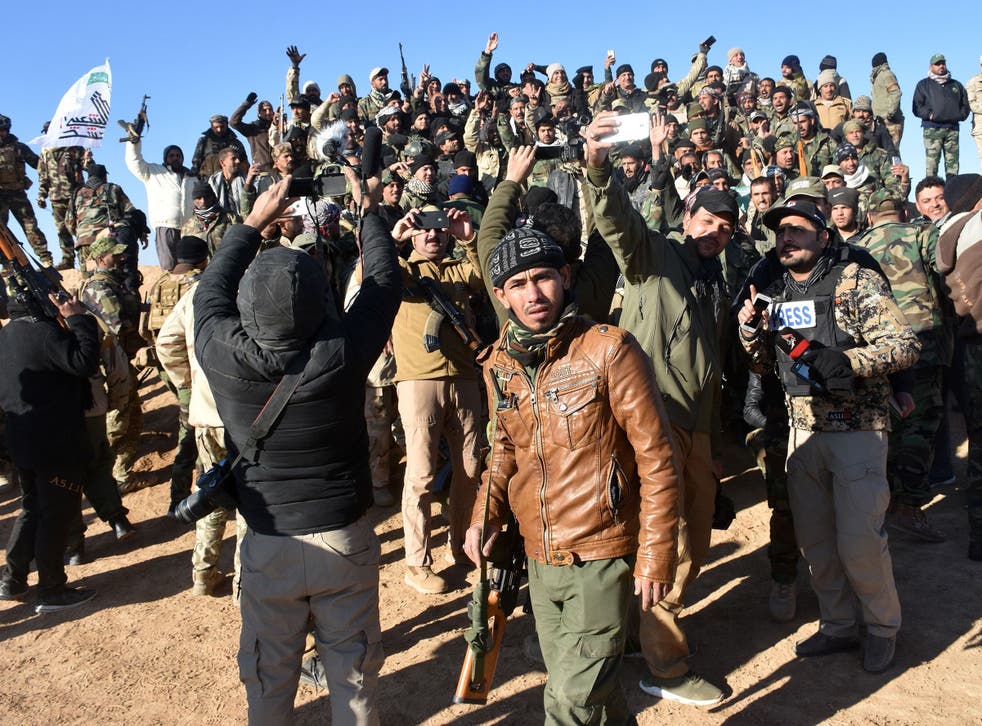 Theresa May has warned that Isis is "not yet defeated" after Iraq declared an end to its fight against the jihadi group.
Iraq's Prime Minister Haider al-Abadi on Saturday declared the country's war against Isis officially over, saying the group no longer occupied significant territory in the country.
Referring to Isis as Daesh, another name for the group, Ms May said: "I congratulate Prime Minister Abadi and all Iraqis on this historic moment. This signals a new chapter towards a more peaceful, prosperous country.
"We must be clear, however, that whilst Daesh is failing, they are not yet defeated. They still pose a threat to Iraq, including from over the Syrian border."
Ms May, who said she saw the situation on the ground first hand during a visit to Iraq last week, added: "Daesh no longer hold significant territory in Iraq or Syria. I pay tribute to the Iraqi security forces for their courage and sacrifice.
"I am proud that the UK, as a leading member of the global coalition, has stood shoulder-to-shoulder with Iraq.
"The UK, as a coalition member, has played a leading role in supporting the Iraqi security forces, including the armed forces and the Peshmerga, in the fight against Daesh. UK aircraft have launched over 1,350 air strikes in Iraq and have trained over 60,000 members of the Iraqi security forces.
"UK aid provides a vital lifeline to millions of Iraqis, with emergency food, shelter, medical care and clean water. We are now supporting the government of Iraq to lay the foundations for an economy that meets the aspirations of all Iraqis.
World news in pictures

Show all 50
In an Iraqi state announcement, Lt Gen Abdul-Amir Rasheed Yar Allah said combat operations against the extremists have concluded after Iraqi forces retook control of the country's border with Syria. The statement said: "All Iraqi lands are liberated from terrorist Daesh gangs and our forces completely control the international Iraqi-Syrian borders."
The US State department welcomed the end of the "vile occupation" of Iraq, vowing to continue its efforts against the group in the region.
Iraq's announcement came two days after the Russian military said it had defeated Isis in Syria.
The extremist group seized large amounts of Syria and Iraq in 2014 but it has suffered a series of heavy defeats in the last two years, losing its stronghold in Mosul, Iraq's second largest city, in July, and Raqqa, its effective capital, in Syria in November.
Register for free to continue reading
Registration is a free and easy way to support our truly independent journalism
By registering, you will also enjoy limited access to Premium articles, exclusive newsletters, commenting, and virtual events with our leading journalists
Already have an account? sign in
Register for free to continue reading
Registration is a free and easy way to support our truly independent journalism
By registering, you will also enjoy limited access to Premium articles, exclusive newsletters, commenting, and virtual events with our leading journalists
Already have an account? sign in
Join our new commenting forum
Join thought-provoking conversations, follow other Independent readers and see their replies