Thousands of Afghans march in protest against brutal mob killing of woman in Kabul
Farkhunda was beaten to death and had her body burnt and dumped in a river in the centre of Kabul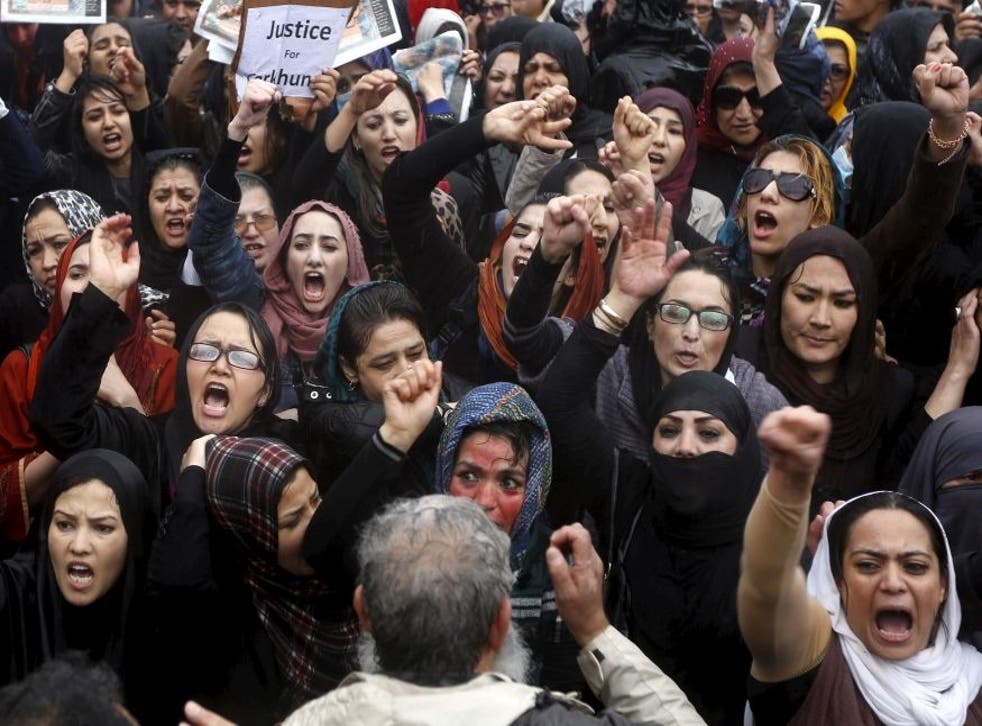 Thousands of Afghans have taken to the streets of their country's capital Kabul in protest at the killing and burning of a woman by a mob.
The woman, named Farkhunda, was beaten to death in a horrific attack and had her burning body dumped in a river near the Shah-e-Do Shamshera mosque in the city centre.
The 27-year-old religious scholar was alleged by the mob to have bunt pages of a copy of the Koran, the Islamic holy book.
The case has prompted a popular outcry against the woman's killers, which demonstrators say is emblematic of the women's right situation in the country.
Around 3,000 marchers marched through the capital's streets on Tuesday chanting "Justice for Farkhunda!" and "Death to the killers!" according to the AP news agency.
The demonstration is thought to be one of the biggest in Kabul's recent history and is the second march against the killing in recent weeks.
The Afghan interior ministry said 28 people have been arrested and 13 police officers suspended as part of investigations into the killing.
A spokesperson for the city's police who made comments that appeared to support the killing has also been sacked, the ministry said.
Farkhunda's brother says a local cleric made the initial accusation of Koran-burning to a crowd at his Mosque.
He says the allegation was without substance and that his sister had told people not to pay the cleric for good-luck amulets because they were un-Islamic, according to the Reuters news agency.
Even the Taliban, the fundamentalist Islamist sect which ran the country under Sharia law before the US invasion in 2001, condemned the attack.
In a statement the group said the attack was a conspiracy that uses "the name of the Koran to kill innocent civilians". It extended condolences to Farkhunda's family.
Women's rights were significantly curtailed under the Taliban government, however.
Amrullah Saleh, an activist and former head of the country's intelligence services who attended the protest, told the AP news agency the killing was symbolic of wider problems.
"She is an example of probably what has happened silently to many," Ms Saleh told AP. "She drew a line with her blood between those who want justice, rule of law, and those who are extreme in their views and who breed in lawlessness".
On International Women's Day this year Afghan men marched through the centre of Kabul wearing burqas to draw attention to abuses of women's rights in the country.
The country's president has ordered an inquiry into the killing.
Register for free to continue reading
Registration is a free and easy way to support our truly independent journalism
By registering, you will also enjoy limited access to Premium articles, exclusive newsletters, commenting, and virtual events with our leading journalists
Already have an account? sign in
Join our new commenting forum
Join thought-provoking conversations, follow other Independent readers and see their replies