Threat of new rebel Lebanese army as tensions grow over killing of Sunni clerics
The shootings follow a week of violence in the country's volatile and disenfranchised north
Loveday Morris Comments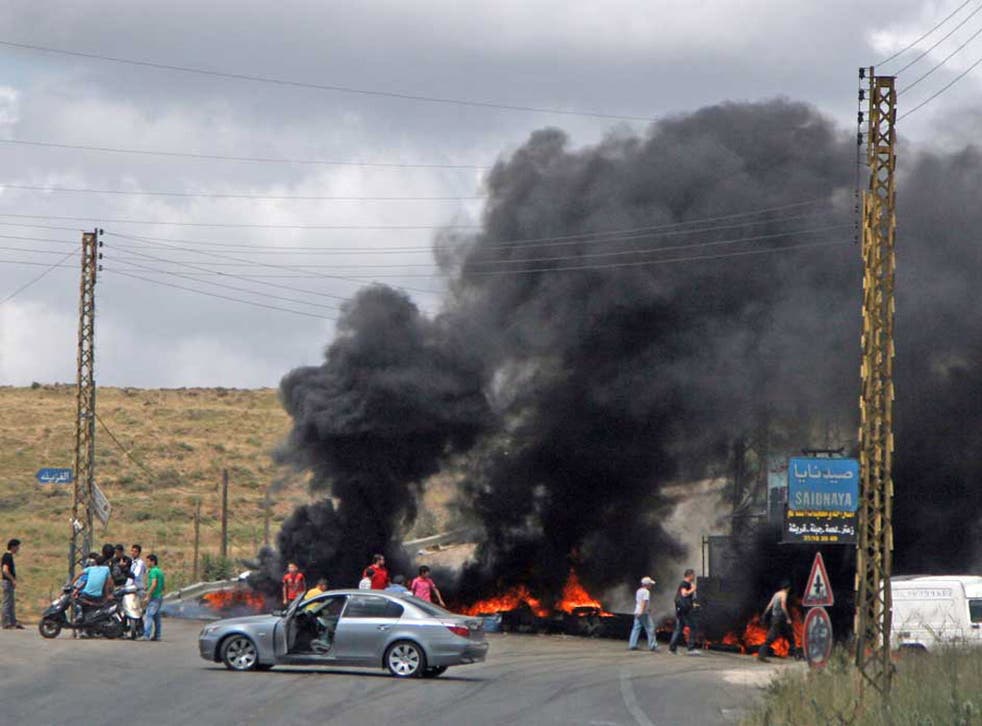 Rocket-propelled grenades and fierce gunfire ripped through the streets of the Lebanese capital last night after the army shot dead a prominent Sunni cleric, raising fears of sectarian strife as the conflict in Syria spills over.
At least six people, including two soldiers, were reported injured in the clashes in the Tariq al-Jadideh neighbourhood of Beirut as tensions between the Sunni community and the army intensified. The fighting, which will evoke memories of Lebanon's 15-year civil war, came just hours after religious leaders in the north called for the establishment of a Lebanese Free Army, after Sheikh Ahmed Abdul Wahid and his companion Sheikh Mohammed al Miraib were killed at a checkpoint near the northern city of Halba.
"We are now entering into a state of emergency, the whole of the north may explode," said Mohammed Beiruti, the leader of a Tripoli-based Islamist organisation.
The shooting yesterday followed almost a week of sectarian violence in the nearby city of Tripoli, where Sunni residents, who largely support the uprising against President Bashar al-Assad, and his Alawite supporters, exchanged grenades and gunfire, killing at least 12 people. By yesterday morning the situation appeared to have died down, as fighting positions constructed from sandbags and tyres were removed from the rival neighbourhoods of Jabal Mohsen and Bab al-Tabbaneh, but grenades and gunfire were reported again last night.
Though the uprising in Syria adds fuel to the fire in precariously balanced Lebanon, at the root of the tension is a growing sense of disenfranchisement in Lebanon's majority Sunni north, struggling with poverty and unemployment. There is a growing sense of resentment towards the Lebanese army, perceived by some as being under the control of Hezbollah, which supports the Assad regime.
"The Syrian regime is at the heart of the Lebanese security apparatus," said Mr Beiruti. "This is another example of our oppression." The clerics were on their way to a demonstration by the Future Movement, part of the anti-Syrian government 14 March alliance. In Halba yesterday, where burning tyres still smouldered, local residents said they believed the incident was "targeted", blaming elements within the army.
If an investigation does not solve the case "the sheikhs will have to form a Free Lebanese Army [since] it is unacceptable for the situation to remain as such," Sheikh Ahmad Rifai told the National News Agency. "We are not used to living in humiliation," he said, adding that the shooting had "insulted" the people's dignity.
The army released a statement saying it "expresses deep regret for the death of the two victims" and said it would investigate the incident.
Register for free to continue reading
Registration is a free and easy way to support our truly independent journalism
By registering, you will also enjoy limited access to Premium articles, exclusive newsletters, commenting, and virtual events with our leading journalists
Already have an account? sign in
Join our new commenting forum
Join thought-provoking conversations, follow other Independent readers and see their replies