Tombili: Istanbul cat and worldwide meme honoured with statue
Kadıköy's deputy mayor said in the inauguration ceremony that 17,000 people had demanded a memorial sculpture 
Tuesday 04 October 2016 15:37 BST
Comments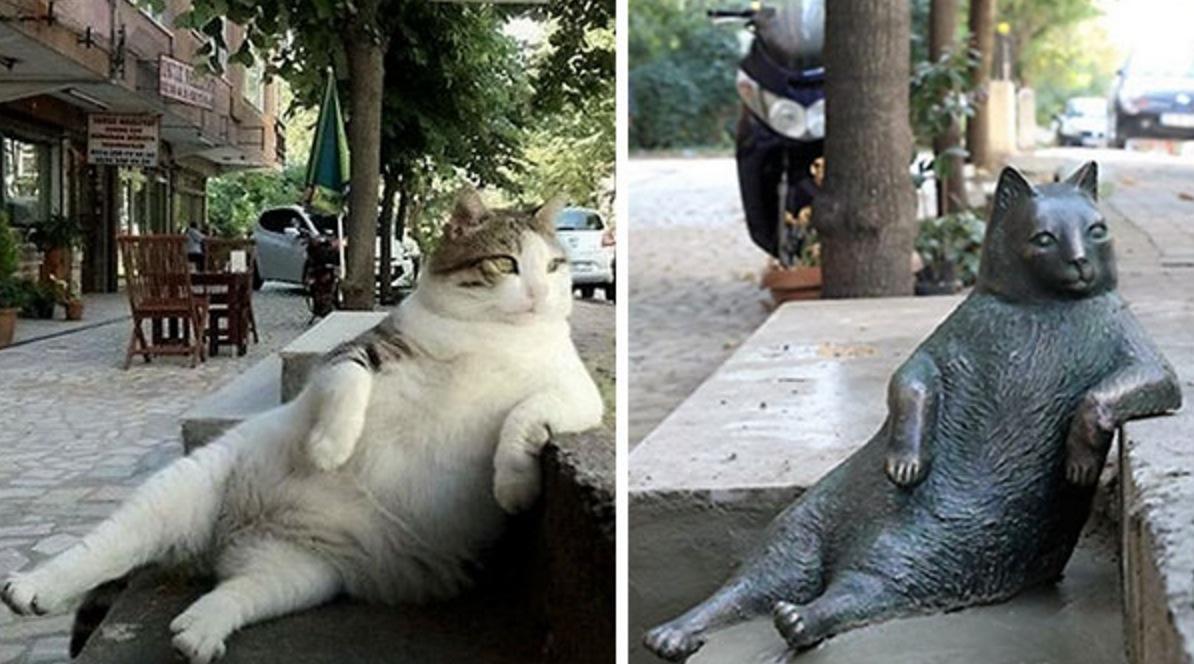 'Tombili', a rotund cat beloved by Istanbul's Ziverbey neighbourhood, has been commemorated by the city authorities after local demand for a tribute to his memory.
Tombili - a Turkish word often used for chubby pets - was known by residents of Ziverbey, part of the district of Kadıköy, for his nonchalant demeanour towards people who wanted to play with him. The cat became world famous earlier this year after a photo of him reclining in one of his favourite spots on the pavement was shared thousands of times on social media.
Many users edited the image with jokey captions or Photoshopped glasses of alcohol or other vices in front of him.
The cat found fame late in life, dying in August after a mystery month-long illness, Hurriyet News reported his owners as saying.
Flyers around the neighbourhood mourning his loss reading, "You will live on in our hearts, mascot of our street" appeared before the idea for a more permanent tribute took hold.
A change.org petition which gathered 17,000 signatures asked for Kadıköy Municipality to officially commemorate Tombili's contribution to public life, and local sculptor Seval Şahin agreed to make a bronze sculpture recreating the cat's famous pose.
The statue was inaugurated on October 4, World Animal Day. Hundreds of people came to pay their respects, leaving candles, cat food and flowers. The event was covered by Turkish TV.
At the ceremony, Kadıköy deputy mayor Başar Necipoğlu thanked the animal lovers of the area for making the memorial possible.
Cats art project on the London Underground
Istanbul's love affair with cats is well documented: the city is home to hundreds of thousands of strays which are well looked after by locals.
"If you kill a cat, you need to build a mosque to gain God's forgiveness," is how one Turkish saying goes. It is thought to originate from a folktale about the Prophet Mohammed's favourite pet, a cat called Muezza.
Rather that disturb the cat sleeping on the sleeve of his prayer robe, Mohammed used scissors to cut the sleeve off and leave her undisturbed.
In another version of the story, Muezza saved the prophet from a deadly snake. When he stroked her back in thanks, cats earned their ability to always land on their feet.
Join our commenting forum
Join thought-provoking conversations, follow other Independent readers and see their replies