Traders and customers in Iran find a way around UN sanctions as deadline for nuclear agreement draws closer
Those who can turn to connections across the Persian Gulf in an attempt to circumvent the restrictions
Rob Hastings
Sunday 02 November 2014 01:00 Comments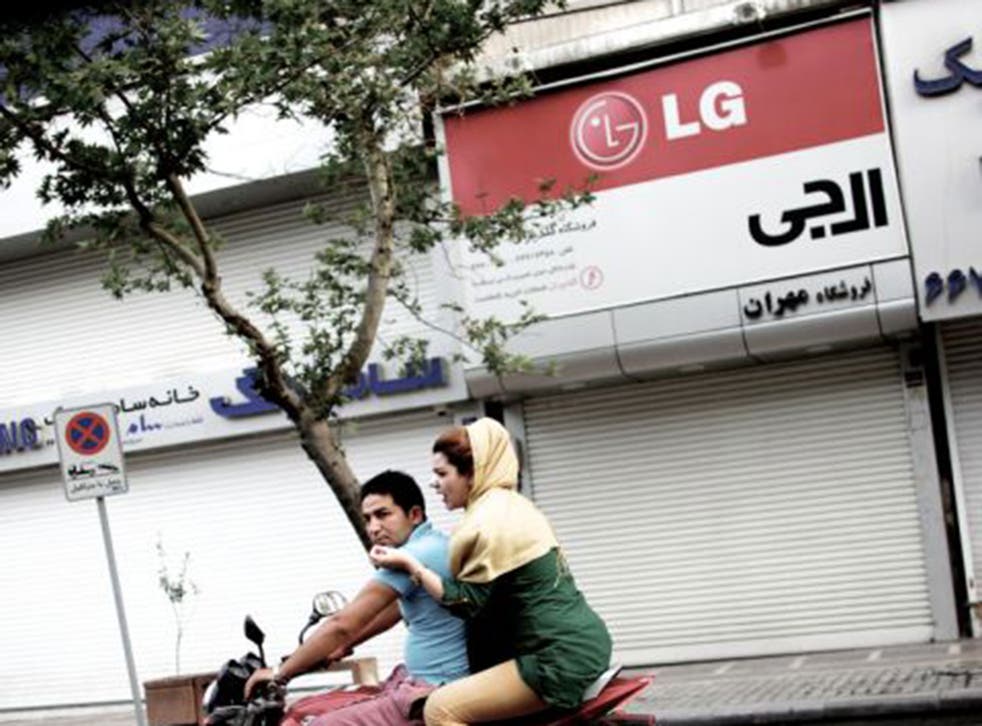 Staring down from a huge roadside billboard in the heart of Tehran, the image of Cristiano Ronaldo dressed as a space-age footballer to market a smartphone is perhaps one of the more unlikely sights of the Iranian capital.
In a nation where UN sanctions have strangled the economy for years by severely restricting international banking and trade because of the nuclear stand-off, hi-tech goods advertised by Western celebrities are among the products seemingly most likely to be in short supply.
In fact the city is awash with adverts for Samsung and LG on every shopping street, some even trying to attract consumers to buy 65-inch ultra-HD curved TVs, and it appears almost every member of Iran's middle class owns one of the two companies' touchscreen mobile phones.
One young engineer in Shiraz tells me he is not too worried by sanctions, tightened still further by the US and EU since 2011, as they affect "finance and oil companies" rather than impacting on his own life.
But while people can buy international brands - take a look in a toiletries store in the Shiraz bazaar, for example, and there are still products made by Johnson & Johnson, Colgate and Nivea on the shelves - their cost is high to the locals whose wealth has been hurt by high inflation, and whose rials have dropped heavily in value on the currency markets.
The sanctions are not only intended to prevent Iran gaining the technology to develop its nuclear programme and punish the government members whose assets are frozen, but also to create internal pressure within the population for their leaders to compromise and strike a deal on the nuclear issue.
In pictures: Iranian women remove their hijabs

Show all 10
Javed, a rug salesman with an upmarket boutique in Esfahan, is one of those frustrated by the diplomatic stand-off. The restrictions mean that no international credit or debit cards like Visa or Mastercard work in Iran, badly curtailing many businesses as tourists can only purchase goods in cash.
Javed is lucky that he is one of the very few shopkeepers to have a business overseas in Dubai, meaning he can take card payments online, but the cost and inconvenience and cost frustrates him - and tourism is only now beginning to improve after an enduring a long slump during the leadership of former President Mahmoud Ahmadinejad.
The carpet seller is currently listening out for developments on the local media every day about the ongoing nuclear talks that he hopes will result in sanctions being lessened. "For ten years things have been hard," he says. "I'm hoping for good news."
Tourism worker Reza agrees. "We want to start again, to welcome people and business to Iran and open our doors. We have spent too long shut out from the rest of the world."
Its with these hopes of his people in his mind that Iran's foreign minister will meet the European Union foreign policy chief and the US Secretary of State, John Kerry, in the capital of Oman on 9 and 10 November to discuss the Iranian nuclear issue ahead of a looming deadline for a final agreement, the US State Department said on Friday.
Mr Kerry's talks in Muscat with the Iranian Minister of Foreign Affairs, Mohammad Javad Zarif, and the EU's outgoing High Representative of the Union for Foreign Affairs, Baroness Catherine Ashton, are due to take place two weeks before a 24 November deadline for Tehran and the five permanent members of the UN Security Council plus Germany to reach a long-term agreement on Iran's nuclear programme. A number of meetings will also be held in Vienna.
There is much at stake. Problems for the Iranian people are also obvious on the roads of Ahvaz. The south-western city, not far from the border with Iraq, is the centre of the country's oil industry - but refining that oil is a problem. Many petrol stations are often closed because they have run out of fuel, or have queues of traffic lining up outside due to shortages elsewhere.
The manufacturing economy has tried to adjust. Peugeot is one of the most common car brands on the roads in Iran, but nowadays the vehicles are made from Chinese imports and bear little in common with the French models, and there are some domestic models on sale.
"That car is 100 per cent Iranian," a man tells me with patriotic fervour, pointing at the vehicle in front of us. "What's it called?" I ask. "Pride!" he says. "Is it any good?" He pauses. "No."
Iranian airlines have suffered particularly badly, having to rely on the black market to find parts to keep their planes flying. Inevitably their safety record is uneviable, and in August this year a small airliner crashed in the outskirts of Tehran, killing 38 people. It's no surprise when Javed's son admits safety is part of the reason why he has chosen to travel north for his forthcoming wedding via a ten-hour drive, rather than a flight.
Some suffer more than others, of course, with carpetbaggers gaining from the the huge black economy.
"If you go to Tehran you'll see lots of fancy sports cars," says Professor Ali Ansari, director of the Iranian Institute at the University of St Andrews. "Rouhani has said that part of the problem in lifting sanctions is that a lot of people don't want change because they're doing very well out of it. Iran is ruled by a very rich revolutionary class of technocrats. They've turned this sort of corruption into a revolutionary virtue - it's two fingers up to America so it's ok." Meanwhile, the government is struggling to pay its civil servants, and subsidises petrol prices at great cost to avoid possible revolt among the people.
Those who can avoid the worst of the sanctions are often helped by connections in countries across the Persian Gulf.
"Iran one of the countries where internet usage is most widespread, but in theory none of the software nor most of the hardware that Iranians use for that should have been possible to import," says Dr Michael Axworthy, Director of the Centre for Persian and Iranian Studies at Exter University and a former head of the Iran Section at the Foreign Office.
"A large part of it comes through Dubai, and the economy of Dubai relies very substantially on sanctions-busting trade with Iran. Many Iranians have bank accounts or second properties in Dubai. Yet it's part of the United Arab Emirates, one of the Middle Eastern states that has the most hostile stance towards Iran."
For the working class, the situation is more acute. "People can't afford to eat meat, they can't afford rice, they can't pay their rent - it's been very tough. But, and I don't like saying this, people in Iran have greater experience of greater hardship, and they know how to find ways around it to continue living in ways that people in the West would find absolutely impossible. Many lived through the Iran-Iraq war when conditions were very bad and they had worse things to worry about than the price of food."
However, with the government having raised hopes among the people that a deal is possible - to the extent that some thought were tempted to think relations with the US could be normalised and direct flights to New York might even be established - the risk the Iranian government is that any falter in the nuclear negotiations, and the realisation that the hardest sanctions are here to stay, could prove too much for many Iranians to contemplate. They need to deliver in Vienna.
The names of Javed and Reza have been changed.
The Vienna nuclear negotiations
Iran wants thousands of centrifuges spinning in the labs of their Natanz nuclear plant and another plant to produce enriched uranium that can be used for nuclear fuel.
Israel, which is not present at the negotiations currently taking place in Vienna, argues that Iran should not be allowed to enrich uranium at all. But the US and its allies are happy to merely restrict the number and the capability of the centrifuges to a lower level, ensuring the uranium is not enriched to a significant strength and in enough volume that it can be used in a nuclear weapon.
In return, the US and EU can offer to gradually lessen the tough energy and banking sanctions that were on imposed in 2012 on top of previous trade sanctions imposed by the UN Security Council. The US has convinced other nations around the world such as China, India and South Korea to buy less Iranian oil, by threatening to shut banks who deal with Iranian oil transactions out of the American financial system.
Reports emanating from the talks indicate the two sides are still some distance apart. The official deadline is 24 November, and officially both teams are still aiming to come to an agreement by that date, but there appears to be an increasing sense among diplomats that there may need to be an extension.d and Reza have been changed
Register for free to continue reading
Registration is a free and easy way to support our truly independent journalism
By registering, you will also enjoy limited access to Premium articles, exclusive newsletters, commenting, and virtual events with our leading journalists
Already have an account? sign in
Join our new commenting forum
Join thought-provoking conversations, follow other Independent readers and see their replies