Trump administration to close Palestinian mission in Washington, PLO says
National security adviser John Bolton expected to make announcement in which he will also threaten International Criminal Court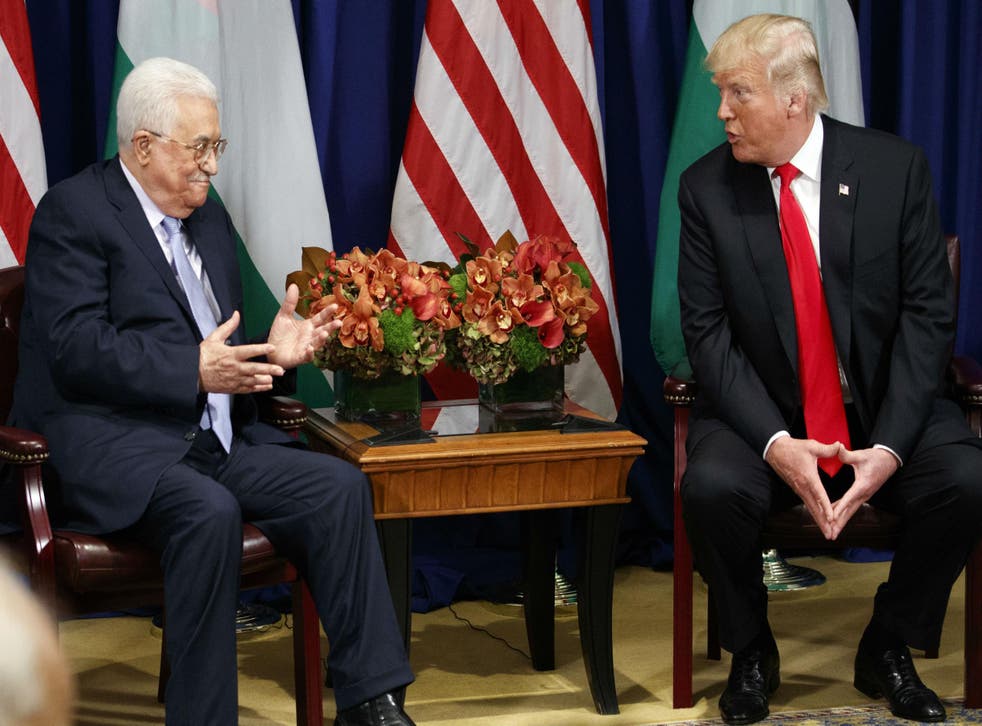 The Trump administration is to close the Palestinian leadership's de facto embassy, the Palestine Liberation Organization (PLO) has said.
A senior Palestinian official said his office was informed the US would close its mission in Washington, a move he claimed was designed to "protect Israeli crimes".
Saeb Erekar said the leadership would not be deterred from seeking International Criminal Court (ICC) action against Israel. "We reiterate that the rights of the Palestinian people are not for sale, that we will not succumb to US threats and bullying," he said in a statement.
The comments come ahead of a speech later on Monday by Donald Trump's national security adviser John Bolton, in which he is expected to announce the closure of the mission in response to the Palestinian leadership's refusal to enter US-led peace negotiations.
"The Trump administration will not keep the office open when the Palestinians refuse to start direct and meaningful negotiations with Israel," Mr Bolton is expected to say, according to The Wall Street Journal.
He is also set to threaten the ICC with sanctions if it investigates the US and Israel, the WSJ reported
Israel demolishes West Bank home of Palestinian attacker
"If the court comes after us, Israel or other allies, we will not sit quietly," Mr Bolton will say, adding that ICC judges and prosecutors could be banned from entering the US.
"We will sanction their funds in the US financial system, and we will prosecute them in the US criminal system," he is expected to say. "We will do the same for any company or state that assists an ICC investigation of Americans."
Palestinian president Mahmoud Abbas has previously branded Mr Trump's policy towards the Israeli-Palestinian peace process as a "slap in the face". It came after the US president announced the decision to recognise Jerusalem as Israel's capital.
In May, a Palestinian delegation asked the ICC to launch an investigation into what it said was "insurmountable" evidence of Israeli war crimes and crimes against humanity committed on Palestinian territory.
Palestinian protesters clash with Israeli troops: in pictures

Show all 15
The Palestinian Authority's foreign minister Riyad al-Maliki asked international prosecutors in The Hague for a referral on the back of an initial preliminary investigation launched in 2015.
The ICC recognised the state of Palestine in 2015, giving the court jurisdiction over crimes committed there since 13 June 2014.
Israel is not one of the 123 countries currently party to the ICC, but it is possible Israeli citizens and institutions could be prosecuted for alleged crimes on Palestinian land.
Register for free to continue reading
Registration is a free and easy way to support our truly independent journalism
By registering, you will also enjoy limited access to Premium articles, exclusive newsletters, commenting, and virtual events with our leading journalists
Already have an account? sign in
Register for free to continue reading
Registration is a free and easy way to support our truly independent journalism
By registering, you will also enjoy limited access to Premium articles, exclusive newsletters, commenting, and virtual events with our leading journalists
Already have an account? sign in
Join our new commenting forum
Join thought-provoking conversations, follow other Independent readers and see their replies